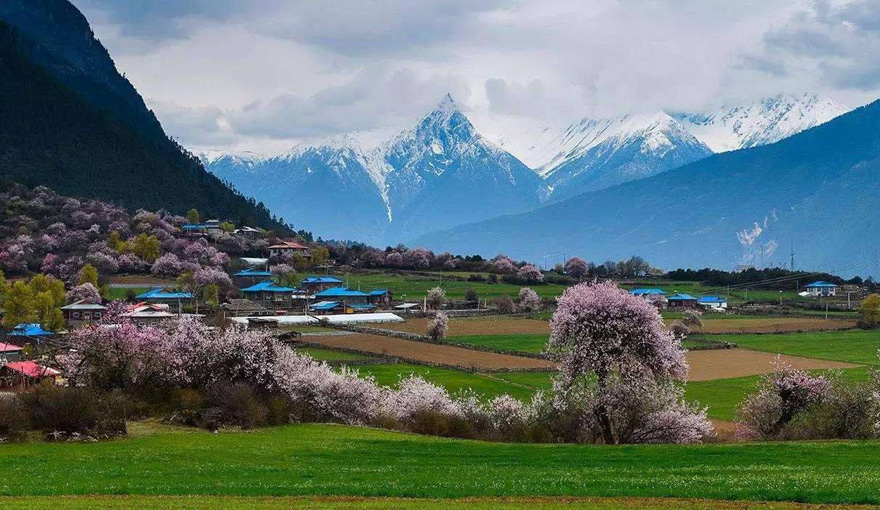 Beautiful Peach Blossoms at Nyingchi Tibet
Nyingchi Peach Blossom Festival
Unlike other prefectures in Tibet, such as Lhasa, Shigatse, Shannan, Ngari, where there are not many plantations, Nyingchi is full of different kinds of plants – wild forests, different kinds of flowers, etc. If you are a fan of our Mother Nature, you really have to go to Nyingchi.
What is the best nature landscape in Nyingchi? For the photographer or nature lovers, it must be the vast sea of peach blossoms in the spring. To attract more travelers to enjoy the beautiful of Nyingchi peach blossoms and discover the spectacular culture of Nyingchi Prefecture, the Nyingchi Peach Blossom Festival is held in the Peach Blossom Village and other places with vast peach blossoms in the annual spring usually from March to April.
2020 Nyingchi Peach Blossom Festival may take place at the end of March. The first season of Nyingchi Peach Blossom Festival was held in 15 March, 2003. Till 2018, this grand peach blossom festival has been held for 16 seasons. The last season was started on 29 March, 2018 in Gala Village, Bayi Town, Nyingchi Prefecture.
The Opening Time of Nyingchi Peach Blossom Festival
The opening date of Nyingchi Peach Blossom Festival is not fixed each year. It depends on the blooming season of peach blossoms in the year. According to the past years' records, the festival was mostly started at the end of March. (The opening ceremony of 2019 Nyingchi Peach Blossom Festival was held on March 29, 2019.)
Weather Condition in March and April during Nyingchi Peach Blossom Festival
During the Nyingchi Peach Blossom Festival, the weather is very comfortable, neither too hot nor too cold. Actually because the altitudes of Nyingchi are not as high as other prefectures, so the weather there is not harsh at all. Most days are sunny with small chance of rainfall. The average weather is around 0~15°C. The temperatures drop fast in the night. So you'd better pack some warm clothing for the night activity.
Pleasant Peach Blossom Scenery
Best Places to See Peach Blossoms in Nyingchi
Nyingchi has no a field of peach blossoms, but a land of peach blossoms. Every year when the March comes, there are thousands of peach trees blooming their beautiful blossoms at the river banks, villages, mountains, farming fields, valleys, etc. Generally speaking, the peach blossoms mainly spread along the 3187 National Road, banks of Niyang River and the road from Mainlin Airport to Bayi Town. Following are some top recommended places you can go to enjoy the best peach blossom views:
1. Gala Village
Gala Village is situated in Peach Blossom Valley, about 5km south from Bayi Town. It is very popular with travelers because of its convenient location. There are hundreds of wild and big peach trees growing in the valley, surrounded by green mountains in the spring. There is also a clear river flowing through the valley. This village has been chosen as the opening place of the annual Nyingchi Peach Blossom Festivals for many times.
2. Yarlung Zangbu Grand Canyon
The featured view of Yarlung Zangbu Grand Canyon has to be combined with the magnificent Namjagbrawa Peak which is 7782m high, dominating near the Grand Canyon. There are many wild peach trees along the banks along the river in the canyon, Travelers don't have walk several miles down to the canyon. They can enjoy the great view from road along the southern mountain side of the canyon.
3. Nyang River
Nyang River is one of the tributaries of Yarlung Zangbu River. It flows through Gongbo Gyamda and Bayi Town, and joins into the Yarlung Zangbu River. The rich water resource makes the land along the river a fertile for peach tree growing. There are also many Tibetan villages scattering along the river. Travelers even can take a cruise on the river to enjoy the blossom landscape.
4. Bome County
Driving about 230km from Bayi Town, you will get to another heavenly land of peach blossoms – Bome, a place as beautiful as a picture. But before reaching the best views, you have to drive across some earth road with vast peach flowers on two sides. Not very far from the road are many snow mountains with floating clouds surrounding. On the mountain foot are lands of flowers.
Local Tibetan Village
Peach Blossoms at Nyang River
Peach Blossoms at Bome
Interesting Activities during Nyingchi Peach Blossom Festival
During the Nyingchi Peach Blossom Festival, you can not only enjoy the pleasant views of peach blossoms, but also can experience many interesting local activities organized by local Tibetan and governments.
There first usually will be a photography contest of peach flowers. So seize the chance to take some great photos and try to win a prize. Secondly, the local people will organize several spectacular games. The most exciting ones are horse racing, archery and stone-carrying competition. Also don't lose the chance to join the locals in the dancing-singing parties.
Archery Competition
Cover Peach Blossom Festival in your Tibet Nyingchi Trip
Enjoying the peach blossoms views is the not the only thing to do when traveling in Nyingchi. You also have to discover other highlights of Nyingchi, such as Basumtso Lake, Lulang Wild Forest, Rawu Lake, Midui Glacier, etc. Following is a recommended itinerary:
Day 1 - Attend the opening ceremony of Nyingchi Peach Blossom Festival, then go to explore peach blossom landscape at Gala Village and Nyang River.
Day 2 - Drive to Bome from Bayi Town. Visit Lulang Forest on route.
Day 3 – Drive from Bome to visit Midui Glacier. After sightseeing at Midui, go to Rawu Town for accommodation.
Day 4 - Visit Rawu Lake, then drive back to Bayi Town.
Day 5 - Leave Bayi Town, and drive to Lhasa. Visit the green diamond – Basumtso Lake.
Day 6~7 - Lhasa City Tour
Check More Nyingchi Tour Packages >
Amazing Midui Glacier in Nyingchi
How to Get to Nyingchi
Currently driving and flight are two only ways to get to Nyingchi. Since overlanding from Sichuan and Yunnan Provinces are not permitted, the only way to drive to Nyingchi is from inner land Tibet cities, such as Lhasa, Shigatse, Tsetang, etc. Well, most travelers have chosen to travel to Nyingchi from Lhasa.
Lhasa to Nyingchi
Nyingchi is about 405km east from Lhasa City. It usually takes about 8~9 hours to get to Nyingchi from Lhasa by driving. To shorten the long driving, you can make Basumtso Lake as the stop where you can keep driving the rest distance around 150km to Nyingchi.
Flight to Nyingchi
Travelers can directly take flights to Nyingchi to get rid of the long driving from Lhasa. Currently there are several cities in China which operates daily or scheduled flights to Nyingchi Mainlin Airport, including Chengdu, Chongqing and Guangzhou. There are four daily nonstop flights from Chengdu Shuangliu Airport to Nyingchi Mainling Airport over 1190km (739 miles), and 2 nonstop flights from Chongqing Jiangbei International Airport to Nyingchi Mainling Airport. Flights between Guangzhou and Lhasa are only available on Monday and Friday.
A Airplane Is Flying to Nyingchi
Useful Tips about Nyingchi Peach Blossom Festival
1. There is no admission fee for Nyingchi Peach Blossom Festival, including the Tibetan villages and organized activities.
2. During the Blossom Festival, the demand for hotels is quite high. So you'd better plan your trip as early as possible and book hotels in advance.
3. If you want to take a flight to Nyingchi during the festival, you should also book flights in advance.
Nyingchi Travel Guide
Recommended Nyingchi Tibet Tour Packages
Nyingchi is known as "the Switzerland of Tibet" with giant snow mountains, wild forests, pure lakes, beautiful peach blossoms, amazing glaciers... Following are our well-designed popular tour package to Nyingchi. You can also contact us to design a trip of your own based on your personal needs.
Have a question? Get answers from our travel experts soon!
Your Question:

Your Name:

Your Email: