Top 10 Nepal Things to Do on Your Nepal Trip
Nepal is a small Himalayan kingdom but it offers you many things to experience. No matter you are interested in antique flavor of historical architectures or keen on splendid natural beauty, no matter you are a religious pilgrim or a travel enthusiast, no matter you want to walk into the crowded streets or stay alone in a peaceful village, no matter you travel with your family and friends or just spending gap year alone, you will find something gratifying in this country.
In Nepal, you may get a bucket of things to do. Here we list top 10 to help you make full of your holiday. Just add your favorite on your itinerary. If you meet any problems, please feel free to contact our local travel experts, who will give you useful advice on your private Nepal tour.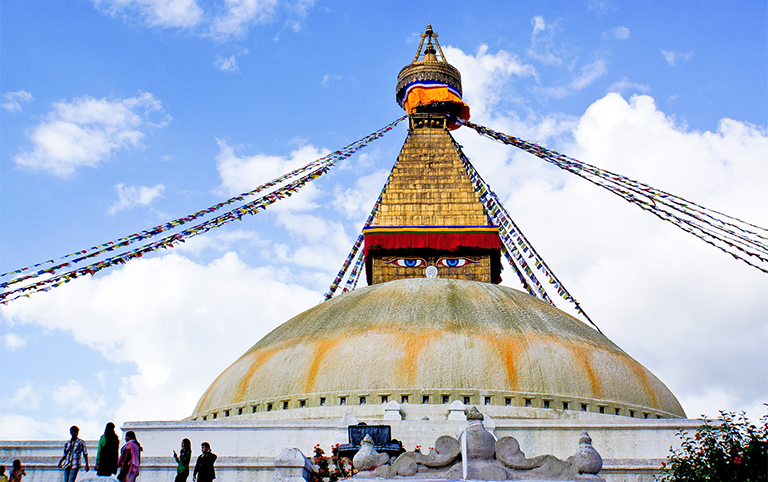 Giant Boudhanath Stupa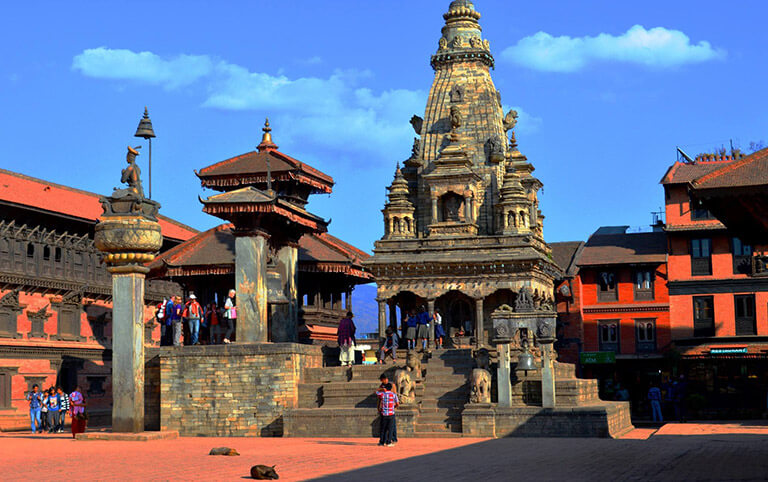 Grand Architectures in Bhaktapur Durbar Square
Nepal hosts 10 UNESCO-nominated World Heritages and 7 of them are located in Kathmandu Valley – Kathmandu, Bhaktapur and Patan.
Durbar Squares, namely Kathmandu Durbar Squares, Bhaktapur Squares and Patan Durbar Squares, are travelers' rest stop, handicrafts hot spot and exotic artistic enclave all at once. All of them show rich art and architecture of a civilization going back centuries. Wandering in the Durbar Squares, enjoying the chatter, bustle and pulse of the city, appreciating the delicate handicrafts and fine temples in the city, you will get a vivid impression of Nepal.
Pashupatinath, a famous sacred Hindu temple, is honored as one of the most important pilgrim sites for Hindu followers. It enjoys a sprawling collection of images, ashrams, and inscriptions raised over the centuries along the banks of the sacred Bagmati river.
Swayambhunath, also known as Monkey Temple because a large number of monkeys haunt here, perches in Nagarjun hill. There is a beautiful stupa with whitewashed dome and gilded spire, attracting lots of Buddhist pilgrims. Monkey Temple also offers a fantastic panoramic view of Kathmandu Valley.
Boudhanath (Boudha Stupa) is one of the largest spherical stupas in Asia. There are thousands of pilgrims gather to make a kora every day. It is also one of the most popular tourist attraction along with Swayambhunath. Here you can enjoy a spiritual atmosphere made by devote pilgrims, fluttering prayer flags, prayer wheels…
Changunarayan Temple is considered to be the most ancient Hindu temple in Kathmandu Valley. It enjoys a pagoda appearance with pairs of mythical bests (including elephants, lions and griffons) on all sides. The whole temple is surrounded by Champak tree forest and a small village.
☞ 2 Days Kathmandu Best Essence Tour
☞ 3 Days Kathmandu Culture Tour with Hiking Experience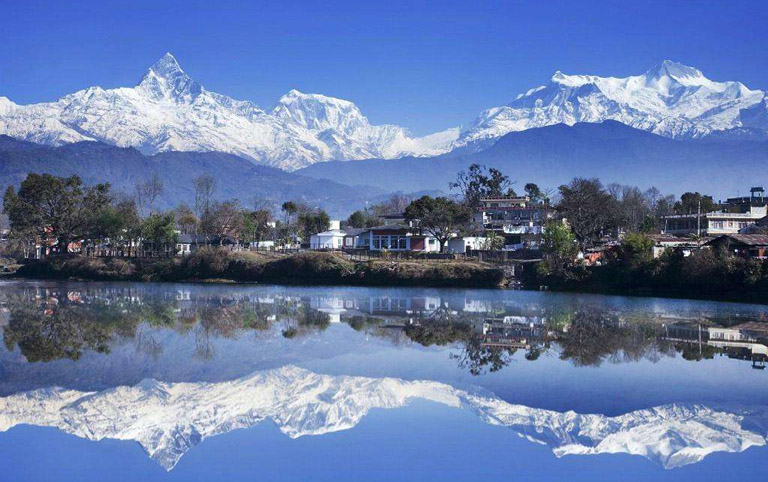 Beautiful Annapurna Range and its Reflction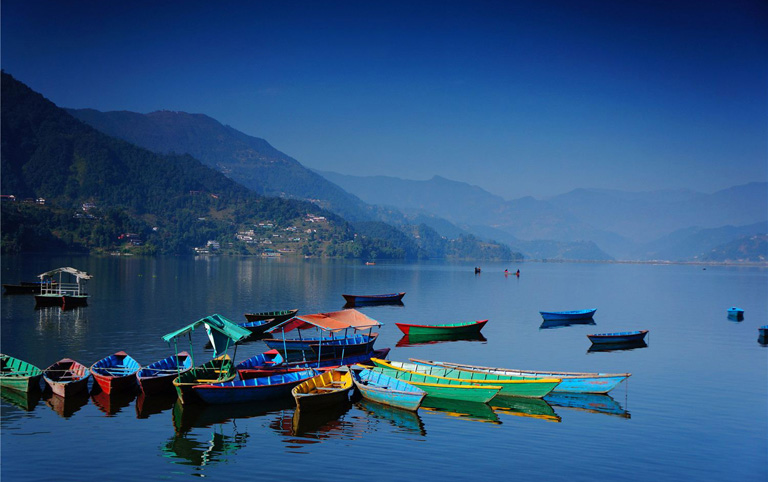 Phewa Lake - Excellent Place for Relaxing
Pokhara is a place of remarkable natural beauty, praised as the jewel in the Himalaya. It is blessed with amazing panoramic views of the Annapurna range which forms its backdrop, stretching from east to west. The charming faces of Mount Machhapuchhre and other peaks of Annapurna reflected in the peaceful water of Phewa Lake makes sightseers long linger. Take an opportunity of boating on the placid waters of Phewa Lake, and also relax in the thriving lakeside towns. It is also a highlight to climb to Sarangkot Mountain to get a magnificent sunrise over the snow-capped peaks as well as catch a bird's-eye view of Pokhara.
Besides, Pokhara offers some spectacular natural attractions to visit, including awesome Devi's Fall – awesome underground Waterfall, Mahendra Cave with limestone formation, Begnas Lake – popular fishing hole, etc.
In addition to natural splendor, Pokhara also provide travelers with outdoor activities. Known as a gateway to the Annapurna, Pokhara also act as a base camp for trekking enthusiasts who want to challenge the famous trekking routes and enjoy Nepal's nature in a different way. It is also a wonderful experience to enjoy paragliding and take some great pictures in the sky.
☞ 5 Days Kathmandu Pokhara Leisure Tour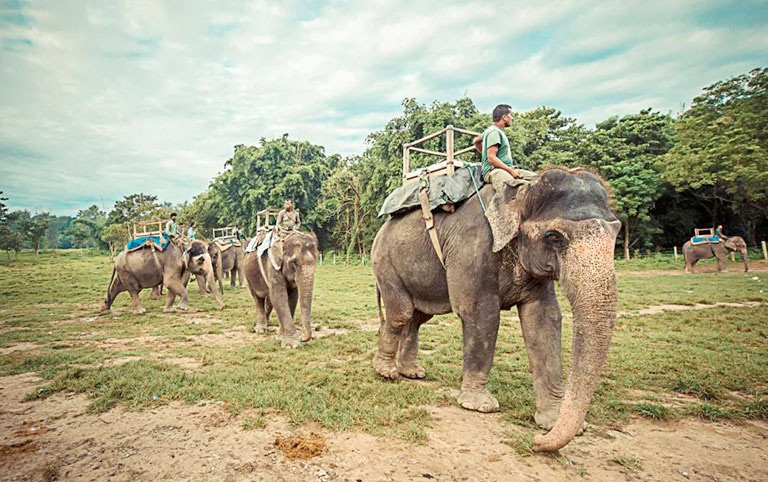 Elephant Safari Experience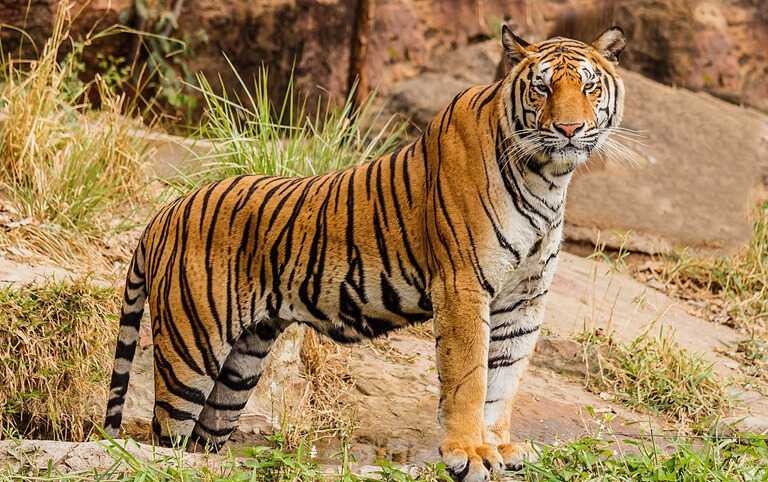 Bengal Tiger in Chitwan National Park
Nested at the foot of the Himalayas, Chitwan National Park is Nepal's first and largest national park. It occupies an area of about 950 square kilometers, with altitude ranging from 100 meters in the river valley to 815 meters in the Churia Hills. Chitwan National Park enjoys a tropical monsoon cpmate with high humidity, making it a great place for vegetation and animals. So, its particularly rich flora and fauna make it one of the best places to enjoy jungle safari. Going on safari in Chitwan National Park allows you to observe considerable faunas, including some endangered animals and over 500 species of birds. Most popular animals are one-horned rhinoceros, Bengal tiger, Indian elephant, etc. There are different ways to enjoy Jungle Safari in Chitwan National Park:
Jeep Safari: Jeep Safari is a great way to explore more wildlife because you are able to get to deep forest and jungle. By the way, animals always get used to jeeps and won't walk away. Jeep Safari usually takes 4 ~ 5 hours.
Canoe Safari: It is an adventurous experience to go on safari by riding a narrow canoe. Most travelers choose to enjoy canoe safari at Rapti River. You will spot many crocodiles and beautiful birds. Canoe safari needs about 45 minutes.
Jungle Walk: It is also available to explore the park on foot. Walking through the tall grasses and twisting vines, you will view some wild animals and rare vegetation in a close distance. Jungle walk takes 1.5 ~ 2 hours usually.
Elephant Safari: Exploring Chitwan National Park on the back to lumbering elephant offers you a safe and splendid vantage point high above the towering bushes. It is also interesting to learn how to wash your elephant and take a bath with it.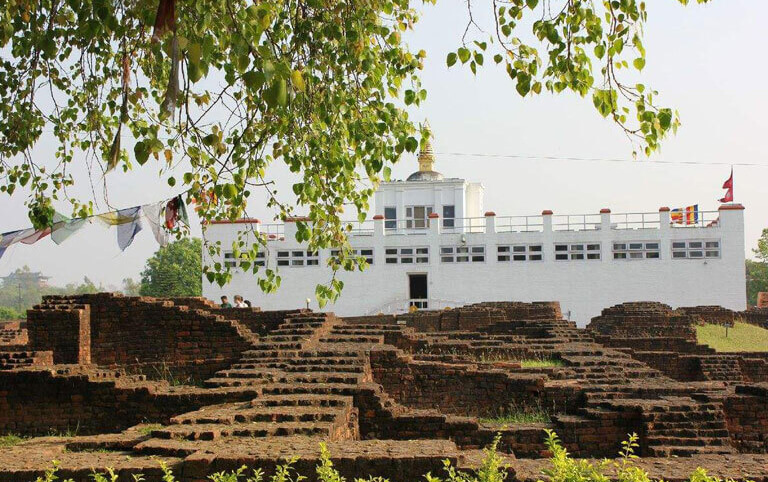 Maya Devi Temple and Its Peaceful Surrounding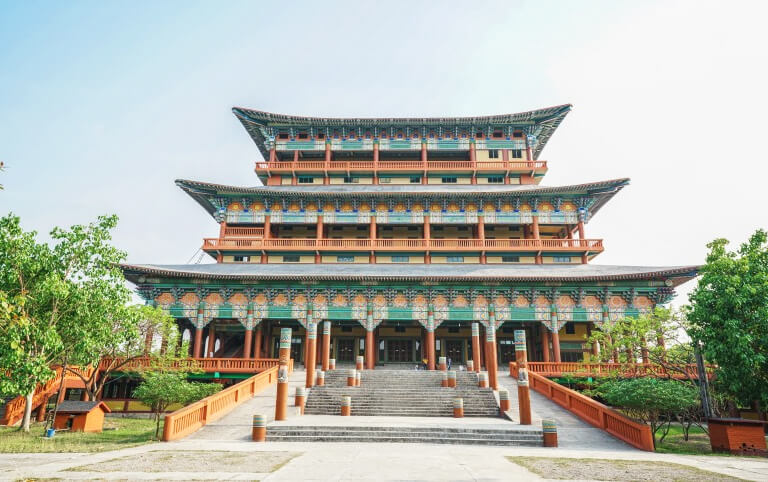 Magnificient Chinese Monastery
Nepal is one of the greatest pilgrimage sites for Buddhists, because one of the four holy sites of Buddhism are in Lumbini of Nepal. Lumbini, is the birthplace of Shakyamuni, the Lord Buddha who is the founder of the Buddhist religion. While travel in Nepal, you will have a chance to explore the life of Buddha & Buddhism from the very beginning. But among pilgrimage sites of Nepal, Lumbini is always on the top of the list, with many monasteries and the stunning peace garden, which is full of brightly-colored prayer flags.
Traveling Lumbini, your first attraction must be Maya Devi Temple, a temple built in the place where the Lord Buddhist is given birth to commemorate Queen Maya Devi - the mother of the Lord Buddha. Around the temple, you can see Ashoka Pillar - Mark of Birth Site of Lord Buddha and Puskarni Pond - Blessed Bathing Pool of Queen Maya Devi.
In Lumbini's Monastic Sites, there are many temples built with the assistance of other countries, including China, Japan, South Korea, Thailand, Vietnamese etc. By this area, you can explore the different temples with different architectural style. You can stay in a monastery, having enough time discovering the Buddhist complex as well as the tiny traditional villages outside. Learn more about Lumbini Travel Guide >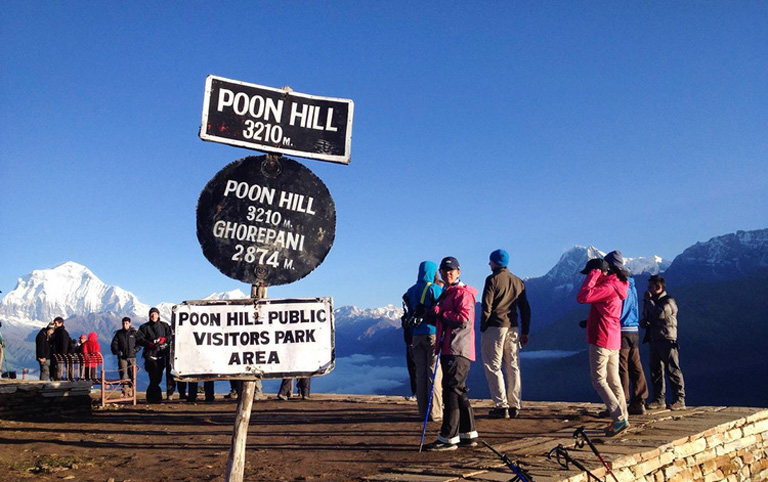 Ghorepani - Poon Hill in Annapurna Region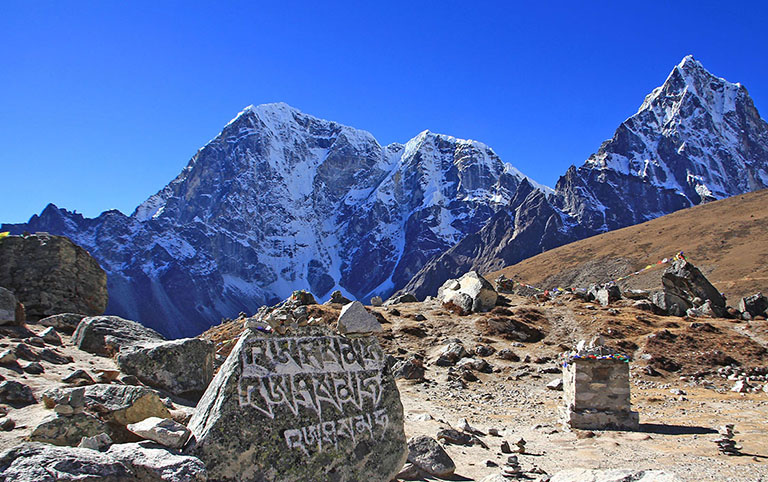 Everest Base Camp Trek
A mountain trek combining a city tour always makes your holiday more memorable. Nepal, the home to 8 of world's 10 highest mountains, is absolutely the trekking paradise for all the trek-lovers. You can relax in traditional mountain teahouse, discover the raw beauty of the Himalayan peaks, experience the achievement of reaching Everest Base Camp, as well as hug with numerous lakes, rivers, hills, villages, temples, etc. during your trek. There are many world-famed trekking routes in Nepal drawing trekkers and mountaineers flocking into. Most famous trekking routes include Everest Base Camp Trek, Annapurna Circuit Trek, Annapurna Base Camp Trek, Poon Hill Trek, Langtang Valley Trek, Manaslu Trek, Kangchenjunga North Trek (around 20 days), etc.
Everest Base Camp Trek might be the most popular trek in Himalayas. It will be physical challenging experience, but you will capture a breathtaking view of majestic Mount Everest when you finally reach Kalapattar from Everest Base Camp.
Among the numerous trekking routs, the trek around Annapurna range, known as the Annapurna Circuit, is recognized as one of the top treks in the world. There is not any chances for you to witness the eight highest mountains in the world in just one go other than trekking through the Annapurna Sanctuary in Pokhara, Nepal.
Recommended Nepal Trekking Tours
☞ 3 Days Kathmandu Culture Tour with Hiking Experience
☞ 9 Days Ghorepani - Poon Hill Trekking Tour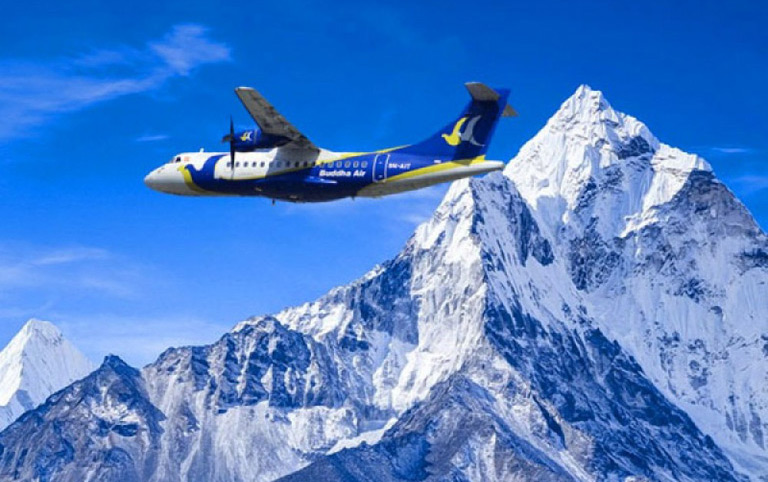 Mountain Flight to Mount Everest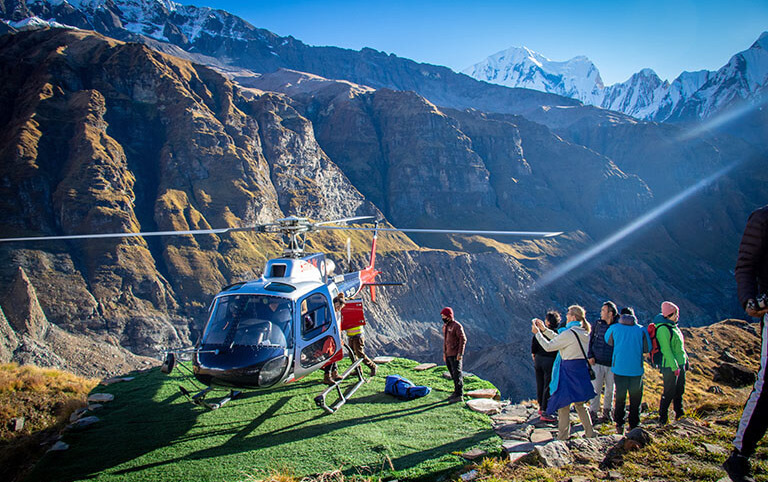 Helicopter Landed on Annapurna Base Camp
Want to see the highest peaks in the world from another angle like a bird? Want to take a panoramic view of the spectacular mountain scenery but restricted by time from trekking? You can realize your dream by the mountain flight which may be far beyond your imagination.
There are daily mountain flights taken off from Kathmandu Tribhuvan International Airport and operated by various airlines. A mountain flight trip to Mount Everest is most recommended. During your flying journey, you are able to catch a wonderful view of 20 of the highest peaks 8000 meters starting from Langtang Lirung peaks (the closest peak to Kathmandu) to Chanlang Peak via Mount Everest. On your way back, you get the second chance for sightseeing. Every passenger gets an individual window seat and you have enough time to take incredible pictures to record your travel.
Mountain flight is also accessible in Pokhara. You can take a microlight flight towards the Annapurna Massif and savor an amazing view of Annapurna ranges. The microlight carries only two persons – you and the pilot.
The best time for mountain flights is the period from February to April and October and November – when the visibility is high enough.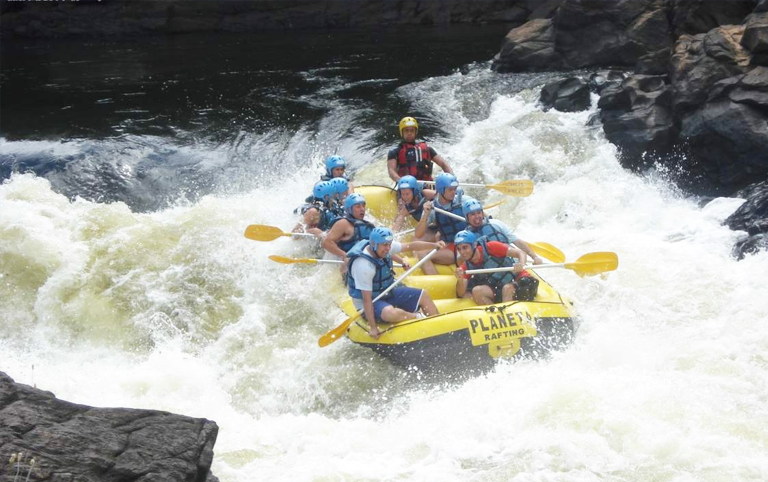 Exciting White-water Rafting in Nepal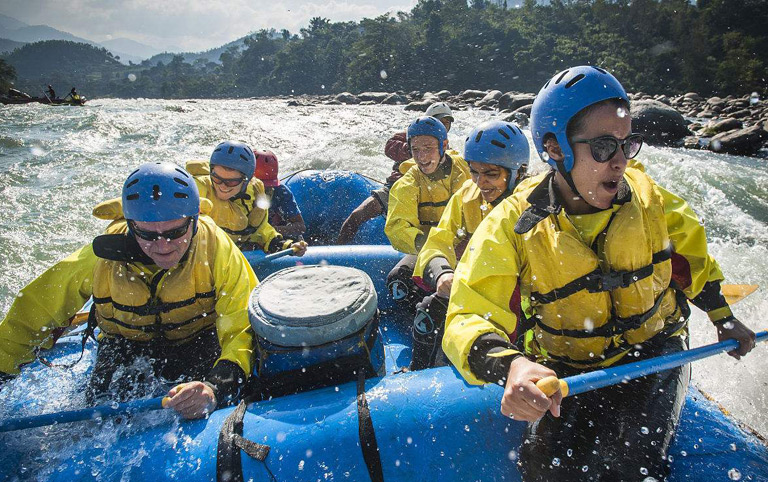 Special Experience with Friends and Families
Thanks to its mountainous steep terrain, Nepal boasts some of the best white waters in the world, which descending from the Himalayas. Regarded as the World's Best Destination for White Water Rafting & Kayaking, Nepal offers you a rare chance to experience the exciting rafting trip in such magnificent mountain surroundings, with terraced paddy fields, deep gorges, exotic villages around.
Trishuli River, about 3 ~ 4 hours' driving distance from Kathmandu, is the most popular among raftable rivers, which takes you down all the way to the Pokhara. With relatively small velocity of flow, it is also suitable and safe for people of all ages and even rafting beginner. It needs only 1 day.
Seti River, located in Pokhara divided into upper section and lower section, is also a good place to enjoy rafting experience. The upper section covers 7km and needs half day to finish while lower section covers 32km and need 2 days. Upper Seti River with a quick rush offers is rather challenging. If you are an adventure lover, don't miss the landslide rapid. Lower Seti River features in easier rapid and luxury forest are always favored by families.
Other popular rivers include the Kali Gandaki near Pokhara, Bhote Koshi, Marshyangdi, Karnali and the Sun Koshi, which runs 270 km and requires 8-10 days. While exploring the rivers, you can either go paddle rafting as a team or go kayaking and canoeing alone.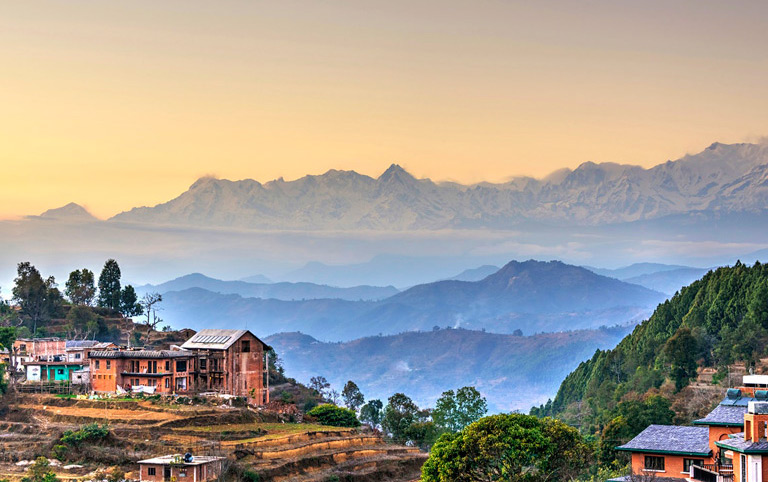 Hiking to the Top of Peaceful Village of Bandipur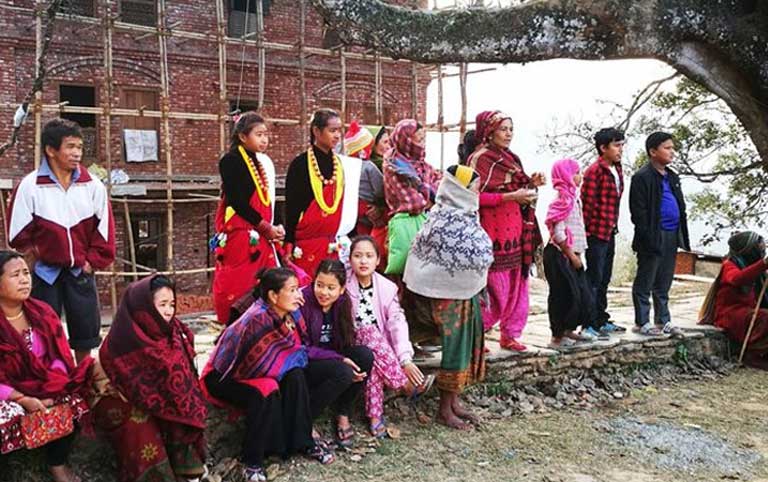 Happy People in the Town of Bandipur
After a cultural discovery and natural appreciation of Nepal, you may want to explore the authentic peaceful daily life of Newar people, a distinct ethnic group and the original inhabitants of the Kathmandu Valley. It is a good idea to explore authentic lifestyle in the rural village, like Bandipur, about 150.
Bandipur was once a very prosperous trading center at the top of the hill, and now, it is popular for the ancient charm, quiet atmosphere and the nearby national park. You will see the heritages of the ancient Newar culture, and enjoying the amazing view of Himalaya mountain range. Different from the Chitwan National Park, the Bandipur national park is an important Project Tiger Reserve, where you can see the spotting tigers. Hiking on the hilltop is also an exciting activity to do in Bandipur, which provide a great chance of sighting animals.
Bandipur is about 150km away from Kathmandu and it takes about 4.5 hours get there. If you have interest in Newar people and their life in short time, you can also visit Bungmati, Khokana and Kirtipur which are quite close to Kathmandu. Walking on the cobblestone street and wandering through the traditional villages.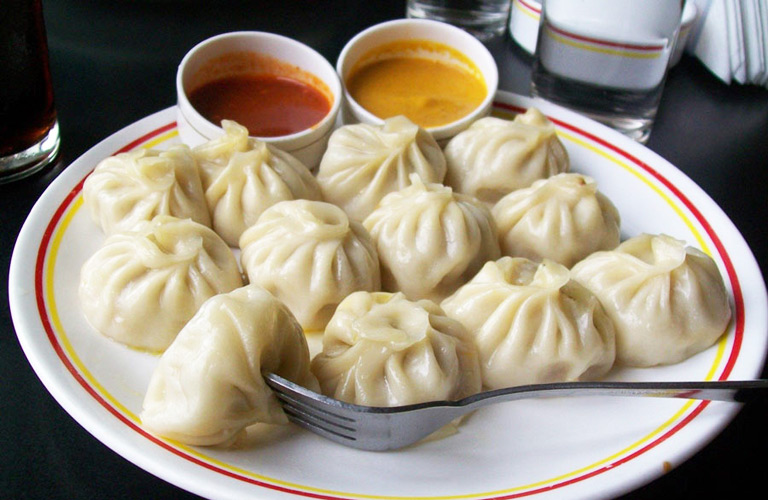 Steamed Nepal Momo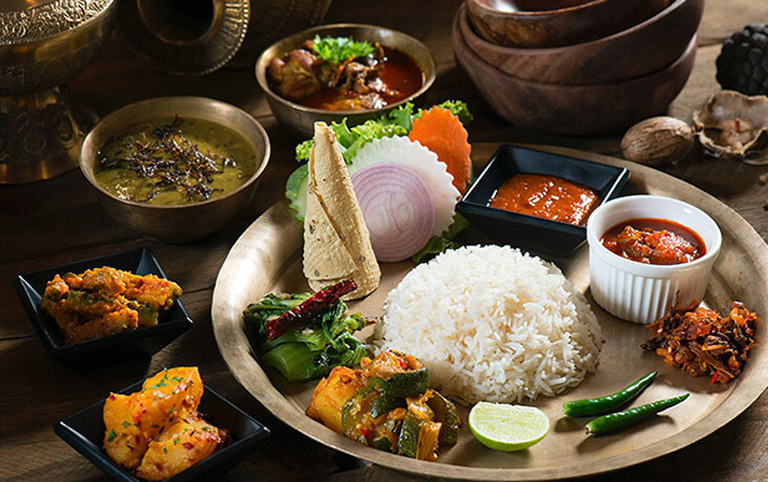 Nepali Thali Set
No matter you want to try various kinds of Nepali style traditional food or seek for popular international dishes, you can satisfy your stomach in Nepal.
Visitors can enjoy the authentic taste of indigenous cuisines in the ethnic ambience of Nepali restaurants. Restaurants and food joints in the nooks and corners of Thamel are especially popular among western visitors. Many restaurants of Kathmandu and Pokhara offer traditional song and dance performances by local artists. The delicious King's Curd of Bhaktapur, praised as the best street food in Nepal, will not be found anywhere else. Most recommended Nepalese food include Newar dish, momo, thukpu, gundruk, skiarni and milky tea.
Kathmandu offers dining experiences that range from the exotica of five-star menus to the roadside café experience. The best part is that a variety of international cuisines are offered within walking distance or short drive by world-class restaurants and the price range does not burn a hole in the pocket. Indian, Chinese, Thai, Korean, Japanese, Mexican, Continental, you name it. You'll find them all here. Good western restaurants include Thamel Doner Kebab, New Orleans Cafe Thamel, Blueberry Kitchen & Coffee Shop, Kathmandu Steak House Restaurant and Roadhouse Cafe Thamel.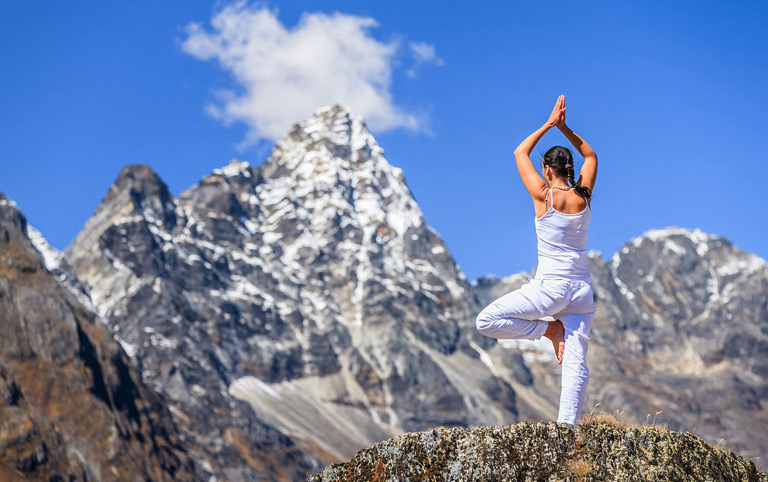 Outdoor Yoga Facing Fish Tail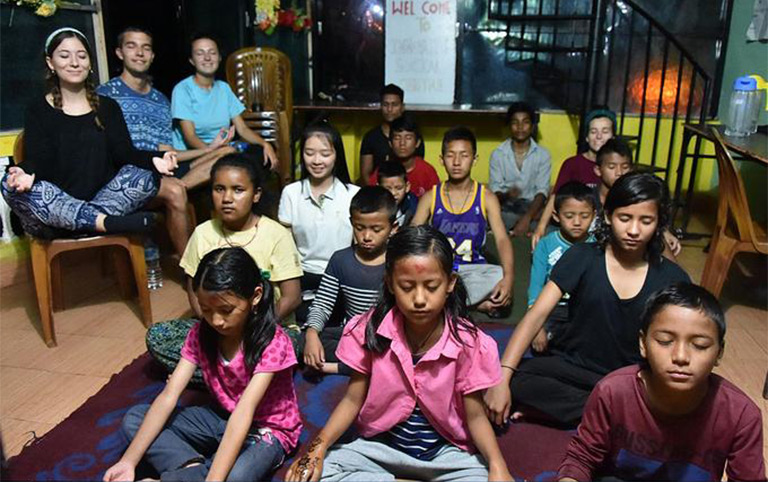 Nepal Meditation Class
It will be a special travel if you add Nepalese Ayurveda, Meditation and Yoga into your itinerary. Ayurvedia, translated as a natural way of living, is an old life science helping people gain the inner and outer dynamic harmony. Combining Hindu and Buddhist traditions, Nepal is an ideal destination for meditation, which helpfully reduce stress, control anxiety, promote emotional health, etc. Yoga is also popular in Nepal. Yoga also enjoys several physical benefits, like increase flexibility, improve energy, maintain a balanced metabolism and so on.
Many people believe that life transformation is a continuing process to purify your inner being. Persistence on practicing ayurveda, meditation and yoga will change your life and lead you discover your living from a totally different platform. If you are interested in Ayurveda, Meditation or Yoga, don't miss the chance to learn more about them. There are many specialized ayurveda clinics, mediation centers and yoga classes in Kathmandu, Lumbini and other tourist cities in Nepal, which will help you achieve the different dimensions of health-physical, sensorial, mental and spiritual.
How to Plan a Nepal Tour
Best time to visit Nepal: March to mid-June and mid-September to November
How to get to Nepal: overland driving from China (Tibet) and India, flights from China (Tibet, Chengdu…), India (Delhi/Mumbai/Kolkata/Bengaluru...), Bangladesh (Dhaka), Malaysia (Kuala Lumpur), Thailand (Bangkok), Singapore, etc.
Nepal Visa: you can get Nepal Visa on arrival at Kathmandu Airport and border entry ports, or apply for it from Nepal Embassy abroad before departure, which takes about 1 to 3 working days.
Tourists always start a Nepal tour from Kathmandu - the capital city and tourist distribution center. 4 days is enough to enjoy the world heritage sites and Himalayan views in Kathmandu Valley (Kathmandu, Patan, Bhaktapur and Nagarkot). For those travelers who won't want to miss the most astonishing nature of Nepal, spend 1 or 2 more days visiting lakeside Pokhara. For more experience, Chitwan is a good choice to offer Nepal's oldest wildlife (various mammal and birds species) as well as a variety of excursions in 2 days usually. If you are a Buddhist follower or fan, travel Lumbini and other Buddhist sites in 3~4 more days. If you are a trekking enthusiast, there is a bucket of trekking routes, like Everest Base Camp Trek, Annapurna Circuit, Poon Hill, etc.
☞ 4 Days Classic Kathmandu Valley Tour
☞ 5 Days Kathmandu Pokhara Leisure Tour (by Flight)
☞ 8 Days Nepal Holiday Tour (Kathmandu - Pokhara - Chitwan)
It is strongly recommended to take a Tibet Nepal overland trip, so you are able to have Himalayan landscape savory and special culture encounter in one go. Or you can extend your trip to tiny Bhutan to find the mystery of happiness. Tibet Discovery is specialized in providing Nepal Tibet Bhutan Tour Packages and you are also welcomed to customize your unique experience.
☞ 7 Days Lhasa to Kathmandu Overland Tour via Mount Everest
☞ 15 Days Tibet Nepal Bhutan Himalaya Exploration In-depth Tour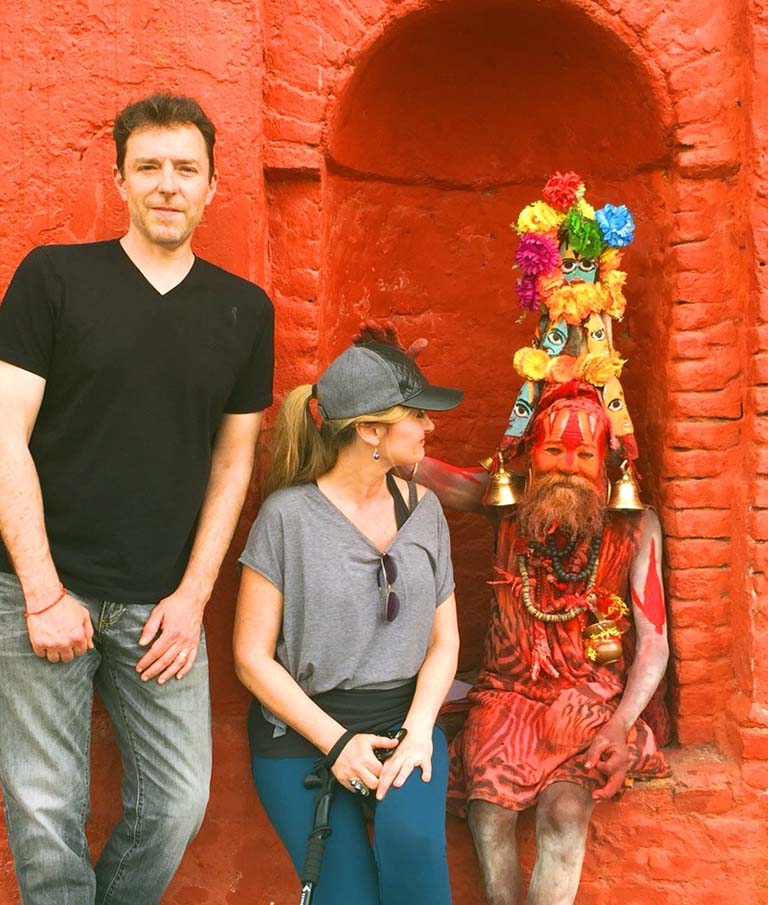 Adam's Family from USA visited Kathmandu with Tibet Discovery
Top Nepal Destinations
More Nepal Travel Guide
Recommended Nepal Tour Packages
Following are some other recommended Neapal tour packages that you may be interested in. All of our Nepal tours can be customized to meet your personal requirements. Find more Nepal Tours or contact us to customize a trek if you want.
Kathandu and around

Swayambhunath, Durbar Square, Boudhanath, Bhaktapur, Nagarkot Sunrise, Himalayan Mountains, Hiking to Dhulikhel

/ Details

Kathmandu - Bhaktapur - Kathmandu / Patan / Chitwan / Pokhara / Kathmandu

Nagarkot, Pashupatinath, Chitwan National Park, Sarangkot Sunrise

$1099 / Details

Kathandu and around

Swayambhunath, Pantan's Durbar Square, Boudhanath, Bhaktapur

/ Details
Have a question? Get answers from our travel experts soon!
Your Question:

Your Name:

Your Email: