Top 10 Unmissable Things to Do in Pokhara | Pokhara Attractions
Away from the religious and dusty capital city, Kathmandu to reach the geographic heart of mountainous country Nepal, you will be completely refreshed by the gentle breeze from the emerald Fewa Lake in Pokhara. It is tranquil, peaceful, surrounded by the densely forested land. With your loved ones, holding wines, and hand in hand, you can boat on the sparkling ripples with delightful giggles. This is a dreamy life for visitors looking for peace. Or, dare you challenge your life and learn to fly and glide upon the wind? Go to Sarangkot to witness the Himalayan sunrise. Pokhara is a city for lovers, dreamers, gliders, mediators, adventurers, and travelers.
Interested to take a peek to know what Pokhara has to offer? Here's a list of Top 10 Things to Do on your first visit, and get to learn how to plan a Pokhara Tour!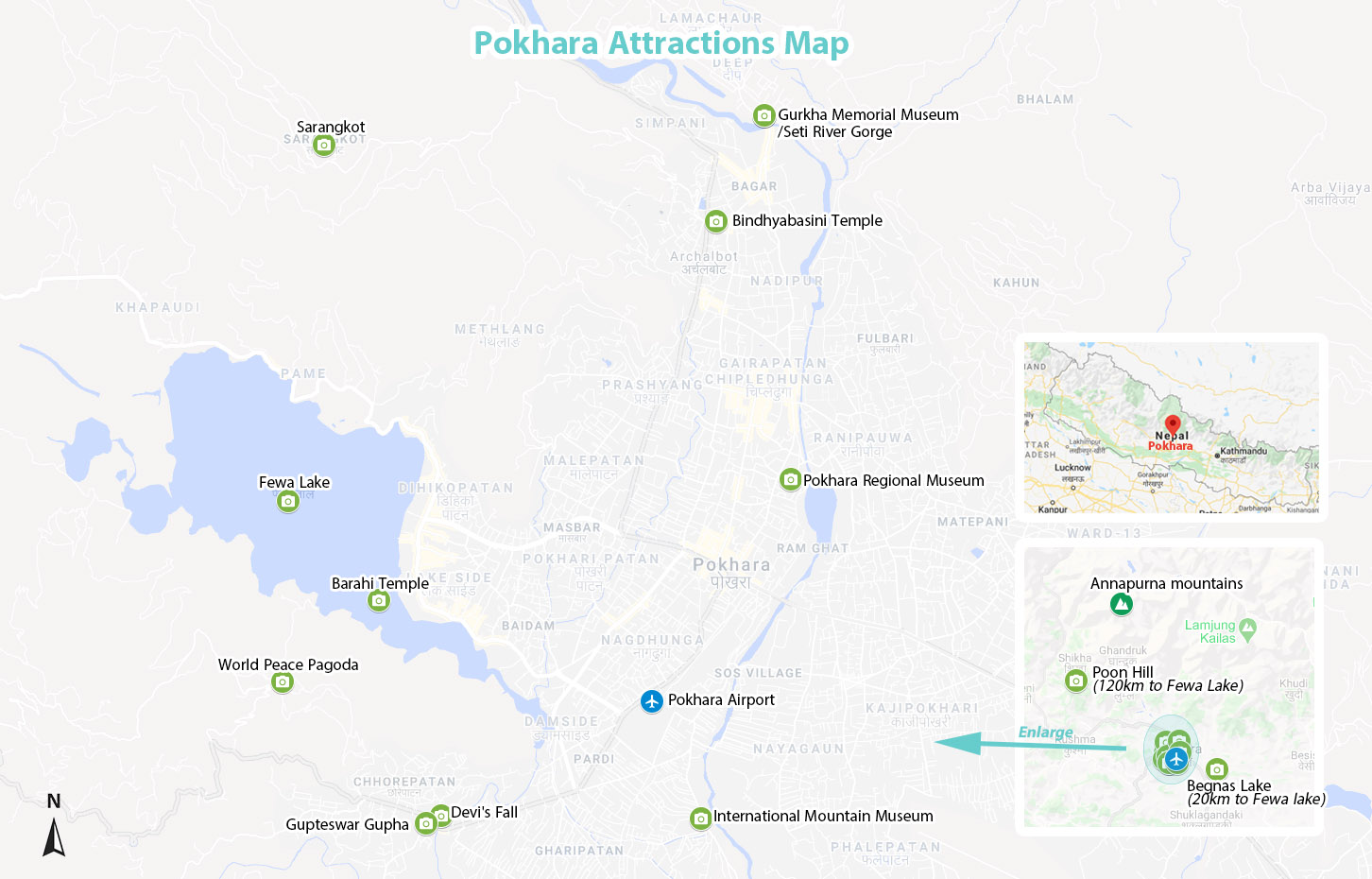 Pokhara Attractions Map (click to zoom up)
How to Plan a Nepal Tour
Best time to visit Nepal: March to mid-June and mid-September to November
How to get to Nepal: overland driving from China (Tibet) and India, flights from China (Tibet, Chengdu…), India (Delhi/Mumbai/Kolkata/Bengaluru...), Bangladesh (Dhaka), Malaysia (Kuala Lumpur), Thailand (Bangkok), Singapore, etc.
Nepal Visa: you can get Nepal Visa on arrival at Kathmandu Airport and border entry ports, or apply for it from Nepal Embassy abroad before departure, which takes about 1 to 3 working days.
Tourists always start a Nepal tour from Kathmandu - the capital city and tourist distribution center. 4 days is enough to enjoy the world heritage sites and Himalayan views in Kathmandu Valley (Kathmandu, Patan, Bhaktapur and Nagarkot). For those travelers who won't want to miss the most astonishing nature of Nepal, spend 1 or 2 more days visiting lakeside Pokhara. For more experience, Chitwan is a good choice to offer Nepal's oldest wildlife (various mammal and birds species) as well as a variety of excursions in 2 days usually. If you are a Buddhist follower or fan, travel Lumbini and other Buddhist sites in 3~4 more days. If you are a trekking enthusiast, there is a bucket of trekking routes, like Everest Base Camp Trek, Annapurna Circuit, Poon Hill, etc.
☞ 4 Days Classic Kathmandu Valley Tour
☞ 5 Days Kathmandu Pokhara Leisure Tour (by Flight)
☞ 8 Days Nepal Holiday Tour (Kathmandu - Pokhara - Chitwan)
It is strongly recommended to take a Tibet Nepal overland trip, so you are able to have Himalayan landscape savory and special culture encounter in one go. Or you can extend your trip to tiny Bhutan to find the mystery of happiness. Tibet Discovery is specialized in providing Nepal Tibet Bhutan Tour Packages and you are also welcomed to customize your unique experience.
☞ 7 Days Lhasa to Kathmandu Overland Tour via Mount Everest
☞ 15 Days Tibet Nepal Bhutan Himalaya Exploration In-depth Tour