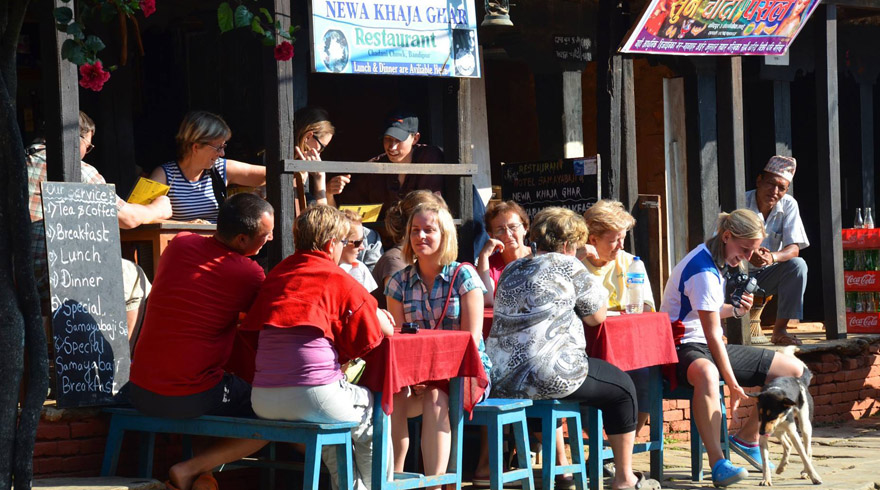 Enjoy the Leisure Time in a Kathmandu Street
Pack & Health Advice for Nepal Travel
Are you planning a trip to Nepal? Packing properly can make your trip more enjoyable, while sometimes the overburden packing will cause problems. If you are searching for what to pack for your trip , here is our lists which may be helpful to you.
Travel Documents - Have Both the Original and Copied Ones
Bring your identification and travel documents with you is the most important thing before your trip. In case that you may lost your travel documents in your trip abroad, you have to bring the original documents as well as many printed copies of the documents. Fellowing is the list of travel documents to pack and back up.
Passport (the identification page);
4 copies of passport size photo;
Visa (You can apply a prior visa in an Embassy or Consulate abroad, or get the Arrival Visa at the airport or border);
Travel insurance;
Health information;;
Credit cards;
Travel itinerary;
Airline tickets;
Hotel or lodging reservation confirmations;
Any other pre-paid confirmations;
What to Pack for Regular Nepal Vacation and Himalaya Trek
A large backpack for luggage and a smaller bag for daily use;
Casual clothes for Kathmandu and other cities. If you want to get some trekking, pack warm trekking socks and trekking trousers;
Light boots and strong waterproof boots for trekking;
Insect repellent;
Sunhat, Sunglasses.
Medical Checklist
This is a reffering list of medicine you can pack with you in refference. Please consult your doctor's advice.
Aspirin or paracetamol pain or fever.
Antihistamine for allergies,hay fever and itch from insect bites.
Cough & Cold Remedies.
Antibiotics if you are going to have a trekking trip.
Medicine for diarrhoea.
Rehydration mixture for dehydration(important if with kids).
Outdoor medicines, such as insect repellent, sunscreen, lip balm and eye drops.
Sting-relief spray or sunblocking cream
Antifungal cream to prevent fungal skin infections.
antiseptic, Bandages and other wound dressingsfor cuts and grazes
Water purification tablets or iodine.
Recommended Vaccinations
Althought Nepal goverment has not carried out any official requirements of immunisations for travelers, but for your health, you are suggested to take precautions, particularly when you are planning to get some trekking, rafting, etc. Some important caccinations are Diphtheria & tetanus, Hepatitis A, Hepatitis B, Influenza, Japanese B Encephalitis (JBE), Meningococcal Meningitis , Polio, Rabies, Tuberculosis, Typhoid and Yellow fever.
Keep Your Passport Safely
Copy of Your Travel Itinerary
Bags for Nepal Trekking
Medical Kit
Nepal Destinations
Nepal Travel Guide
Recommended Nepal Tour Packages
Following are some of our most recommended Nepal tour packages that you may be interested in. All of our tour packages are classic itineraries, and can be tailor-made to meet your personal requirements. You can get
more Nepal Tours
, or
contact us
to customize a trip if you want.
Kathmandu / Bhaktapur / Nagarkot / Kathmandu

Highlights: Swayambhunath, Durbar Square, Nagarkot, Boudhanath

$489 / Details

Kathmandu / Pokhara / Kathmandu

Highlights: Durbar Square, Swayambhunath, Boudhanath, Sarangkot, Phewa Lake

/ Details

Kathmandu / Nagarkot / Pokhara / Chitwan / Kathmandu

Highlights: Durbar Square, Himalya Sunrise, Phewa Lake, Chitwan National Park

$982 / Details
Have a question? Get answers from our travel experts soon!
Your Question:

Your Name:

Your Email: