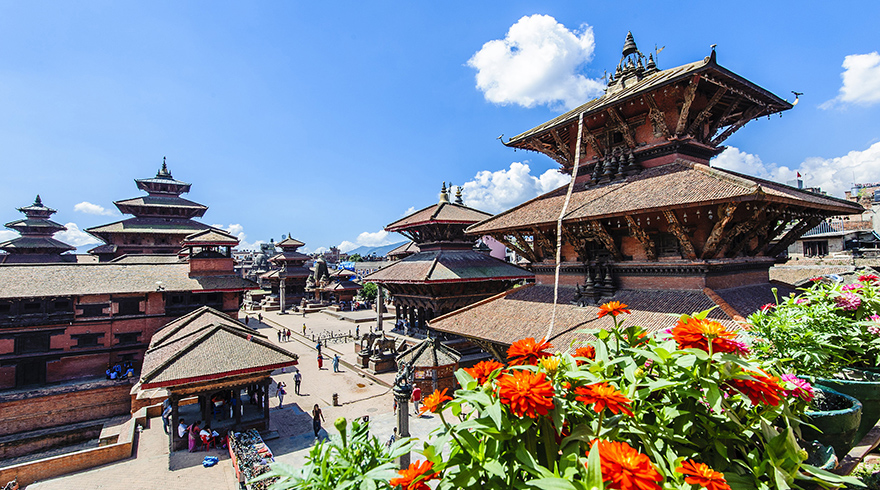 Visit Patan Durbar Square of Kathmandu Valley - World Cultural Heritage Site in A Beautiful Sunny Day
Nepal Weather and Climate - Select the Best Time to Visit Nepal 2021
Affected by the geography in south Asia, Nepal owns a monsoon climate with moderate temperature all year round. And climate varies in different parts of Nepal according to altitude changes: the northern region close to Himalayas is a snow-covered area with low temperature throughout the year; middle valley area always enjoys a temperate climate and the south is typically hot.
Generally speaking, climate in Nepal can be divided into two seasons: dry season (from October to March of the next year) and rainy season (from to September). Each of Nepal's climatic seasons offer something different and visitors could come to Nepal all the year round. Please check the below seasonal climate features carefully to select the best travel time to fulfill your Nepal tour.
Best Time to Visit Nepal
Choosing the best time during dry season to travel to Nepal is a good idea. And the most favorable time of year to visit Nepal are from March to Mid-June and from mid-September to November, both of which tend to provide fairly fine weather, visibility, good views and suitable conditions for trekking, rafting and sightseeing in Nepal. You can fly to Nepal or take an overland drive to Nepal during September to November in autumn or March to April before monsoon to avoid frequent rainfall.
Nepal Weather and Climate - Seasonal Facts about Nepal Travel
Nepal Autumn – Best Time for Sightseeing and Adventure
Nepal autumn (namely September to November) is the best time to have a Nepal travel after the summer monsoon passes by. With clear sky, pleasantly moderate temperature and little rainfall, the short period of autumn of peak tourist season receives thousands of guests from around the world for Nepal tourism. As a result, accommodation in popular destinations in Kathmandu usually gets great tension and consumption rises with high prices.
Travelers who visit Nepal in this time can visit landmark architectures, have best sightseeing of beautiful natural scenery of Himalaya Rang, even Mount Everest, and take favorite activities such as trekking, hiking, paragliding, water rafting in Nepal, etc.…
Splendid Snow Mountains Viewed from Bandipur in November
Nepal Winter – Peaceful Time with Less Crowds
As a period of dry season, Winter of Nepal is dry but not extremely cold as expected for its location of low latitude. Temperature in the daytime maintains above 10 degrees Celsius, drops to a few degrees Celsius and a bit of cold in the evening, and gradually becomes cooler than autumn days. From mid-December to mid-February is the coldest time of year in Nepal. Occasional winter storms during this period can bring snow, frost, making it not a perfect travel time for Nepal. If you want to enjoy a quieter atmosphere, it's a good travel time.
Tourists should note the large temperature difference between day and night and prepare warm clothes during the evening.
Patan Durbar Square in February
Nepal Spring – Second Best Time for Sightseeing
Spring (December ~ February of the next year) is the second best time and pleasant season of Nepal travel coming after the cold winter is over and before the summer monsoon arrives. Weather during Pre-Monsoon is still dry and sky keeps clean as well, and it's getting warmer since spring months of March. Thus, tourist can visit Nepal and trek in famous Annapurna regions, enjoy the florid rhododendron bloom in this period of time.
You could expect more variable weather with predominantly clear morning and overcast afternoons with sudden dark clouds. The days mix up warm and little rain, which irrigates wildflowers like beautiful rhododendrons. As the spring months, lush and an abundant green at this season makes the whole country alive. But since late April, rainfall increase and you maybe have less chance to view gorgeous faces of high-elevated peaks.
Spring Rhododendron Bloom of Nepal in March
Nepal Summer – Rainy Season and Low Season
Summer monsoon makes Nepal a city with plenty of rains in whole summer (June ~ August). During this period, rains visit unexpectedly in the afternoon or at night mostly, sometimes occasional continuous rain in the daytime and they often end quickly, so the weather is always hot and humid during both the night and the day. Heavy rains can cause landslide in some areas of Nepal, and it's very difficult to view snowcapped mountains surrounded by clouds and mist then.
Outdoor trekking for unprofessional trekkers is not recommended during Monsoon months, which is generally difficult and uncomfortable considering the muddy road caused by daily rains, fear of leeches and other concerns.
However, if you visit Nepal in the rainy season, you will benefit huge discounts for accommodation than other months of year, and it's a popular time to travel overland between Nepal and Tibet. Rain gear including rain coat and umbrella are necessary in this season.
In August, Swayambhunath Temple under Cloudy Sky
Nepal Travel Tips:
1. Moderate Temperature Full Year. Though temperature varies in different parts of Nepal in a year, as a whole, Nepal offers a relatively good temperature environment for travel except little hot in summer daytime and cold in winter evening. And temperature varies widely from day to night, so you should prepare some warm clothes.
2. Frequent Rainfall during Summer Monsoon. Most rainfall of the year are concentrated in the summer months, from May to September while rains rarely fall in dry season - from October to April. Bring your rain gear with you and do insect prevention if you will visit Nepal in continual rainy days.
3. Nepal Dressing Guide. Normally, T-shirt and shorts are enough in the daytime. If you visit spots at high elevation or hang out during night, or travel to Nepal in winter, long sleeve and trousers, warm clothing should be helpful. Besides, you can have sunhat, sunglasses and sun cream against sunburn. >> Check Packing & Health Advice of Nepal Travel
4. Best Time to Trek. If you want a trekking trip in Nepal, you have to select a proper time in dry season (September-Novemver or February-April) with your trekking equipment when the weather is pleasant and road condition gets better.
Foreign Trekker in Annapurna Region of Nepal in September
How to Plan a Nepal Tour
Best time to visit Nepal: March to mid-June and mid-September to November
How to get to Nepal: overland driving from China (Tibet) and India, flights from China (Tibet, Chengdu…), India (Delhi/Mumbai/Kolkata/Bengaluru...), Bangladesh (Dhaka), Malaysia (Kuala Lumpur), Thailand (Bangkok), Singapore, etc.
Nepal Visa: you can get Nepal Visa on arrival at Kathmandu Airport and border entry ports, or apply for it from Nepal Embassy abroad before departure, which takes about 1 to 3 working days.
Tourists always start a Nepal tour from Kathmandu - the capital city and tourist distribution center. 4 days is enough to enjoy the world heritage sites and Himalayan views in Kathmandu Valley (Kathmandu, Patan, Bhaktapur and Nagarkot). For those travelers who won't want to miss the most astonishing nature of Nepal, spend 1 or 2 more days visiting lakeside Pokhara. For more experience, Chitwan is a good choice to offer Nepal's oldest wildlife (various mammal and birds species) as well as a variety of excursions in 2 days usually. If you are a Buddhist follower or fan, travel Lumbini and other Buddhist sites in 3~4 more days. If you are a trekking enthusiast, there is a bucket of trekking routes, like Everest Base Camp Trek, Annapurna Circuit, Poon Hill, etc.
☞ 4 Days Classic Kathmandu Valley Tour
☞ 5 Days Kathmandu Pokhara Leisure Tour (by Flight)
☞ 8 Days Nepal Holiday Tour (Kathmandu - Pokhara - Chitwan)
It is strongly recommended to take a Tibet Nepal overland trip, so you are able to have Himalayan landscape savory and special culture encounter in one go. Or you can extend your trip to tiny Bhutan to find the mystery of happiness. Tibet Discovery is specialized in providing Nepal Tibet Bhutan Tour Packages and you are also welcomed to customize your unique experience.
☞ 7 Days Lhasa to Kathmandu Overland Tour via Mount Everest
☞ 15 Days Tibet Nepal Bhutan Himalaya Exploration In-depth Tour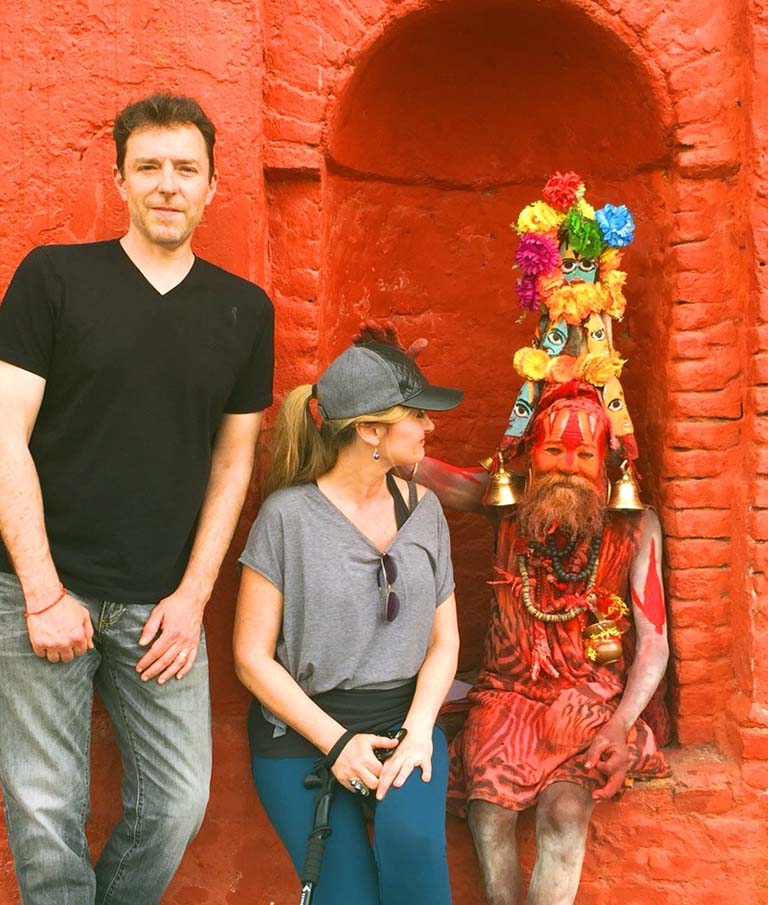 Adam's Family from USA visited Kathmandu with Tibet Discovery
Top Nepal Destinations
More Nepal Travel Guide
Recommended Nepal Tour Packages
Following are some of our most recommended Nepal tour packages that you may be interested in. All of our tour packages are classic itineraries, and can be tailor-made to meet your personal requirements. You can get
more Nepal Tours
, or
contact us
to customize a trip if you want.
Kathmandu / Pokhara / Kathmandu

Highlights: Durbar Square, Swayambhunath, Boudhanath, Sarangkot, Phewa Lake

Request / Details

Kathmandu / Lhasa

Highlights: Durbar Square, Swayambhunath,Nagarkot, Potala Palace, Sera Monastery

/ Details

Beijing / Xian / Lhasa / Shigatse / Gyantse / Mount Everest / Gyirong / Kathmandu

Highlights: Forbidden City, Great Wall, Terracotta Warriors, Potala Palace, Mt. Everest

/ Details
Have a question? Get answers from our travel experts soon!
Your Question:

Your Name:

Your Email: