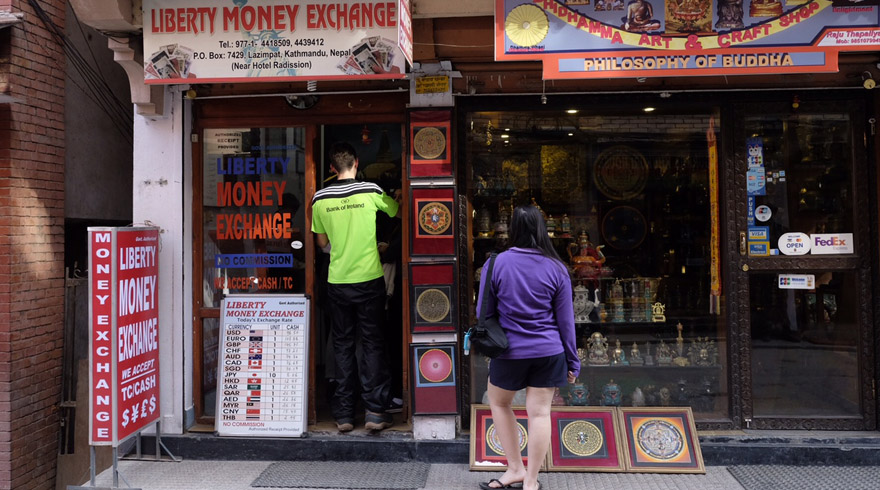 Change Nepal Currency is Simple and Easy in Kathmandu
Nepal Currency - Money & Currency Exchange in Nepal
When you are traveling in Nepal, you'd better find a place to exchange some of your money into Nepal currency as you may need to pay for goods and services with Nepalese cash at many situations especially when you are doing some shopping at local streets. Since Nepalese Ruppe cannot be imported to your country, and your foreign currency must be declared on arrival, so you have to change the money in the airport, border, bank and hotels in Nepal, which is easy and safe.
If carrying a lot of cashes is uncomfortable for you, you can use the Travellers' Checks which are accepted at many banks and major hotels, but have to be in USD or GBP. If you traveling to big cities like Kathmandu, Pokhara, Chitwan, your bank cards of American Express, MasterCard and Visa are also accepted by many shops, hotels, restaurants and agencies.
Nepalese Rupee
The official currency in Nepal is the Nepalese Rupee (NPR or Rs). One rupee is divided into 100 paisa (p). Coins come in denominations of 1, 2, 5 and 10 rupees. While paper notes come in denominations of: 1, 2, 5, 10, 20, 50, 100, 500, 1000 (Rs 25/250 are also available but are rarely used). The issuing of Nepal Rupee is controled by The Nepal Rastra Bank. You can exchange your money into Nepal Rupee at banks, authorised hotels and stores, etc.
Nepal Rupee vs Indian Rupee
Nepal Rupee and Indian Rupee are two diffrent systems of currency. Though not as a legal tender for finacial currency,the Indian Ruppe is widely accepted in many places in Nepal, especially the border areas close to India. But travelers are suggested to exchange money to Nepal Rupee instead of Indian Rupee.
Nepal Currency
Currency Exchange in Nepal: Easy & Safe
According to Nepal laws, only authorised dealers such as banks, hotels and licensed money changers can offer currency exchanging service. You'd better not to exchange currency with any one who is not authorised. It is not recommended to change a lot of Nepal Rupees, because only up to 10% of total of all receipts can be reconverted to foreign currency when you leave Nepal from the Kathmandu Airport.
When you exchanging currency, you will find there are three main exchange rates: the Rastra Bank rates (the government's official rate), the private banks' rate (slightly more generous), and the black market rate (the most generous, set by carpet shops and travel agents). Official exchanges rates are set by the government's Nepal Rastra Bank and listed in the daily newspapers. Rates at the private banks vary, but are generally not far from the official rate.
Nepal Currency Exchange Rates
Following is the offical Exchange Rates for 31 October, 2017 fixed by Nepal Rastra Bank. You can check the accurate and real-time exchange rate on its offical website - www.nrb.org.np
Currency
Unit
Buying/Rs.
Selling/Rs.
U.S. dollar
1
103.47
104.07
European euro
1
120.39
121.09
UK pound sterling
1
136.38
137.17
Indian Rupee
100
160.00
160.15
Swiss franc
1
103.72
104.32
Australian dollar
1
79.35
79.81
Canadian dollar
1
80.64
81.11
Singapore dollar
1
75.91
76.35
Japanese yen
10
9.11
9.16
Chinese renminbi (Yuan)
1
15.57
15.66
Hong Kong dollar
1
13.26
13.34
Exchange Currency in Banks
Exchanging currency in the banks is the most reliable way if you want to exchange money at the published rates. There are many banking companies in Nepal. You can easily find some in the main cities, such as Kathmandu, Pokhara, Chitwan. These banks also offer ATM (Automated Teller Machines). The banks usually offer better rates than the currency changers but you might have to wait in line. There could also be some procedures involved. You are required to show your passport, and fill in some paper. A foreign exchange encashment receipt will be given to you, showing your identity and the amount of hard currency you have changed. The recommended commercial banks include Nepal Investment Bank, Nepal SBI Bank, Himalayan Bank Limited, Standard Chartered Bank, etc.
Exchanging Currency on ATMs
If you don't want to fill in too many forms you need to complete when you exchanging currency at the encounters, you can go to get local Nepal Rupees from the ATMS which accept most Visa and Master credit cards and other bank cards issued by any of the major international banking networkds. These ATMs are accessible 24 hours a day. If you withdraw money in the night, please make sure your surrounding is safe. Most of ATMs have a maximum withdrawal amount of 10,000Rs, but you can make repeated withdrawals with a service charge for each.
You can easily find some ATMS in Kathmandu, Pokhara and Chitwan to exchange currency. But not every ATM accept foreign cards. It seems only the ATMs in Kathmandu and Pokhara are working well, and accept international cards. In many places the rest of the country, the ATMs only support National banks.
Other Places to Exchange Currency
You can also exchange money at Money Exchange offices which can be found in tourist areas easily. You can see the offices post post their daily exchange rates on a board or screen. The exchange rate offered by these offices varies, usually a bit lower than the exchange rates in the banks.
You can also exchange currency in some hotels and major tourist merchants, but the rate offered is usually very lower compared to that offered by Banks and currency exchangers.
There are exchange counters at Kathmandu's Tribhuvan International Airport, Banks and Moneychangers at the various border crossings like Gyirong in Tibet. Pokhara and the major border towns also have official moneychanging facilities. But if you are trekking, please take enough small-denomination cash rupees to last the whole trek.
Credit Cards
Major Credit Cards such as Visa, MasterCard, JCB and American Express, are readily accepted at midrange and better hotels, restaurants, airlines, and major tourist merchants in the Kathmandu Valley and Pokhara.
Cash in & out of Nepal
Major International currencies including USD, GBP, EURO, YEN etc, are readily accepted. There are no customs charges or limitations in bringing your home currency into Nepal. It is not generally recommended to carry around large quantities of cash on your person.
Officially Nepali Rupees cannot be taken out of the country, and notes cannot be exchanged at banks in your home country.
Nepal Rastra Bank
Change Money in Kathmandu Airport
Change Money in Authorised Store
Change Money in Bank
Global Bank
ATM in Kathmandu
Nepal Destinations
Nepal Travel Guide
Recommended Nepal Tour Packages
Following are some of our most recommended Nepal tour packages that you may be interested in. All of our tour packages are classic itineraries, and can be tailor-made to meet your personal requirements. You can get
more Nepal Tours
, or
contact us
to customize a trip if you want.
Kathmandu / Nagarkot / Bhaktapur / Kathmandu

Highlights: Swayambhunath, Patan Durbar Square, Nagarkot, Boudhanath

$489 / Details

Kathmandu / Pokhara / Kathmandu

Highlights: Durbar Square, Swayambhunath, Boudhanath, Sarangkot, Phewa Lake

/ Details

Kathmandu / Nagarkot / Pokhara / Chitwan / Kathmandu

Highlights: Durbar Square, Himalya Sunrise, Phewa Lake, Chitwan National Park

$982 / Details
Have a question? Get answers from our travel experts soon!
Your Question:

Your Name:

Your Email: