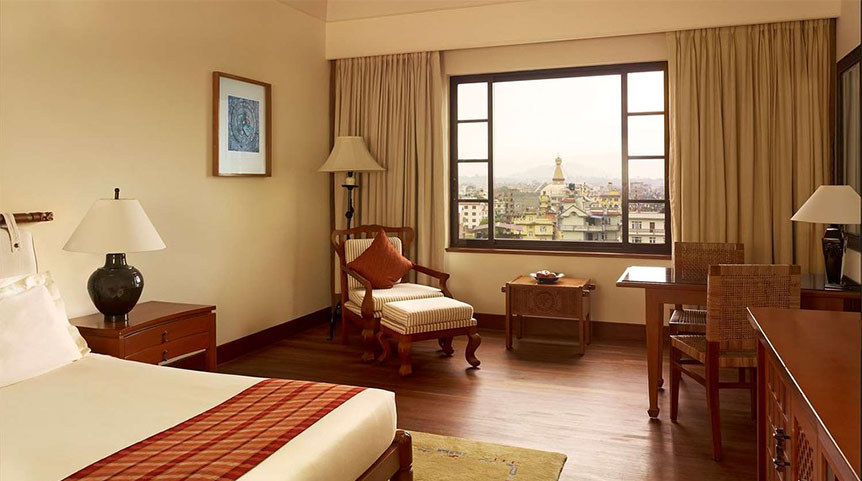 Big tourist destinations like Kathmandu and Pokhara guarantee a comfortable resort stay
Nepal Accommodation: Nepal Hotel & Guest House
The spectacular nature, rich culture and various activities make Nepal a popular country for travel. While the increasing number of tourists are flocking to Nepal, the quantity and quality of accommodation in Nepal also grows. During your Nepal tour, you would never need to worry about where to stay. The accommodation ranges from luxury hotels to budget-priced guesthouses in Kathmandu and other top tourist destinations. You also have the freedom to choose the home-stay where you can accommodate in the local houses with the local people and enjoy the authentic Nepalese traditional food, culture & customs.
Recommended Hotels in Kathmandu
Traveling in Kathmandu Valley (including Kathmandu, Patan, Bhaktapur and Nagarkot), most tourists like to accommodate at Kathmandu. Patan and Bhaktapur also own some good hotels, but Kathmandu offers the most choices for accommodation to you.
There are various luxury 5-star hotels with both good location and perfect facilities. The Kathmandu's main accommodating area is concentrated upon near Thamel area, Boudha Stupa area and Tribhuvan International Airport area. Among these areas, Thamel is most chosen because it enjoys more hotels with different classes and convenient access to attractions, restaurants and shops. Recommended hotels include 5-star Kathmandu Marriott Hotel and 3-star Hotel Moonlight. If you want to stay in quieter environment, choose a hotel near Boudha Stupa. Recommended hotels include 5-star Hyatt Regency Kathmandu and 3-star Shambaling Boutique Hotel. Hotels near the airport are always selected when travelers need to catch a morning flight. Recommended Hotels include 5-star The Dwarika's Hotel and 3-star.
If you want to admire the breathtaking sunrise over Himalayan ranges from Nagarkot, you are advised to accommodate in Nagarkot. Most recommended hotels ranked by travelers include Club Himalaya Nagarkot by Ace Hotels, Hotel Country Villa and Hotel Mystic Mountain. Learn more about Kathmandu Hotels>
☞ 2 Days Kathmandu Best Essence Tour
☞ 4 Days Classic Kathmandu Valley Tour
☞ 4 Days Kathmandu Nagarkot Himalayan Sunrise Tour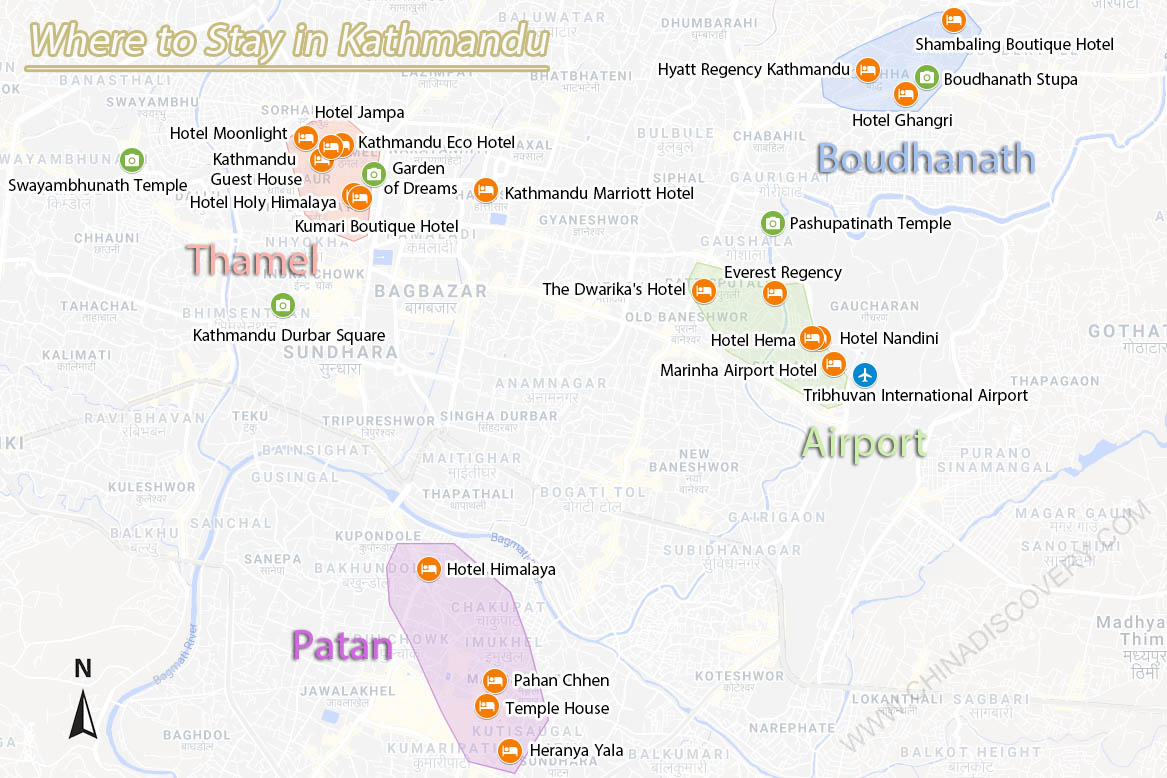 Kathmandu Hotel Maps (click to enlarge)
Spacious and Cozy Room in Dwarika's Hotel
Where to Stay in Pokhara
Pokhara, the second largest city and the second popular tourist destination only after Kathmandu, undoubtedly offers a large range of accommodation options as well. There are 4 major accommodating regions in Pokhara, namely Sarangkot area, World Peace Pagoda Region, Damside and Airport region, as well as Phewa Lakeside region.
Most of the tourists choose to accommodate around Phewa Lake, which enjoys breathtaking natural landscapes. It is also quite convenient to find some good restaurants and big stores. Recommended lakeside hotels include 5-star Temple Tree Resort & Spa, 4-star Waterfront Resort by KGH Group, 4-star Mount Kailash Resort, 3-star Hotel Crown Himalaya, 3-star Hotel Peninsula Nepal, 3-star Hotel Middle Path & Spa, etc.
For those who aim to catch a flight to depart, you can choose the hotels near the airport, including 5-star Fish Tail Lodge, 5-star Hotel Pokhara Grande, 5-star Shangri-La Village Pokhara, etc.
Besides, accommodating near World Peace Pagoda allows you to wake up by the first Himalaya morning light. To shoot the best sunrise and sunset of Pokhara, don't hesitate to accommodate in Sarangkot. See more about Pokhara Hotels>
☞ 5 Days Kathmandu Pokhara Leisure Tour (by Flight)
☞ 6 Days Kathmandu Pokhara Highlights Tour (by Driving)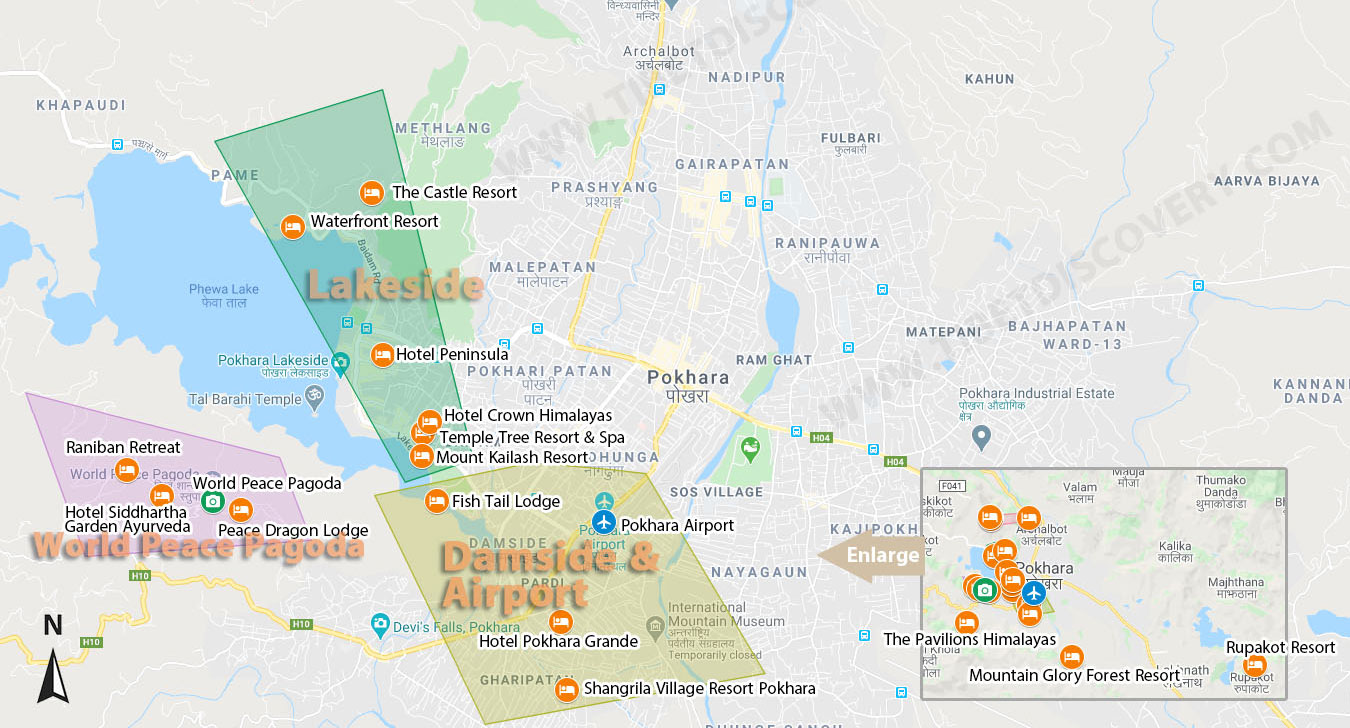 Pokhara Hotel (click to enlarge)
Hotel Middle Path & Spa
Where to Stay in Chitwan
With lots of tourists coming to enjoy the original nature and wildlife, Chitwan is developed with enough accommodating places ranging from several luxury resorts to delicate resorts for your choice. Most of them provide comfortable rooms, pleasant service, Free Wi-Fi, Nepalese breakfast etc. In order to protect the environment of Chitwan National Park, it is not allowed to accommodate in the park. Travelers can choose to accommodate in the villages around the park or accommodate in the camps.
Sauraha is a village serving as the eastern gateway to Chitwan National Park and most travelers like to stay overnight. There are lots of hotels and lodges with restaurants, cafes and souvenir shops surrounding for your choice. Most recommended hotels include some western style ones. Recommended loges in Sauraha include Green Park Chitwan, Chitwan Village Resort, Tiger Residency Resort, etc.
Meghauli is another village in east of Chitwan National Park offering many superb hotels. From the balconies of some hotels, you can clear see the animals in Chitwan National Park, especially elephant. Great Hotels in Meghauli include Barahi Jungle Lodge and Sarang Wildlife Sancturary. See more about Chitwan Hotels>
Recommended Hotels in Chitwan (click to enlarge)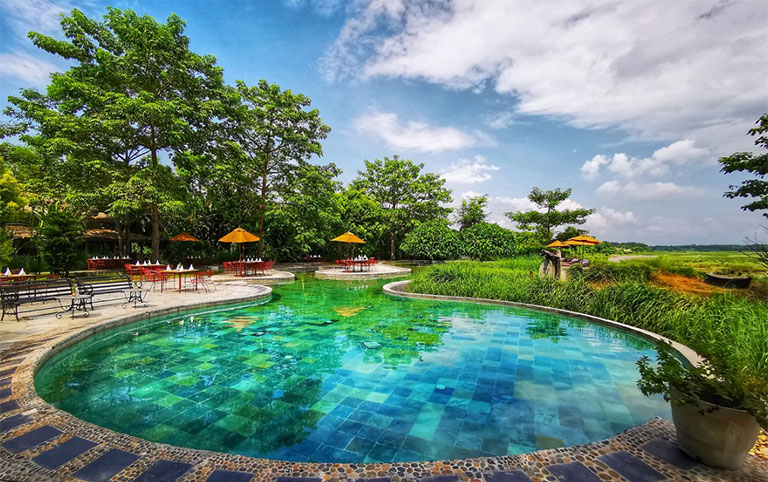 Beautiful Yard of Barahi Jungle Lodge
Where to Stay in Lumbini
Located in the remote border area of Nepal, Lumbini has simpler and more basic accommodation compared with Kathmandu and Pokhara. However, it is available to find some hotels with comfortable rooms, available hot water, steady electricity and necessary facilities. Most popular accommodation areas mainly contains Lumbini Garden area and are Bhairahawa Airport area
Accommodating in Lumbini Park, you will enjoy a quick access the top attractions, like Maya Devi Temple, Lumbini Museum, World Peace Pagoda, etc. In Lumbini Park, you will find 5-star Hotel Pawan Palace Lumbini, 4-star Bhuddha Maya Gardens Hotel, 2-star Lumbini Buddha Garden Resort, etc.
In the last night of Lumbini some travelers may choose to stay around Bhairahawa Airport so that it will be convenient to take flight. Recommended hotels around the airport include 5-star Tiger Palace, 3-star Galaxy Guest House & Restaurant, 3-star OYO538 Hotel Castel.
If you have interest, you can also choose to stay in temples in Monastic Sites. Usually you need to share the room with 3 other people. They also offer vegetarian meals but you have to follow the meal time. See more about Lumbini Hotels>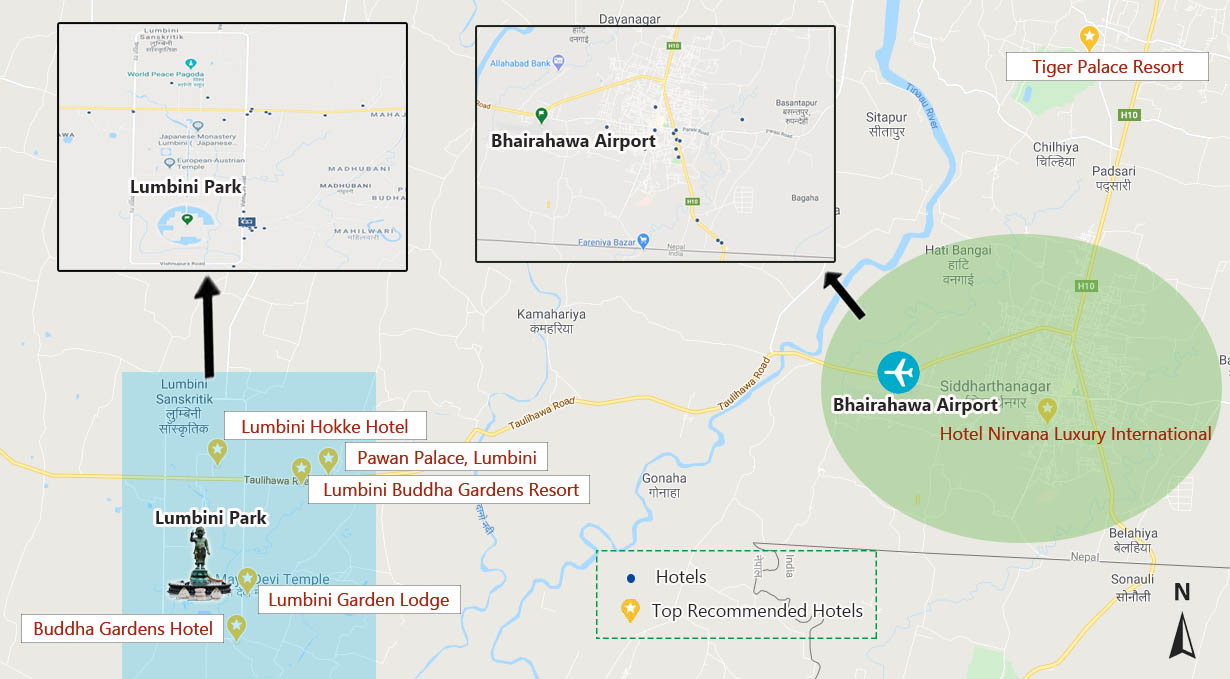 Recommended Hotels in Lumbini (click to enlarge)
Tiger Palace Resort
Hotels Guesthouses in Kathmandu & Nepal Trek
If you want to take a budget tour, accommodating in the guesthouses is also available in Kathmandu. There won't be any luxury facilities or western food, but the service is always good as well.
In the trekking tour, there won't be any well-equipped hotels usually. Most of the accommodation will be arranged in the guesthouses. Located on the mountains, the guesthouses offers very basic facilities, but you could enjoy the cleanliness of the rooms and the friendliness of the staff. The guesthouses are always cheap, but the food is relatively expensive. Because of the limited transportation conditions, all the food materials are carried to the guesthouses from the city area by staff. The hot drinking water is also charged separately. In the higher location, hot water cost more.
Kathmandu Guest House
Travel Lodge/Teahouse during your Nepal Trek
There are a few options apart from guesthouses during your Nepal trekking tours, including travel lodges and teahouses. Though the accommodation is more basic, the experience of a stay in these lodges and teahouses is utterly amazing. You can enjoy the views of the peaceful mountain and the communication between trekkers. Some of the most popular routes have accommodation in extremely primitive rooms that may be rented out to a weary traveler. If you choose to accommodate in these rooms, do remember to pack everything you need during the trek, like sleeping bag, blankets.
☞ 9 Days Nepal Ghorepani Poonhill Trekking Tour
☞ 15 Days Everest Base Camp Classic Trek from Kathmandu
Nepal Travel Lodge
Home-stay with Nepal Local Families
Some local family in Nepal also offers home-stay service. With a stay in the local home with the local family, your journey would be more cherished. Guests are invited in a private house to live with the family members, sharing the featured home-made food and drinks. The local people are always kind and friendly, so you can ask them about their daily life and traditional customs. You could enjoy the warm reception and good service. Though the rooms are not good and big as the hotels' rooms, accommodating with local family in Nepal is the best way to learn about their culture, believes and life style. You are sure to have an unforgettable Nepal home visit experience.
Home-stay in Nepal
How to Plan a Nepal Tour
Best time to visit Nepal: March to mid-June and mid-September to November
How to get to Nepal: overland driving from China (Tibet) and India, flights from China (Tibet, Chengdu…), India (Delhi/Mumbai/Kolkata/Bengaluru...), Bangladesh (Dhaka), Malaysia (Kuala Lumpur), Thailand (Bangkok), Singapore, etc.
Nepal Visa: you can get Nepal Visa on arrival at Kathmandu Airport and border entry ports, or apply for it from Nepal Embassy abroad before departure, which takes about 1 to 3 working days.
Tourists always start a Nepal tour from Kathmandu - the capital city and tourist distribution center. 4 days is enough to enjoy the world heritage sites and Himalayan views in Kathmandu Valley (Kathmandu, Patan, Bhaktapur and Nagarkot). For those travelers who won't want to miss the most astonishing nature of Nepal, spend 1 or 2 more days visiting lakeside Pokhara. For more experience, Chitwan is a good choice to offer Nepal's oldest wildlife (various mammal and birds species) as well as a variety of excursions in 2 days usually. If you are a Buddhist follower or fan, travel Lumbini and other Buddhist sites in 3~4 more days. If you are a trekking enthusiast, there is a bucket of trekking routes, like Everest Base Camp Trek, Annapurna Circuit, Poon Hill, etc.
☞ 4 Days Classic Kathmandu Valley Tour
☞ 5 Days Kathmandu Pokhara Leisure Tour (by Flight)
☞ 8 Days Nepal Holiday Tour (Kathmandu - Pokhara - Chitwan)
It is strongly recommended to take a Tibet Nepal overland trip, so you are able to have Himalayan landscape savory and special culture encounter in one go. Or you can extend your trip to tiny Bhutan to find the mystery of happiness. Tibet Discovery is specialized in providing Nepal Tibet Bhutan Tour Packages and you are also welcomed to customize your unique experience.
☞ 7 Days Lhasa to Kathmandu Overland Tour via Mount Everest
☞ 15 Days Tibet Nepal Bhutan Himalaya Exploration In-depth Tour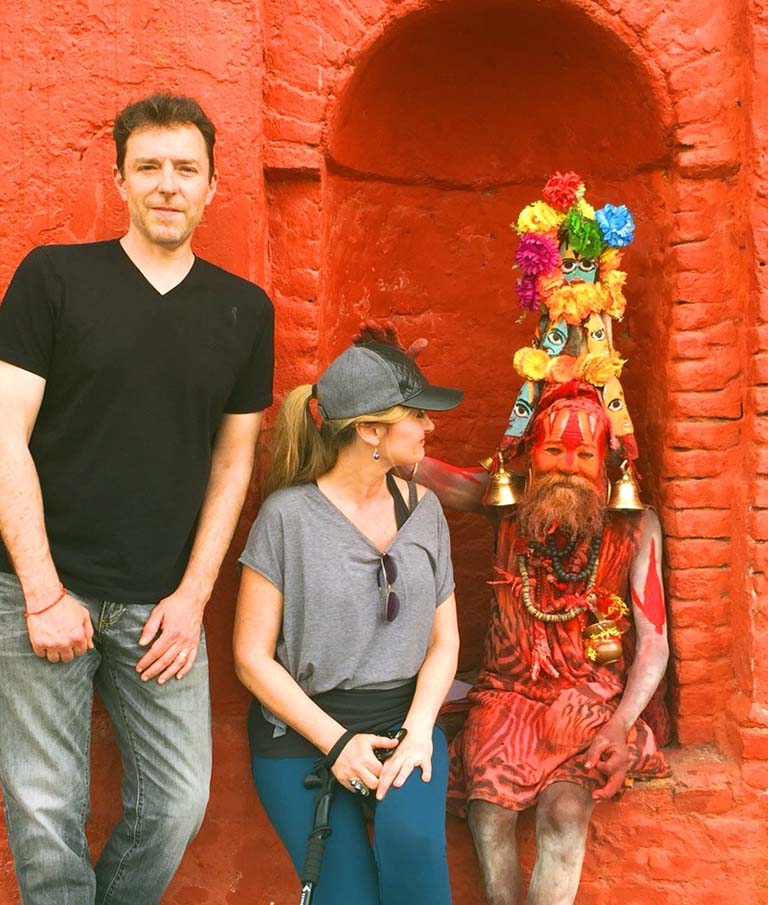 Adam's Family from USA visited Kathmandu with Tibet Discovery
Top Nepal Destinations
More Nepal Travel Guide
Recommended Nepal Tour Packages
Following are some of our most recommended Nepal tour packages that you may be interested in. All of our tour packages are classic itineraries, and can be tailor-made to meet your personal requirements. You can get
more Nepal Tours
, or
contact us
to customize a trip if you want.
Kathmandu / Pokhara / Kathmandu

Highlights: Durbar Square, Swayambhunath, Boudhanath, Sarangkot, Phewa Lake

Request / Details

Kathmandu / Bhaktapur / Nagarkot / Kathmandu

Highlights: Swayambhunath, Durbar Square, Nagarkot, Boudhanath

$489 / Details

Kathandu and around

Highlights: Swayambhunath, Pantan's Durbar Square, Boudhanath, Bhaktapur

/ Details
Have a question? Get answers from our travel experts soon!
Your Question:

Your Name:

Your Email: