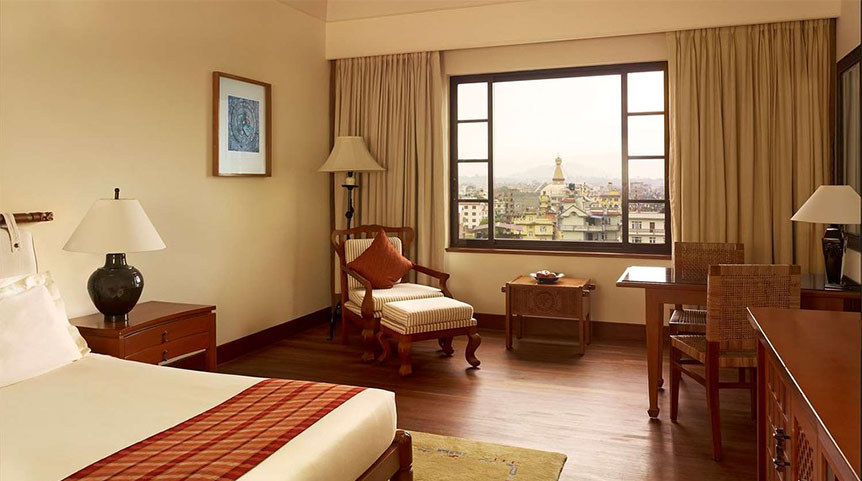 Big tourist destinations like Kathmandu and Pokhara can guarantee a comfortable resort stay
Nepal Accommodation: Nepal Hotel & Guest House
The spectacular nature, rich culture and various activities make Nepal a popular country for travel. While the increase number of tourists are flocking to Nepal, the quantity and quality of accommodation in Nepal also grows. During your Nepal tour, you would never need to worry about where to stay. The accommodation ranges from luxury hotels to budget-priced guesthouses in Kathmandu and other top tourist destinations. You also have the freedom to choose the home-stay where you can accommodate in the local houses with the local people and enjoy the authentic Nepalese traditional food, culture & customs.
Hotels in Tourist Destinations
Recommended Hotels in Kathmandu
Traveling in Kathmandu Valley (including Kathmandu, Patan and Bhaktapur), most tourists like to accommodate at Kathmandu. Patan and Bhaktapur also own some good hotels, but Kathmandu offers the most choices for accommodation to you. See more about Kathmandu Hotels.
There are various luxury 5-star hotels with both good location and perfect facilities. If you want to experience a luxurious stay, Dwarilka's Hotel, the Hotel Yak and Yeti, and Crowne Plaza Hotel Kathmandu Soaltee are most recommended. You can enjoy the clean, spacious and comfortable rooms, various awesome food as well as incredible quality service. For a comfortable hotel, Hotel Tibet International and Shanker Hotel are also good options. There are some good hotels at lower cost as well, like Hotel Friends Home and Kathmandu Guest House. See more about Kathmandu Hotels
Recommended Hotels in Other Destinations
In addition to cities in the Kathmandu Valley, other tourist destinations are also equipped with different accommodation, like Pokhara, Chitwan, Lumbini, and Nagarkot. Though there aren't many luxury hotels, but many 2-star and 3-star hotels available. Some of them are designed in traditional Nepalese architecture and offers cozy rooms.
Pokhara: With walking distance to Phewa Lake, Hotel Middle Path & Spa is a hotel with good lake view. The public areas of the hotel were lovely, including a leafy garden for breakfast or drinks. Hotel Adam features in its rooftop breakfast with views of mountains and lake.
Chitwan: Traveling in Chitwan National Park, good hotels also let you have an unforgettable experience. Green Park Chitwan is a 4-star hotel with full-equipped rooms, and the service is also exceptional.
Lumbini: There are many hotels with Japanese style Hotel. Lumbini Hokke Hotel and Lumbini Hotel Kasai are both two peaceful hotels near the Sacred Garden. In the remote Lumbini, they are pretty good.
Hotels Guesthouses in Kathmandu & Nepal Trek
If you want to take a budget tour, accommodating in the guesthouses is also available in Kathmandu. There won't be any luxury facilities or western food, but the service is always good as well.
In the trekking tour, there won't be any well-equipped hotels usually. Most of the accommodation will be arranged in the guesthouses. Located on the mountains, the guesthouses offers very basic facilities, but you could enjoy the cleanliness of the rooms and the friendliness of the staff. The guesthouses are always cheap, but the food is relatively expensive. Because of the limited transportation conditions, all the food materials are carried to the guesthouses from the city area by staff. The hot drinking water is also charged separately. In the higher location, hot water cost more.
Travel Lodge/Teahouse during your Nepal Trek
There are a few options apart from guesthouses during your Nepal trekking tours, including travel lodges and teahouses. Though the accommodation is more basic, the experience of a stay in these lodges and teahouses is utterly amazing. You can enjoy the views of the peaceful mountain and the communication between trekkers. Some of the most popular routes have accommodation in extremely primitive rooms that may be rented out to a weary traveler. If you choose to accommodate in these rooms, do remember to pack everything you need during the trek, like sleeping bag, blankets.
Home-stay with Nepal Local Families
Some local family in Nepal also offers home-stay service. With a stay in the local home with the local family, your journey would be more cherished. Guests are invited in a private house to live with the family members, sharing the featured home-made food and drinks. The local people are always kind and friendly, so you can ask them about their daily life and traditional customs. You could enjoy the warm reception and good service. Though the rooms are not good and big as the hotels' rooms, accommodating with local family in Nepal is the best way to learn about their culture, believes and life style. You are sure to have an unforgettable Nepal home visit experience.
Spacious and Cozy Room in Dwarika's Hotel
Hotel Middle Path & Spa
Lumbini Hokke Hotel
Kathmandu Guest House
Nepal Travel Lodge
Home-stay in Nepal
Nepal Destinations
Nepal Travel Guide
Recommended Nepal Tour Packages
Following are some of our most recommended Nepal tour packages that you may be interested in. All of our tour packages are classic itineraries, and can be tailor-made to meet your personal requirements. You can get
more Nepal Tours
, or
contact us
to customize a trip if you want.
Kathandu and around

Highlights: Swayambhunath, Pantan's Durbar Square, Boudhanath, Bhaktapur

/ Details

Kathmandu / Nagarkot / Bhaktapur / Kathmandu

Highlights: Swayambhunath, Patan Durbar Square, Nagarkot, Boudhanath

$489 / Details

Kathmandu / Pokhara / Kathmandu

Highlights: Durbar Square, Swayambhunath, Boudhanath, Sarangkot, Phewa Lake

/ Details
Have a question? Get answers from our travel experts soon!
Your Question:

Your Name:

Your Email: