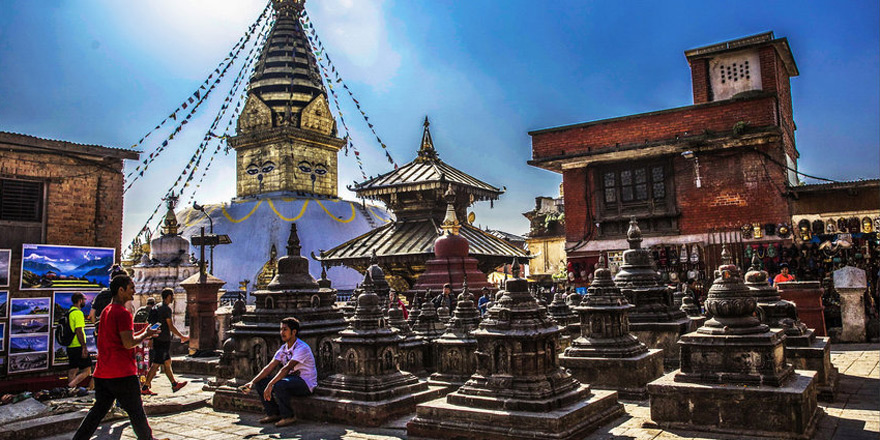 Start your Nepal tour and get a life-time cherishing memory
How to Plan to a Nepal Trip - Nepal Itineraries Planning Guide
Nepal is a country with old history, stupendous scenery, rich culture and exciting adventure. In Nepal, travelers can cherish the grand architectures, enjoy the breathtaking view of the highest peaks, get a close touch with wild animals, just feel the religious atmosphere in the temples or trek to mysterious mountains. Nepal always satisfies you in different aspects. Because of the various attractions and activities, the designed Nepal tours might be different in theme and length. The following ideas aim to help you plan the best Nepal tour for you.
Top 3 Nepal Itineraries for 2020
Many places with amazing attractions in Nepal are worthy of your discovery, including Kathmandu, Patan, Bhaktapur, Pokhara, Chitwan and Lumbini. We handpicked 3 best Nepal itineraries - the experience most favored by our travelers and covering the highlights of these top destinations.
Best Time to Visit Nepal
Nepal bears an obvious subtropical monsoon climate which lasts from mid-June to mid-September. During the Monsoon, the temperature and humidity are both high all the time. The majority of rain usually falls in the afternoon or night time. As a result, it is not recommended to trek at this time. The best time to visit Nepal is pre-monsoon season (March, April, May, Mid-June) and post-monsoon season (Mid-September, October, November). Both tend to be fairly fine weather, and to provide pleasant conditions for trekking, rafting and sightseeing in Nepal. Temperature varies widely from day to night, so you should prepare some warm clothes. See more at Best Time to Visit Nepal.
Spring Rhododendron Bloom of Nepal in March
How to Go to Nepal
It's available to get to Nepal by international flight or by overland driving from Tibet. Taking a flight is the most time-saving and comfortable way to Nepal, but overland driving experience is breathtaking sightseeing journey.
By Flight: Kathmandu Tribhuvan International Airport (IATA: KTM, ICAO: VNKT) is the only airport serving international flights to/off Nepal. There are accessible flights to Kathmandu from China (Lhasa, Chengdu, Guangzhou, Kunming, Hong Kong, etc.), Bhutan (Paro), India (Delhi/Mumbai/Kolkata/Bengaluru...), Bangladesh, Malaysia, Thailand, Singapore, United Arab Emirates…
By Overland Driving: Many travelers enjoy an overland driving from Tibet via Mount Everest. The whole trip driving takes 4 days but offers a great sightseeing. Starting from Lhasa, it takes one day to Shigatse via Yamdrok and Gyantse, one day to Mount Everest from Shigatse, one day from Everest to Gyirong and another day from Gyirong to Kathmandu. In the four days' time, you can fully appreciate the natural beauty and cultural charm of Bhutan.
Check more information at How to Get to Nepal>
Gyirong Port at China-Nepal Border
How to Design Nepal Tour Itineraries
Kathmandu is the tourist and transport center of Nepal, so tourists usually start their tour from Kathmandu Valley, and then extend to other destinations like Nagarkot, Pokhara, Chitwan and Lumbini.
Four Days Nepal Essence Tour
If your time is limited and won't want to miss the essence of Nepal, you can spend four days to explore the Kathmandu Valley – Kathmandu, Patan and Bhatapur. In the short four days, you can savor the antique flavor of Nepal.
Day 1: Arrive in Kathmandu. Kathmandu Tribhuvan International Airport is connected with many Asian cities and some cities from other countries, like Hong Kong, Karachi, Lhasa, London, Osaka, Paris, Moscow, Paro, Singapore and Varanasi etc. You can take a flight to Kathmandu directly from these cities or take an overland trip from Tibet. Read more about How to Get to Nepal.
Day 2~3: You will have two days to explore world-famous Durbar Squares, featured temples and other unique architecture. The attractions you must visit include Swayambhunath, Boudhanath, and Pashupatinath.
Day 4: Leave Kathmandu for you next destination
Featured Architectures in Patan Durbar Square
Add One Day to Enjoy the Natural Landscape
If you have another day to stay in Nepal, Nagarkot and Pokhara are recommended.
Nagarkot just situated 34km northeast of Kathmandu which offers one of the best Everest-viewing platform. In the early morning of Nagarkot, you can catch the precious moment of admiring the breathtaking sunrise over Mount Everest.
If you want a leisurely holiday, extend your tour from Kathmandu to Pokhara instead of Nagarkot. Pokhara offers great sight of sunrise as well. Just from Sarangkot, you can watch the beautiful sunrise as well as the amazing Himalayan Peaks. Then, transfer to World Peace Pagoda and have a good sight of the surrounding scenery. After that, take your relaxing time in Devi's Fall, Gupteswar Gupha and Phewa Lake.
Enjoy Himalaya Mountains Views at Nagarkot
Picturesque View of Phewa Lake
Add Two Days to Have Nature Fun
Spending another two days in Chitwan National Park after your Kathmandu Valley journey, you will get a more interesting and meaningful experience. Chitwan National Park features in its ecosystems, including the Churia hills, Ox-bow lakes, and the flood plains of the Rapti, Reu and Narayani Rivers. Walking into the Chitwan National Park, you can feel the great enjoyment of viewing the primitive nature and watching a diversity of wild animals.
Chitwan National Park
Add Four Days to Explore Buddhism
For the Buddhist followers or those who are interested in Buddhist culture, you are suggested to visit Dhulikhel, Lumbini and Pharping which are all important Buddhist Sites. In Dhulikhel, you can visit Namo Buddha Stup, one of three main stupas of Kathmandu Valley. Lumbini is the birthplace of the Lord Buddha and there are some grand shrines, temples and monasteries which tell the whole life of Buddha lord as well as his Buddhism. Then you will explore the mystery of the caves in Pharping, which said to be the practice site of Buddha.
Maya Devi Temple in Lumbini
Add Five Days to Take a Memorable Trekking
There are many of the highest peaks perched in Nepal, which attracts a large number of trekkers to conquer them. Trekking to Ghorepani – Poon Hill is one of the most popular trekking route. During the trekking, you will walk through the great mountains and rural villages of diverse ethnic groups scattering on the high mountains.
Poon Hill
Extend Nepal Tour to Tibet
As the neighbor of Nepal, Tibet is always considered as the top one destination after the wonderful Nepal Tour. Since Gyirong Port was open to foreign tourists on 30, August, 2017, it is available to travel to have a Nepal Tibet Overland Tour.
Day 1: Drive to Gyirong Port from Kathmandu and accommodate at Gyirong Town. Group Visa, Tibet Entry Permit and Border Pass are necessary to permit you travel to Tibet from Nepal.
Day 2: You can have a long drive (about 8 hours) to Mount Everest, and visit Rongbuk Monastery and Everest Base Camp – two best viewing-decks for admiring the beauty of Mount Everest. The accommodation will be arranged at Rongbuk Monastery Guesthouse or local tents.
Day 3: Drive to Shigatse – the second largest monastery from Mount Everest and pay a visit to Tashilhunpo Monastery – the residence of honored Panchen Lama.
Day 4: Drive to Lhasa via Gyantse. This day's journey allows you enjoy the featured monastery as well as natural wonders in Tibet. You will visit Palcho Monastery (in Nepal style), and emerald Yamdrok Lake and beautiful Karola Glacier. If you are interested in the old history and culture of Gyantse, you can stay one more night there and explore the Gyantse Dzong and Pala Manor
Day 5~6: You will take two full days to appreciate the highlights of Lhasa, like majestic Potala Palace, Holy Jokhang Temple, Sera Monastery etc.
Day 7: Depart for your next destination. You can also have another day to have a photography tour in Namtso. Lhasa is well connected with many other cities in China, like Chengdu, Beijing, Xian, Shanghai etc.
Tips:
1) There are available Kathmandu Lhasa Flights , so you can enjoy a fast trip to Lhasa directly and start to explore Tibet from Lhasa.
2) It is also very popular to travel from Tibet to Nepal with a visit to Mount Everest by overland driving, which helps you to acclimatize your body to the high altitude gradually.
Gyirong Port
Palcho Monastery
Incredible View of Namtso
Extend Nepal Tour to China
China is off-the-scale massive to offer tourists different experience. Apart from the high-soaring peaks, sublime sapphire lakes and sacred Buddhists sites in Tibet, there are still other landscapes which span the range from alpha to omega. The top destinations in Tibet contain Beijing, Xian, Shanghai, Chengdu, Guilin, Yangtze River etc. Some tourists also choose to travel from mainland China to Kathmandu via Tibet. Usually, you are advised to spend 10~12 days in China Tibet Tour from Kathmandu.
Add Two or Three Days to Shanghai
Shanghai is the most cosmopolitan city China. It has the most skyscrapers in mainland China, including Shanghai Tower, Oriental Pearl Tower, and Shanghai World Financial Center etc. You are suggested to visit the Yuyuan Garden, Nanjing Road, the Bund, Shanghai World Financial Center and Jade Buddha Temple.
Add Three or Four Days to Beijing
Beijing is the capital city, also the economic & politic & cultural center of China. Being well-connected most major cities of different countries, Beijing can be reached easily. Spending three or four days in Beijing allows you have a historical and cultural discovery of China. Must-be-visited attractions are Tiananmen Square, Forbidden City, Summer Palace, the Great Wall and Ming Tombs.
Add Two Days to Xian
As one of the Gold Triangle Cities with Beijing and Shanghai, Xian is the ancient capital city of many dynasties of China. Terracotta Warriors and Horses is the landmark of Xian, which are interred to protect Qin Shi Huang – the first Emperor of China in his afterlife. After admiring these survived magical wonders, you can turn to Ancient City Wall and Muslim Quarter. The Big Wild Goose Pagoda and Shaanxi History Museum are attractive as well.
Add Two Days to Chengdu
Honored as the Land of Abundance, Chengdu is a leisure city with "slow life-style". Most tourists come to Chengdu to see the adorable Giant Pandas and even take a close contact with them. Chengdu is also the most popular city connected with Lhasa, and there frequent flights running between them.
The Beautiful Skyline of Shanghai
Mutianyu Great Wall
Giant Pandas in Chengdu
Nepal Bhutan Tour
Bhutan is another neighbor of Nepal. They share much in similarity – Buddhist culture and Himalayan scenery. Extending your Nepal tour to Bhutan is also a good idea. Tourists usually spend 12~15 days on a Nepal Bhutan Tour. Firstly, take 7 days to explore the various landscapes in Nepal, including Kathmandu Valley, Nagarkot, Pokhara and Chitwan. Then, take a flight to Paro from Kathmandu and have a good time there. Firstly, travel to Paro and have a nice sight of National Park and Rimpung Dzong. Then, visit Punakha and enjoy the Punakha Dzong and Chimi Lhakhang. At last, pay a visit to Taksang Monastery – the most monasteries in Bhutan. A tour combining Tibet, Nepal and Bhutan will show you more rich culture and picturesque nature.
In fact, Tibet, Nepal and Bhutan are always visited by travelers together because they are all located at the foot Himalayan Peaks and shroud by Buddhist mystery, T. A tour combining the three kingdoms will give your more valuable memory. Check our top Nepal Tibet Bhutan Tours>
Punakha Dzong - Most Beautiful Dzong in Bhutan
Tips for Planing A Nepal Tour
Must Documents for Nepal
Nepal Visa is required for all foreign nationals (except Indian nationals), who wants to enter Nepal and spend a holiday there. Once the visa was issued, it must be used within six months from the date of issue. For foreign travelers who want a holiday in Nepal, there are three kinds of Nepal Visa to apply according to different tour durations and purpose, including Single-entry Visa, Multi-entry Visa and Transit Visa. If you plan to extend your Nepal tour to Tibet, Tibet Enter Permit, Group Visa from Nepal and Tibet Border Pass are also necessary.
What to Pack
For foreign travelers to Nepal, documents – valid passport and Nepal Visa are the most important to pack. Then, you are suggested to take a large backpack for big luggage and a smaller bag for valuables. Traveling in Nepal during summer times, rain gears are necessary while warm clothing is must when you travel in winter. If you plan a trekking tour in Nepal, take both light and warm clothing in casual styles because you will experience a wide range of climates. Good windproof and waterproof jacket, walking boots with ankle support are must. Read more about Pack & Health Advice>.
Basic Nepali Customs
When visiting a temple, always circumambulate it is a clockwise direction. And it's a tradition to take off shoes before entering a temple or a Nepalese home. Entrance to some temples is forbidden, so look out for such notices. It will be more polite if you seek permission to take photographs inside temples or of religious ceremonies.
Nepal Destinations
Nepal Travel Guide
Recommended Nepal Tour Packages
Following are some of our most recommended Nepal tour packages that you may be interested in. All of our tour packages are classic itineraries, and can be tailor-made to meet your personal requirements. You can get
more Nepal Tours
, or
contact us
to customize a trip if you want.
Kathandu and around

Highlights: Swayambhunath, Pantan's Durbar Square, Boudhanath, Bhaktapur

/ Details

Kathmandu / Pokhara / Kathmandu

Highlights: Durbar Square, Swayambhunath, Boudhanath, Sarangkot, Phewa Lake

/ Details

Kathmand / Chitwan / Lumbini / Bandipur / Nagarkot / Kathmandu

Highlights: Swayambhunath, Chitwan National Park, Phewa Lake, Namobuddha Stupa, Nagarkot Sunrise

$1600 / Details
Have a question? Get answers from our travel experts soon!
Your Question:

Your Name:

Your Email: