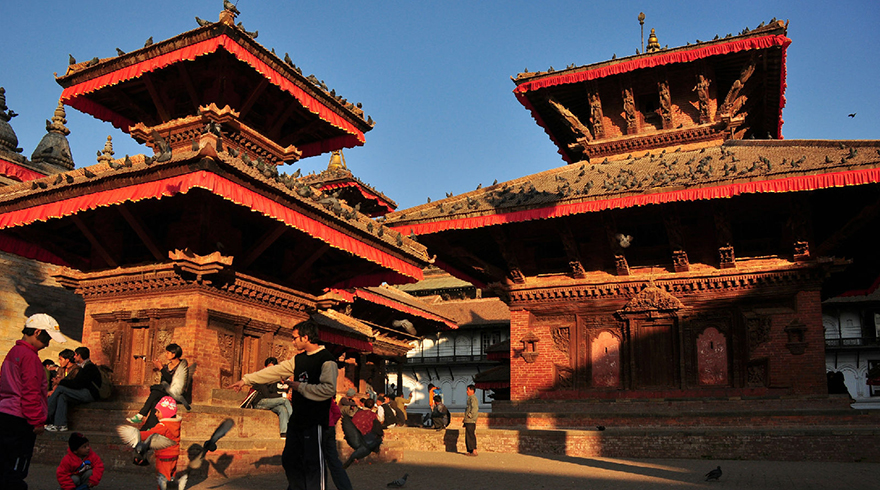 Kathmandu Durbar Square, a World Heritage Culture Site in Kathmandu Valley, served as capital in Nepal
How to Get to Nepal - Travel to Nepal by Flight or Land
Awarded as one of the best value destination by Lonely Planet, Nepal, located in southern Himalayas and bordering Tibet in north is an international hotspot destination abundant in various tourism resources. Every year, tourists from worldwide visit Nepal to explore the ancient history, culture from religious heritage sites and old architectures, view beautiful natural scenery of Himalaya Rang and Mount Everest, picturesque lakes and take part in popular activities like trekking, rafting, paragliding, jungle safari and mountain climbing, etc…Since tourism is the pillar industry in Nepal, Nepal has already issued On Arrival Visa policy for all international visitors at authorized entry points. Can't wait your Nepal tour? Check the transportation information to get started.
Travel to Nepal by Flight
Flying to Nepal is the most convenient and time-saving way to have a Nepal tour. Kathmandu Tribhuvan International Airport is the only international airport in Nepal and the major airport connected with other destination cities like Pokhara, Chitwan within Nepal.
Situated in east suburb of Kathmandu City, Tribhuvan Airport currently runs about 30 international airlines mainly linked with cities in Asia and Middle East. If you depart in home country such as India (New Delhi/Mumbai/Kolkata), Bangladesh (Dhaka), Malaysia (Kuala Lumpur), Thailand (Bangkok), Singapore, United Arab Emirates (Dubai/Sharjah/Abu Dhabi), Saudi Arabia (Dammam), Qatar (Doha), Oman (Muscat), South Korea (Seoul), Turkey (Istanbul) and Saudi Arabia (Dammam), choosing a direct flight to Kathmandu within several hours and obtaining Nepal Visa on arrival at Tribhuvan Airport is a good choice.
Meanwhile, Kathmandu is well-connected with China, operating direct flights from Tibet ( Lhasa), Chengdu, Xian, Kunming, Guangzhou and Hong Kong. So it is advised to firstly have a China mainland tour to experience great and gorgeous Chinese landscape, history and culture, or a Tibet journey to the holy Buddhist Land and then continue your Nepal travel. Daily Opened Lhasa Kathmandu Flight only takes about 1.5 hours to fly across the highest mountain in the world – Mount Everest.
A good news is that Nepal also runs runs weekly direct flights (trice every week) to Bhutan Paro International Airport. Thanks to the huge transfer convenience, tourists can enjoy wonderful Nepal and Bhutan journet all at once. >> Recommended Bhutan Nepal Tours
• Sichuan Airlines and Air China operate DAILY direct flights between Lhasa and Kathmandu. >> Read more about Lhasa Kathmandu Flight
• Air China and Tibet Airlines operate daily direct flights between Chengdu and Kathmandu.
• Tibet Airlines operates direct flights between Xian and Kathmandu thrice a week.
• China Eastern Airlines operates DAILY direct flights between Kunming and Kathmandu, twice per day.
• Southern Airlines operates daily direct flights between Guangzhou and Kathmandu, twice per day.
• Cathay Pacific Airways operates WEEKLY fights (S-TW-FS) between Hong Kong and Kathmandu.
International Terminal of Tribhuvan Airport
Everest View from Chengdu Lhasa Flight
Travel to Nepal by Overland Drive
Nepal borders Tibet in North and India on rest three sides. Hence, tourists can go overland to enter Nepal from Tibet in southwest China or India from authorized entry and exit points opened to foreigners.
From Tibet to Nepal
From Tibet side, the Zhangmu-Kodari Port was severely damaged and remains closed now due to the Nepal earthquake in April 25, 2015. Late August the Gyirong Port at border region between Nepal and Tibet was announced to reopen as international land port for foreign travelers. It means except taking a Lhasa Kathmandu Flight to Nepal, you can also have an overland driving from Lhasa to Kathmandu through the Gyirong Port (about 160km away from Kathmandu) with picturesque scenery along the journey. After crossing Gyirong Port, take a bus or car to Kathmandu which costs you 7~12 hours depending on the road condition. Roads can be dangerous in rainy season, so better pay attention to the weather once you decide to go the overland way.
>> Read More about Gyirong Port
>> How to Get to Nepal from Tibet
>> Recommended Tibet Nepal Tours
From India to Nepal
Apart from the airline connection between Nepal and India, there are 6 border ports allowing visitors travel across from India to Nepal, including Kakarbhitta-Jhapa, Birgunj-Parsa, Balahia-Bhairahawa, Jamunaha-Nepalgunj, Mohana-Dhangadi, Gaddachaudki (BANBASA )-Mahendranagar. Immigration Offices along the Nepal-India borders issue On Arrival Visa of Nepal conveniently as Kathmandu Tribhuvan International Airport does.
• The easiest and hassle free overland route to Nepal from India is via Gorakhpur from Sonauli (India)– Belahiya (Nepal) Border Port. The buses to Belkahita from Sonauli runs all day, starting around 6 am, until evening and takes approximately 9 hours to Kathmandu.
• The border Panitanki (India)– Kakarbitta (Nepal) located on the east side of Nepal is the best option to enter Nepal overland from India. Others may not leave you with a pleasant travelling experience.
• If you are in Darjeeling (in India) you can come to Nepal via Karkarvitta.
Gyirong Port at China-Nepal Border
Cycling to Nepal from Lhasa – Supreme Biking Adventure
Bike enthusiasts can find another way to enter Nepal in person set aside the flight and drive choices mentioned. With a rough distance of 1,100 kilometers, the international riding route on high altitude plateau crossing Gyirong Port is an ultimate challenge of both mental and physical, from which you will enjoy breathtaking beauty of Himalayas and exotic Tibetan culture and religion. Roads in Tibet are mostly well paved and you can easily get daily supplies like drinks, food and accommodation during the unforgettable Lhasa to Kathmandu Cycling trip.
Future Railway to Nepal – China Nepal Railway
China and Nepal are good neighbors with close connections in multiple fields, and the first international railway between China and Nepal are going to be built through Gyirong Port in the future. China will extend the Lhasa Shigatse Railway (branch of Qinghai Tibet Railway) from Shigatse in Tibet to Gyirong Port at China-Nepal border area and build railways in Nepal from Gyirong to Kathmandu with Nepal Government. Now, the most concerned sections between Shigatse to Gyirong and Gyirong to Kathmandu are still in the planning. It is reported the Lhasa Kathmandu Railway construction will start and be completed in recent years.
Useful Travel Tips:
1. Best Time to Nepal. Rainy season from May to September is not recommended for Nepal tour because of the hot weather in the daytime and humid air. And during the rainy months, the roads between Gyirong and Kathmandu and among popular destinations in Nepal will be muddy, which upgrade difficulty for transfer driving if it rains a lot. Therefore, the best time travel to Nepal is during the dry season from October to April when the weather is balmy, air is clean and rains little. If you go to Nepal in rainy season, remember to bring rain gear, like umbrella and raincoat, etc.
2. Work Our Nepal Tour Early. Flight tickets to Nepal in tourist high seasons maybe difficult to buy and we will arrange your guide, drive and accommodation ASAP once you decide your itinerary.
3. Bus Change at Border Ports. There are no international bus or train serves available now, everyone has to change to another bus after get entry permitted. An international driver's license are required if one travel overland with a vehicle.
4. Nepal Visa. If you just fly to Nepal from your home country directly, Nepal Tourist Visa can be obtained at Immigration Office at Kathmandu Tribhuvan International Airport upon arrival or get the visa in any Nepal Embassy or Consulate in your home country. However, if you would like a China Nepal Tour, Chinese Visa and Nepal Visa are both needed and more visa and permits should be obtained for a Tibet Nepal tour. >> Visas & Permits for Nepal Tibet Tour.
Lhasa Kathmandu Biking Travelers
Change Bus to Kathmandu at Gyirong Port
Congested & Sludgy Kathmandu-Pokhara Road in July
Nepal Destinations
Nepal Travel Guide
Recommended Nepal Tibet Tour Packages
Following are some of our most recommended Nepal tour packages that you may be interested in. All of our tour packages are classic itineraries, and can be tailor-made to meet your personal requirements. You can get
more Nepal Tours
, or
contact us
to customize a trip if you want.
Kathmandu / Pokhara / Kathmandu

Highlights: Durbar Square, Swayambhunath, Boudhanath, Sarangkot, Phewa Lake

/ Details

Kathmandu / Lhasa

Highlights: Durbar Square, Swayambhunath,Nagarkot, Potala Palace, Sera Monastery

/ Details

Beijing / Xian / Lhasa / Shigatse / Gyantse / Mount Everest / Gyirong / Kathmandu

Highlights: Forbidden City, Great Wall, Terracotta Warriors, Potala Palace, Mt. Everest

/ Details
Have a question? Get answers from our travel experts soon!
Your Question:

Your Name:

Your Email: