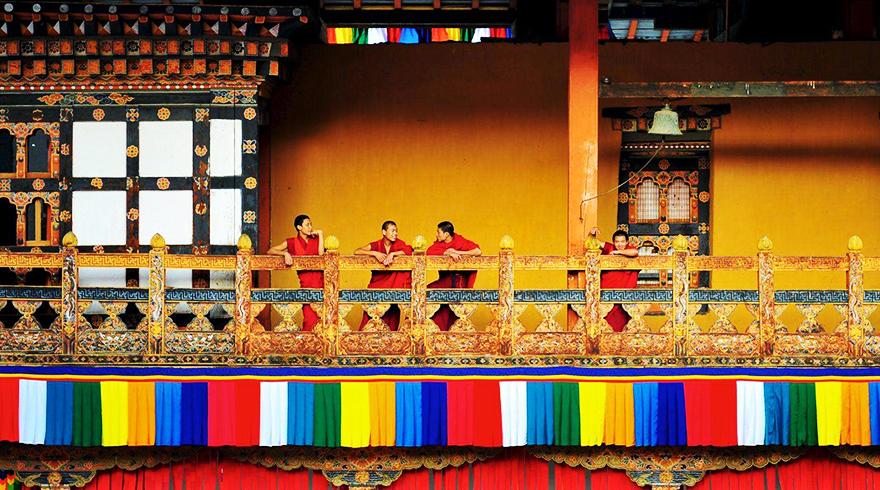 Explore fascinating Himalaya views, gorgeous culture, religious faith and lovely people in the three holy lands.
Visa and Permits for Nepal Tibet Bhutan Travel 2020/2021
A long connected travel among Tibet, Nepal and Bhutan along the Himalayas is a once-in-a-life-time experience for you. Before you get ready to start off for this international journey, visas and permits for Tibet Nepal Bhutan tour must be a priority you consider. To help you have a pleasant trip when transferring to another country, we provide you useful and detailed visa guidance below, including the requirements, cost, policy and tips for the needed visas and easy way to get them. Such as Tibet Travel Permit is must for Tibet tour, a group visa is essential if you travel to Tibet from Nepal, a Bhutan Visa must be applied by licensed bhutanese tour operator or travel partner. Travel with Tibet Discovery, a professional and reliable Tibet travel agency who will helpy you apply for and obtain all required visas and permits for you, you only need to enjoy a worry-free Nepal Tibet Bhutan travel.
Tibet Visa and Permit - Necessary Permits to Visit Tibet
According to regulations of Tibet Autonomous Region, non-Chinese passport holders must get Tibet Travel Permit and other required Tibet permits to travel in Tibet with arranged tour guide and driver. Travelers can not apply for these permits on your own and only licensed Chinese travel agency can operate the application. There are four kinds of Tibet permits, including the Tibet Travel Permit, Aliens' Travel Permit, Border Pass and Military Permits. The exact Tibet permits you need to get is based on the destinations you will visit. The Tibet Travel Permits is just enough for Lhasa tour. More Tibet permits are necessary to travel further prefectures beyond Lhasa, such as Tibet Travel Permit, Aliens' Travel Permit and Border Pass are needed for Mount Everest, Military Permit is indispensable with Tibet Travel Permit, Aliens' Travel Permit, Border Pass to Mount Kailash in Ngari. You can contact us to check what kind of permits you really need for your Tibet travel.
Note: Wherever you choose to enter Tibet from, mainland China or neighboring Nepal, your acquired Chinese Tourist Visa does not apply to such a Tibet travel.
Tibet Travel Permit
A Tibet Travel Permit (Tibet Entry Permit) is the MUST-DOCUMENT to take a train or flight to Lhasa, Tibet. It is firstly needed to book your Tibet train or Tibet flight. When you travel to Tibet from mainland China, the Tibet Travel Permit will also be checked at railway station or airport. Please remember to duplicate at least 3 copies of Tibet Travel Permit, because the permits are needed for many occasions. There are more Tibet permits needed if you travel to other places beyond Lhasa. The permits can only be issued in Tibet by the Tibet Tourism Bureau, and also can be only applied by travel agency behalf of travelers. It needs about 15~20 days to obtain the Tibet Travel Permits and less time to get other permits.
How to Apply for Tibet Travel Permit
1. Contact a us to work out and confirm an itinerary in Tibet;
2. Send us clear scanned copies of your valid passport, and provide an available address in China (hotel or local agency) to receive your permit;
3. We apply for the Tibet Travel Permit from Tibet Tourism Bureau in Lhasa;
4. Once the permit is issued, we will send the original permit to you by post.
>> Learn more details about Tibet Travel Permit Application
Tibet Group Visa
A Tourist Group Visa is the official travel document allowing foreign tourists to visit Tibet from Nepal. The Group Visa can only be issued by Chinese Embassy in Kathmandu, Nepal and be applied for by travel agency. With the Tourist Group Visa, you can travel to Tibet from Nepal by taking the Kathmandu Lhasa Flight or overland driving crossing Gyirong Port at China-Nepal border area.
Tibet Visa for Indians: Indians who want to make pilgrimage to Mount Kailash and Manasarovar Lake must join in authorized pilgrimage group through complicated diplomatic procedures, and individual Indian pilgrimage is not allowed.
How to Obtain a Group Visa
1. Contact us to work out and confirm an detail itinerary of Nepal Tibet tour starting from Kathmandu;
2. Send us a clear photo of your valid passport;
3. Complete the visa application form with a passport-size photo attached, hand over your passport and visa fee to us;
4. We submit the application to the Chinese Embassy in Kathmandu;
5. Once the Group Visa is issued, we will deliver it to your hotel in Kathmandu or you can collect it in our Nepal office.
>> Learn more details about Tibet Group Visa
Other Necessary Permits for your Tibet trip:
>> Permits for Tibet Train Travel
>> Permits for Tibet Flight Travel
>> Visas & Permits for Mount Everest Travel
>> Visas & Permits for Mount Kailash & Manasarovar Lake Yatra
>> Tibet Visas & Permits for Indians
The First Page of Tibet Travel Permit
Tibet Tourist Group Visa
Impressive Tibet Train Travel along Qinghai Tibet Railway
Nepal Tourist Visa – Compulsory Nepal Visa for Nepal Travel
All nations, except Indians, need to hold a Nepal Tourist Visa to enter and travel in Nepal. The Nepal Visa can be obtained at any Nepal Embassy or Diplomatic Mission outside Nepal before departure, or be obtained upon arrival at authorized entry and exit points, including the Kathmandu Tribhuvan International Airport and border points in Gyirong - Resuwa on the Nepal-China border and Kakadvitta, Birgunj, Bhairahawa, Nepalgunj, Gaddachowki on the Nepal-India border. Extension of Nepal Tourist Visa for a maximum of 150 days in a visa year can only be done in the Immigration Office in Kathmandu (not available in Tribhuvan Airport) and Pokhara. Travelers can also apply for Transit Visa at the airport with visa application form, necessary Transit Visa fee (5 USD) to leave the airport and have a short stay (24 hours) in Nepal.
Tourist can apply a multiple entry Nepal Visa for 15, 30 or 90 days and the Nepal Visa fee is 25USD, 40 USD and 100 USD separately. Gratis Visa will be issued free of charge for the following applicants: children below 10 years old, Chinese Nationals and Non-residential Nepalese card holder, and up to 30 days for SAARC Citizens. (Nepal Visa for Indian – Indian Nationals do not require a Nepal Visa to enter Nepal.)
Nepal Visa on Arrival - If you take flight to Nepal, you can get Nepal Visa on arrival at Kathmandu Tribhuvan International Airport conveniently. The On Arrival Visa will be handled quickly with simple processing. You may expect a long queue during peak season. Suppose you drive to Nepal from Tibet crossing Gyirong-Resuwa Port or other border ports opened to international travelers, you can get Nepal Tourist Visa from the border Immigration Office. Your Nepal Visa will be issue upon the Immigration Officer's satisfaction based on documents you submit, including a completed application form with passport-size photo attached, original passport and visa fee.
Note: Citizens from Nigeria, Ghana, Zimbabwe, Somalia, Iraq and other designed countries are required to obtain a Nepal Visa prior from nearest Nepal Embassy or Diplomatic Mission before departure to Nepal.
More useful links about Nepal Visa:
>> Nepal Visa
>> Nepal Visa on Arrival
>> Apply Nepal Visa by Mail
Nepal Tourist Visa Issused in London
Apply Nepal Visa on Arrival at Kathmandu Tribhuvan Airport
15 Days Multiple Entry Nepal Visa on Arrival
Bhutan Visa – Permission to Visit and Travel in Bhutan
All foreigner visitors, except Indians, Bangladeshis and Maldives, are required to have a visa clearance to travel to Bhutan. Independent travel in Bhutan is not allowed. Single visitor or group of tourists has to visit Bhutan with a tour package operated by a Bhutanese travel agent. The Bhutan Visa can also only be operated through online application by licensed Bhutanese travel agency directly or a foreign tour partner.
How to Get a Bhutan Visa?
Firstly, you can select a licensed Bhutanese travel agent to arrange your Bhutan Tour. After you work out the detailed itinerary, you should wire the tour payment, including a total amount of daily package and a USD40 (one time visa fee), to the Bhutan National Bank. Then, you should provide a clear, scanned copy of your passport (photo-page is must be included) to your Bhutanese tour operator to apply for your Bhutan visa. Once receive the payment and application, your Bhutan visa will be processed by the Tourism Council of Bhutan within 72 working hours. Finally you will obtain a copy of Bhutanese visa clearance letter, which must be shown at entry point, usually at the check-in counter of airlines at airport and then the visa will be stamped into your passport.
>> Read more about Bhutan Visa
Bhutan Paro Airport
Essential Nepal Tibet Bhutan Travel Guide
Recommended Nepal Tibet Bhutan Tour Packages
Following are some of our most recommended Nepal Tibet Bhutan tour packages that you may be interested in. All of our tour packages are classic itineraries, and can be tailor-made to meet your personal requirements. You can get
more Bhutan Nepal Tours
, or
contact us
to customize a trip if you want.
Lhasa / Gyantse / Shigatse / Everest / Gyirong / Kathmandu / Paro / Thimphu / Punakha / Paro

Highlights: Potala Palace, Mount Everest, Durbar Square, National Memorial Chorten, Punakha Dzong

/ Details

Kathmandu / Pokhara / Lhasa / Gyantse / Shigatse / Everest / Gyirong / Paro / Thimphu / Punakha / Paro

Highlights: Kathmandu Durbar Square, Swayambhunath, Potala Palace, Mount Everest, Punakha Dzong

/ Details

Kathmandu / Pokhara / Paro / Thimphu / Punakha / Lhasa / Chengdu / Xian / Beijing

Highlights: Swayambhunath, Punakha Dzong, Potala Palace, Terracotta Warriors, Great Wall, Giant Panda

/ Details
Have a question? Get answers from our travel experts soon!
Your Question:

Your Name:

Your Email: