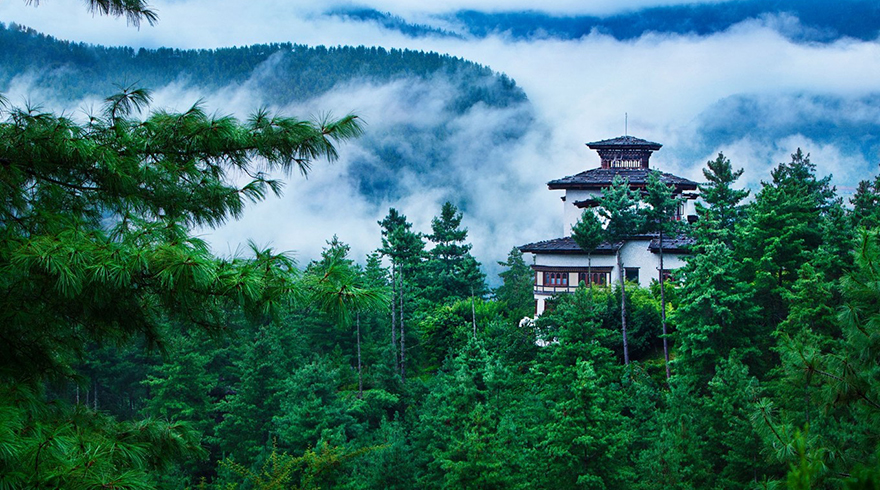 Spending a leisure life during your Himalaya travel in COMO Uma admist quiet Paro Valley.
Accommodation for Nepal Tibet Bhutan Tour: Hotels, Hostels, Guesthouses and Homestay 2021/2022
A cross-border tour package among Nepal, Tibet and Bhutan means you will spend weeks long in three different destinations. Choosing a good accommodation during the international travel helps you have a good rest and fully enjoy your trip. For the special location near the Himalaya Range, living condition in Nepal Tibet and Bhutan may be less perfect than other developed destinations you visited. Rest assure that major destinations in Nepal, Tibet and Bhutan will provide you lots of choice from luxurious or budget accommodation, and lodging in remote area will be simple and basic with limited facilities and service.
Tibet Hotels and Hostels - Where to Stay in Tibet
Accommodation conditions in Tibet have been greatly improved due to rapidly developing tourism in Tibet. However, the overall level of accommodations in Tibet is may not be on par with hotels with this rating in other parts of China or the world.
You can find star-rated hotels in big cities of Tibet such as Lhasa, Shigatse, Tsedang, and Nyingchi, but hotels in small cities and remote areas (like Mount Everest, Ngari and Nagchu) are very basic, usually having a public bathroom with squat toilet. Tibet also has a few kinds of budget guesthouse. One is the twin room with or without the bathroom in it. The other is triple, four-bed rooms, and more beds rooms named dormitory which all have no private bathroom in them. Former one can be easily found in Lhasa and Shigatse, while later one is often the choice in remote areas in Tibet. >> See more about Tibet accommodation.
Lhasa Accommodation - Hotels in Lhasa Tibet
Capital Lhasa has the best and the most accommodation in Tibet. Here you can find hundreds of star-rated hotels, including 5 star hotels with complete facilities by western standards and lots of budget hotels in exceptional good location nearby Potala Palace and Barkhor Street. St. Regis Lhasa Resort, Four Points by Sheraton Lhasa, Shangri-La Hotel Lhasa and Intercontinental Lhasa Paradise are recommended luxury hotels in Lhasa. If you choose these upscale hotels, you can visit Potala Palace and other sites from in downtown Lhasa within 10 more minutes' driving. Or you can live in budget hotels in exceptional good location around Barkhor Street, from where you can visit Potala Palace conveniently by a few walking. Hotels decorated in traditional Tibetan style are also good option for travelers to experience local Tibetan culture and life.
Shigatse and Everest Accommodation – Shigatse Hotels and Lodging on Mount Everest
Shigaste Accommodation - Accommodation in Shigatse is not as good as in Lhasa. There is no 5 star hotel opened in Shigatse yet, and most lodging are hotels rated 3 star to 4 star, and simple lodging remote areas like Mount Everest and small border towns. You can find accommodation in downtown Shigatse near Tashilumpo Monastery. The transportation will be quite convenient. For a short stay in Shigatse, Shigatse Gesar Hotel, Shigatse Hotel, Tashi Choten Hotel are top rated hotels on TripAdvisor.
Mount Everest Accommodation - Bear in mind that accommodation on Mount Everest is rough and simply basic. If you are spending overnight on Mount Everest to watch the amazing sunrise and sunset, or dazzling star sky, you may live in Rongbuk Monastery Guesthouse, Sightseeing Hotel Rongphu and Tent Guesthouse (not the Everest Tents Camp) near the Everest Base Camp. The lodging on Everest opens only during tourist seasons and rooms are limited without separate toilet. Remember to keep warm all the way up to Mount Everest.
Tibet Accommodation Tips
• 1. The prices of star-rated hotels in Tibet are relatively expensive, especially during the peak season (June ~ October).
• 2. It's advisable to avoid rooms in high floors since the higher the ground is the thinner air becomes.
• 3. It's advisable to bring your toilet paper if you plan to visit remote areas outside of major cities in Tibet. Or you can buy these supplies in Lhasa ahead of departure. Sleeping bag is recommended for trekking in remote regions, like Mount Kailash in Nagri.
• 4. For your safety, we advise you to avoid staying in local homes or camping outside on your own.
Grandiose Potala Palace in Lhasa Tibet
Everest Suite with Potala Palace View (St Regis Lhasa Hotel)
Shigatse Gesar Hotel (Tibetan Traditional Style)
Restaurant in Rongbuk Monastery Guesthouse
Nepal Accommodation: Hotels in Kathmandu and Nepal
As more and more travelers around the world flocking to Nepal to enjoy the spectacular nature, rich culture and various activities, the quantity and quality of accommodation in Nepal also grows. When you travel in Nepal, you don't need to worry about where to stay, because Nepal offers you a lot of choices ranging from luxury hotels to budget-priced guesthouses in Kathmandu and other top tourist destinations. Alternatively, you are free to select a homestay in the local Nepali family, enjoy the authentic Nepalese traditional food, culture & customs. >> Read more about accommodation in Nepal.
Kathmandu Accommodation: Recommended Hotels in Kathmandu
Kathmandu, capital city of Nepal, is always the first destination where travelers choose to star their Nepal tour. There are various luxury 5-star hotels with both good location and perfect facilities, and the most choices for lodging here, so most travelers visiting Kathmandu Valley (including Kathmandu, Patan, Bhartapur) would like to accommodate at Kathmandu. Thamel See more about Kathmandu Hotels.
Luxurious hotels like Dwarilka's Hotel, the Hotel Yak and Yeti, and Crowne Plaza Hotel Kathmandu Soaltee are most recommended if you want a superb living. You can enjoy the clean, spacious and comfortable rooms, various awesome food as well as incredible quality service. Hotel Tibet International and Shanker Hotel are good options as budget hotels. There are some good hotels at lower cost as well, like Hotel Friends Home and Kathmandu Guest House.
Guesthouse with sufficient facilities and service is a budget option available in Kathmandu. There won't have any luxury facilities or western food, but the service is always good as well.
Recommended Hotels in Pokhara, Chitwan and Lumbini
Though Pokhara, Chitwan, Lumbini, and Nagarkot don't have too many luxury hotels, there are many budget hotels available for visitors. Some of them are designed in traditional Nepalese architecture and offers cozy rooms.
Pokhara: With walking distance to Phewa Lake, Hotel Middle Path & Spa is a hotel with good lake view. The public areas of the hotel were lovely, including a leafy garden for breakfast or drinks. Hotel Adam features in its rooftop breakfast with views of mountains and lake.
Chitwan: Traveling in Chitwan National Park, good hotels also let you have an unforgettable experience. Green Park Chitwan is a 4-star hotel with full-equipped rooms, and the service is also exceptional.
Lumbini: There are many hotels decorated in Japanese style. Lumbini Hokke Hotel and Lumbini Hotel Kasai are both two peaceful hotels near the Sacred Garden. In the remote Lumbini, they are pretty good.
Guesthouse, Travel Lodge and Teahouse for Nepal Trekking
During your trekking tour, there won't be any well-equipped hotels usually. Most of the accommodation will be arranged in the guesthouses, travel lodges or teahouses on mountains . The accommodation condition along the hiking route is simple and basic, due to limited transportation of materials. However, the experience of a stay in these lodges and teahouses is utterly amazing when you trek a long way to enjoy the views of the peaceful mountain and the friendly communication with trekkers. Normally the guesthouses, teahouse and travel lodge are cheap, but the food carried by locals is relatively expensive. The hot drinking water is charged separately. Goods will be more expensive as the elevation rises. You can pack sleeping bag, blankets, some energy food for need in advance and get basic supplementary in the stores and guesthouse.
Homestay with Nepal Local Families
Some local family in Nepal also offers home-stay service. With a stay in the home with the local family, your journey would be more cherished. Guests are invited in a private house to live with the family members, sharing the featured home-made food and drinks. The local people are always kind and friendly, so you can ask them about their daily life and traditional customs. You could enjoy the warm reception and good service. Though the rooms are not good and big as the hotels' rooms, accommodating with local family in Nepal is the best way to learn about their culture, believes and life style. You are sure to have an unforgettable Nepal home visit experience.
Kathmandu Boudhanath Stupa
Spacious Suite in Dwarika's Hotel
Hotel Middle Path & Spa in Pokhara
Guesthouse on Mountain in Annapurna Circuit Trekking
Happy Hour in Nepal Local Homestay
Bhutan Hotels – Tourist Lodging in Bhutan
Although Bhutan is a small country, there are a wide range of accommodations from luxury hotels to budget, simple, cozy and little hotels and homestay in traditional Bhutanese homes and local residence tourists can select. Namely, visitors can choose from 4 kinds of livings in Bhutan: hotels, resorts, farmstays and homestays.
In Bhutan, only licensed hotels and lodges can offer accwestern and middle Bhutanommodation for international tourist. Accommodation condition in western and middle Bhutan is better than other regions. Most hotels in Bhutan are equipped with TV, Room Service, Fitness Center, Spa and WIFI and exact service provided depends on the situation and star level. Most 5 star hotels are located in Paro and Thimphu, because Paro is the gateway city when international tourists enter and travel in Bhutan, and Thimphu is the capital city of Bhutan. Other destinations like Punakha, Bumthang, Chukha, Wangdue and etc. mainly provide 3 star hotels for tourists. Guesthouses around Bhutan are in the same scales as hotels. Farmstays and homestay in countryside offers tourists opportunity to experience Bhutanese daily lifestyle and delicious meals with hospitable family. However the living condition is basic and simple, for remote areas, there is no electricity and running water to use.
Hotels in Thimphu - For your stay in Thimphu, the best accommodation is Le Meriden, Amankora Thimphu, Taj Tashi , the only three 5 star hotels in Thimphu. Moreover, Thimphu opens a variety of hotel, residency, and resorts rated in standard of 3 star hotel.
Hotels in Paro - After you land at Paro Airport in Bhutan, you can choose to live in a luxurious hotel or a budget hotel in Paro to start your Bhutan tour. There are four 5 star hotels, Le Meriden Riverfront, Amankora Resort, Hotel Zhiwaling and Uma Resort, and over 20 budget 3 star resorts are approved to receive foreign visitors.
Lodging for Bhutan Trekkers - If you plan to have a long trekking trip in Bhutan, the licensed tour operator will provide you camping tents and whatever camping equipment you need. The camping service and haulage for trekking tour is included in your minimum daily tour package. You can ask for practical and professional advice about outdoor camping from your tour guide.
Tips: The minimum daily package of Bhutan tour covers a minimum of 3 star hotel assured of warmth, comfort and hospitality. Upgrading class of hotels to 4 & 5 star requires additional premium.
Top Rated Le Meridien Hotel in Thimphu
COMO Uma Paro - One of the Best Hotels in Paro
Trekking with Local Bhutantse Tour Guide
Essential Nepal Tibet Bhutan Travel Guide
Recommended Nepal Tibet Bhutan Tour Packages
Following are some of our most recommended Nepal Tibet Bhutan tour packages that you may be interested in. All of our tour packages are classic itineraries, and can be tailor-made to meet your personal requirements. You can get
more Bhutan Nepal Tours
, or
contact us
to customize a trip if you want.
Lhasa / Gyantse / Shigatse / Everest / Gyirong / Kathmandu / Paro / Thimphu / Punakha / Tiger's Nest / Paro

Highlights: Potala Palace, Mount Everest, Durbar Square, National Memorial Chorten, Punakha Dzong

/ Details

Kathmandu / Pokhara / Lhasa / Gyantse / Shigatse / Everest / Gyirong / Paro / Thimphu / Punakha / Paro

Highlights: Kathmandu Durbar Square, Swayambhunath, Potala Palace, Mount Everest, Punakha Dzong

/ Details

Kathmandu / Pokhara / Paro / Thimphu / Punakha / Lhasa / Chengdu / Xian / Beijing

Highlights: Swayambhunath, Punakha Dzong, Potala Palace, Terracotta Warriors, Great Wall, Giant Panda

/ Details
Have a question? Get answers from our travel experts soon!
Your Question:

Your Name:

Your Email: