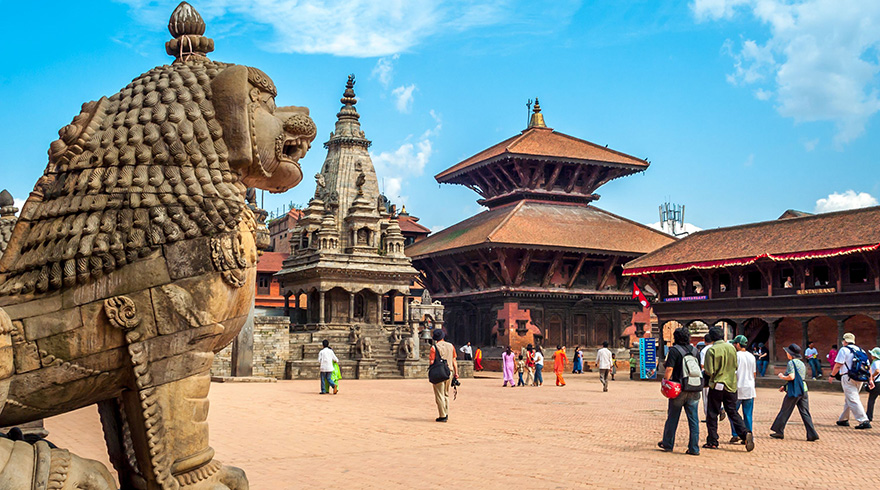 Tourists are Visiting Grandiose Bhaktapur Durbar Square in Kathmandu Valley
Kathmandu Transportation - Get to Kathmandu & Get around Kathmandu
Get to Kathmandu - How to Travel to Nepal
By Flight - Fly to Kathmandu from Abroad
Owe much to the only international airport in Nepal – Kathmandu Tribhuvan Airport (IATA:KTM), travelers can take inbound international flights to Kathmandu, capital and cultural and commercial hub of Nepal from Lhasa Tibet, Chengdu, Guangzhou, Hong Kong, Kunming from China, Thailand, India, Qatar, Turkey, Dubai, Malaysia, Singapore and the United Arab Emirates directly. Undoubtedly, taking an international airline to Nepal is the fastest and the most convenient way, costing roughly just several hours. Weekly Round-tripping flights between Nepal and above cities or countries are available for overseas tourists.
Kathmandu Tribhuvan Airport serves as the most important airport and major transportation hub for Nepal tourism with some Nepal airlines and about 30 international routes mainly in Asia and Middle East. The airport is about 6km of east Kathmandu City, where can be got easily through shuttle bus and airport taxi after landing. If you know the way and bring few luggage, you can take a cheap but crowded shuttle bus to downtown Kathmandu, otherwise, you'd better take a taxi to central city, which charges about 300~400 rupees (3~4 USD) in the daytime and more expensive after 9:00pm.
By Road - Drive to Kathmandu from Tibet
Former overland route to Nepal from Tibet via Zhangmu (the famous Sino-Nepal Highway) became impassable when the Nepal earthquake damaged the border port on April 25, 2015. Since then, road connection between Tibet and Nepal was cut off and flying to Kathmandu from Lhasa is the only choice to have a Nepal Tibet tour. The good news is that Gyirong Port, another frontier port in Tibet was announced to reopens for international traveler on August 30, 2017. Hence, foreign tourists can restart Nepal Tibet overland travel through Gyirong Port to enjoy wonderful and various scenery along the whole journey.
Overall, the length of a Lhasa Kathmandu overland tour depends on exact destinations you like to visit. A popular driving route is Lhasa - Gyantse - Shigatse - Mount Everest – Gyirong – Kathmandu, which takes about 7days only and can be extended if you want to travel slower to admire the views and acclimatize yourself to plateau environment, or have a holy Kailash Manasarovar Yatra in Ngari.
International Terminal of Tribhuvan Airport
Gyirong Port - the Only Pass of Tibet Nepal Overland Tour
Get around Kathmandu - What's the Kathmandu Traffic Guide
Kathmandu City Transportation
Kathmandu is not a big city and most attractions are clustered around downtown areas, easily to visit by different kinds of vehicles, like walking, taxi, bike or Nepalese rickshaw.
1. Taxi - Taking a taxi to tour in Kathmandu City is the most convenient transport. Taxies are everywhere on the street but only a few are metered. If you just live in Thamel Street (a gathering area of foreign travelers), a local taxi can lead you to every spot you want to visit either in city center or suburb of Kathmandu. Better negotiate a reasonable price before getting in a taxi because most taxicabs are not metered. And notice that it's quite difficult to catch a night cab in Kathmandu, especially later than 11pm in the evening.
Taxi fare for your reference:
Thamel - Boundhanath Stupa: about 6KM, 250~300rupees (2.5~3USD)
Thamel - Swayambhunath Temple (Monkey Temple): about 3KM, 350~500rupees (3.5~5USD)
Thamel - Kathmandu Tribhuvan Airport: about 6KM, 300~400rupees (3~4USD)
Thamel - Pashupatinath Temple: about 5KM, 300~400rupees (3~4USD)
Thamel - Bhaktapur: about 15KM, 800~1000rupees (8~10USD)
Thamel - Patan: about 5KM,150~200rupees (1.5~2USD)
2. Complete Self-drive & Chartered Vehicle - It's impossible to drive by yourself to travel around Kathmandu in Nepal considering drive regulations, road condition and traffic concerns. If you prefer a local assistance, you can book a chartered bus service with guide and driver from us. Then they will take you to any places in Kathmandu as you requested.
3. Public Bus - Probably the local bus is the cheapest way to get around in Kathmandu. But as a new visitor and bring some private stuff, an overcrowded bus can be terrible for fresh tourists, even you can't find where to take the bus and where to get off properly. Therefore, public bus is not recommended for travelers when you have a good tour plan in Kathmandu.
4. Rickshaw - A Nepalese style transport for short-distance tour. Some owners can introduce you attractions in English. You also need to bargain while choosing a rickshaw to visit scenic spots in central areas.
5. Bike - Independent sport fans' favorite way to experience local life. Most hotels, hostels in Kathmandu offers bike rental service for young tourists. You can ride a bicycle to visit attractions freely if your health and weather permits.
6. Walking - Outdoor hiking practice in Nepal. Trekking in Nepal is world famous. Maybe you are planning a Kathmandu trekking tour, walking to enjoy all Kathmandu scenery can be a warming up for your following challenging hiking journey.
Kathmandu Local Taxi
Busy Thamel Street in Downtown Kathmandu
Nepal Rickshaw for Tourists
Poon Hill Trekking Stopover Area
Kathmandu to Pokhara and Chitwan
1. Tourist Bus - The most common and popular vehicle among cities in Nepal. Travelers often take a long- distance coach from Kathmandu to Pokhara or to Chitawan, which takes about 8 hours and 6 hours respectively and both depart daily at 7:30am in the early morning and arrive in the afternoon. Green Line Bus is the most comfortable one with air-conditioned the whole course. Travel agencies and hostels in Thamel Street offer tickets-selling service at dozens of dollars. As a budget option, you will bump along the mountain roads with dust for a long ride.
2. Domestic Flight - Good choice for tourists who have busy schedule and sufficient money. Flying to Pokhara or Chitwan from Kathmandu only needs 20 minutes, much shorter than overland bus. Besides, airports in Pokhara and Chitwan are very close to scenic spots. Air ticket price from Kathmandu Tribhuvan Airport to Pokhara is about 120 USD and 107 USD to near Chitwan. Seat on the right side of the window on Kathmandu Pokhara Airplane has great chance to watch snowcapped Mount Everest from the high air.
Nepal Green Line Tourist Bus
Kathmandu to Lhasa Overland Travel
Since Kathmandu is the only international gateway city to Lhasa for foreign tourists, entering Tibet from Nepal instead of mainland China and later going on a Nepal tour is another popular tour plan. With the recent reopening of Gyirong Port at China-Nepal border area, overland travel between Nepal and Tibet again appeals to numerous tourists to explore the devout Buddhism culture and splendid scenery on Himalaya Range.
Usually, tourists will follow a basic travel route like Kathmandu - Gyirong Port - Gyirong Town - Lhatse - Shigatse - Gyantse - Yamdrok Lake - Lhasa on Sino - Nepal Highway at a distance of 943km. As you wish, you can visit Mount Everest at a leisure pace within 7days or more days to Mount Kailash. Our professional local guide and driver will escort you the whole journey in Tibet, so you don't need to worry about the traffic matters.
View Mount Everest from Rongbuk Monastery
Have a question? Get answers from our travel experts soon!
Your Question:

Your Name:

Your Email: