Top Kathmandu Attractions
Kathmandu is always the first destination of your Nepal tour and portal to discover Nepal history and culture. Mixed ancient history and Hinduism and Buddhism, the city assembles all its cultures into corners in the tremendous ancient architecture like squares, palaces, temples… Sure you will be amazed by the artistic carvings and status while visiting historic spots in Kathmandu. Moreover, the beautiful landscape of Kathmandu Valley and view of the Himalayas in Nagarkot definitely keep you busy with camera.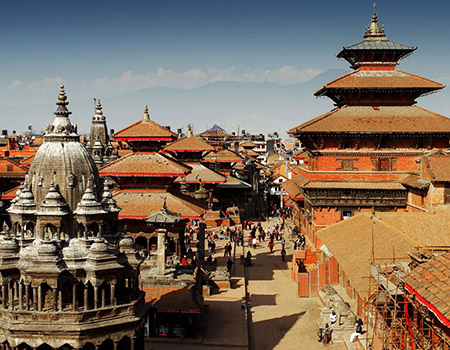 Useful Kathmandu Travel Tips
1. How to Plan Kathmandu Travel
Tribhuvan Airport of east suburb Kathmandu is the only international airport in Nepal. Thus, Kathmandu - the capital and biggest city is always chosen as the first destination of Nepal tour. Generally, four days are recommended to explore the highlights of Kathmandu Valley. In the first day, you will be picked up by our tour guide and sent to hotel for a rest, and get a "Welcome Dinner" in the evening. Then you visit landmarks and major spots in Kathmandu, like Kathmandu Durbar Square, Swayambhunath Temple, Pashupatinath Temple, etc in the next two days. Finally, you depart to take flight back home or you extend Kathmandu tours to Pokhara or Chitwan, or any other popular destination you like in Nepal with longer days.
2. Pack Advice on Kathmandu Tour
For international travelers in Nepal, the first and most important document is valid passport and Nepal Visa. Suitcase maybe not a good idea for you since road condition is rough in Kathmandu. Therefore, a large backpack for big luggage and a smaller knapsack is suggested. Visitors in rainy season don't forget to bring rain gears (umbrella, raincoat, etc), and should take warm clothes in winter days or in the evening, high-altitude places. If you travel to Kathmandu in dry seasons with moderate climate, just dress light and ready clothing of summer and autumn. Trekking equipment including jackets and shoes should be prepared in advance or bought in market of Kathmandu.
3. Other Hot Destinations in Nepal
Pokhara, Chitwan, Nagarkot and Lumbini are also popular destinations in Nepal if you already toured ancient palaces, temples, stupas and natural spot you plan to visit in Kathmandu. More features of Nepal are waiting for your discovery, like Macchapucchare peak and Phewa Lake in Pokhara, miraculous National Park with abundant animals and plants in Chitwan, amazing Himalaya's views from Nagarkot…
4. Necessary Permits for Visiting Kathmandu
Nepal Visa is a must for tourists who are going to have a Nepal Travel. International visitors are eligible to obtain on-arrival visa at authorized entry points including the Tribhuvan International Airport in Kathmandu or submit visa application in any diplomatic mission of Nepal abroad. If you travel overland to Kathmandu from Lhasa Tibet, more visas and permits like Group visa and Tibet Travel Permits, Border Pass and other Tibet travel permits are required.