Bhutan Dzongs | Top 9 Dzongs in Bhutan 2021
What is a Dzong?
The word - "Dzong" comes from Tibetan and means "fortress". Dzong is a featured traditional architecture commonly seen in Bhutan and Tibet. It was usually built on strategic locations, the hillside or river valley area as a defensive fortress, mainly consists of a complex of courtyards, stupas, offices with white walls, red eaves and yellow roof (3 symbolic colors in Buddhism: white: rest and think; yellow: taboo and raise; red: surrender and follow) and mostly a watchtower (Ta Dzong). It is said that, Dzong was introduced to Bhutan from Tibet by Gyelwa Lhanangpa, a Tibetan monk, in 1153. During 16th and 17th century, many Dzongs were built in Bhutan for military purposes. Zhabdrung Ngawang Namgyel, a Tibetan Buddhist lama and the unifier of Bhutan, is one of the most famous founders of the majority of Bhutan's Dzongs, including Punakha Dzong, Simtokha Dzong, Wangdue Phodrang Dzong, etc. Previous Dzongs were constructed without using architecture plans.
Now Dzongs in Bhutan is one of the most outstanding examples of Bhutanese construction, serving as religious, administrative and social centers in each district. Tshechu Festivals are often held inside the Dzongs. Most Dzongs you can see in Bhutan are repaired and expanded after getting damaged, and a few are newly-built. Though many of them were built in similar design, several stories, an oblong main body, a central tower-like utse and akin layout and destiny of ruined by fire, every single Dzong has unique location, construction history and different details.
Long ago, women are not allowed to enter a Dzong between sunset and sunrise according to a local tradition. Still now, Bhutanese need to wear official dress (Gho for men, Kira for women) and scarf (Kabney or Rachu) all the times to visit Dzongs. When traveling in Bhutan, you need to dress long sleeves and long trousers and then you can enjoy great chance to closely observe the impressive Dzongs, see towering brick walls, wooden gates, windows, colorful carved beams, Buddhist-themed paintings, image history happened before your eyes and sense the Buddhism blessing. What are the most recommended Dzongs to visit in Bhutan? Check Top 10 Dzongs in Bhutan below to discover the gorgeous engineering artwork during your Bhutan tour.
How Many Dzongs are there in Bhutan?
Bhutan has 20 Dzongkhas (administrative districts) and each Dzongkha owns at least 1 Dzong named after the district. That means, you can meet different style of Dzongs in each destination. In western Bhutan, there are Rinpung Dzong, Drukgyal Dzong, Dobji Dzong sitting in Paro, while Thimphu has Tashichho Dzong, Simtokha Dzong, Punakha presents Punakha Dzong. Other Bhutan's Dzongs include Jakar Dzong, Wangdu Choeling Dzong, Draphe Dzong (in Bumthang), Gasa Dzong (Gasa), Haa Dzong (Haa), Lhuntse Dzong (Lhuntse), Trongsa Dzong, Ta Dzong (Trongsa), Wangdue Phodrang Dzong (Wangdue Phodrang), Trashigang Dzong (Trashigang) and so on.
Bhutan Dzongs Location Map (click to zoom up)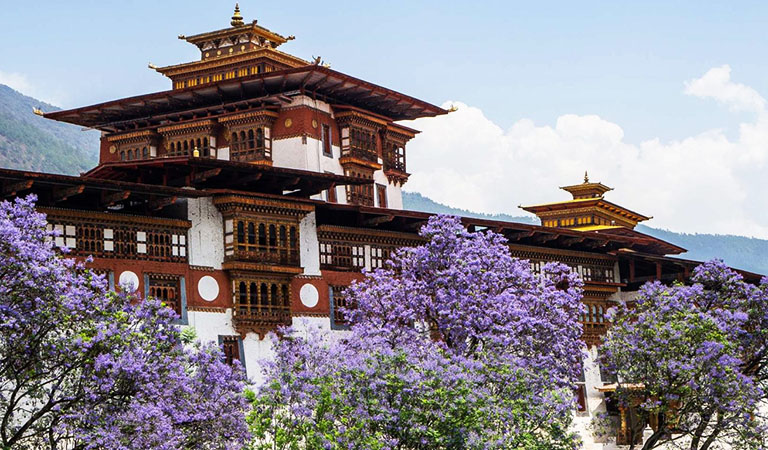 Purple Jacaranda Blossom outside Punakha Dzong in April
Delicated Carved Buildings in Punakha Dzong
● Location: confluence of Po Chhu and Mo Chhu, Punakha Valley, Punakha, Bhutan; about 3 hours' drive from Paro and 2 hours from capital Thimphu
● Elevation: 1,463 m/4,800 ft
● Best Time to Visit: March to May in Spring
● Opening Hours: 9:00 am - 5:00 pm (Jun~Mid-Nov), 11:00 am - 1:00 pm & 3:00 - 5:00 pm (Mid-Nov~May)
● Sightseeing Time: about 2 ~ 3 hours
Built by Zhabdrung Ngawang Namgyal in 1637 and 1638, Punakha Dzong is widely recognized as the most beautiful Dzong in Bhutan, which is also the second largest and second oldest Dzong and "Winter Palace" of central monk body. It is also called Pungthang Dewa Chhenbi Phodrang, meaning a palace of great palace.
Ngawang Namgyal built Punakha Dzong according to a prophecy from Padmasambhava. After completed, in ancient capital Puankha, Punakha Dzong served as the seat of the government and the administrative center of Bhutan. It is an important witness of historic moments, such as the coronation of the First and Third King of Bhutan, the First National Assembly, the spectacular wedding of the current 5th King of Bhutan. Unfortunately, the Dzong suffered from damaged by flash floods, fire and earthquake during past years. Many reconstructions were initiated to reconstruct this treasure, about 13 classical Bhutanese traditional arts got renewal. Therefore, today, the stunning structure still lies silently by the river, even more beautiful than ever.
To visit Punakha Dzong, you need to walk across a wooden cantilever bridge on Mo Chhu River to get to the front gate. Purple jacaranda blooms during spring days are the most dream-like scene you may meet if time is right. Next, flower your guide to walk from one courtyard to another to see the best example of Bhutan's Dzongs. Punakha Dzong has rarely-seen three courtyards, and preserves many precious Buddhist relics, the most sacred Avalokiteshvara statue and antiseptic remains of Ngawang Namgyal. In every February or March, grand Tshechu Festival will be held in Punakha Dzong in late February or early March, when monks and the Bhutanese perform mask dances and exhibit a huge thangka of Padmasambhava and enjoy outdoor picnic with family.
Recommended Bhutan Tours with Punakha Dzong:
☞ 5 Days Bhutan Classic Tour (Paro & Thimphu & Punakha) / ☞ 6 Days Last Shangri-La Bhutan Highlights Tour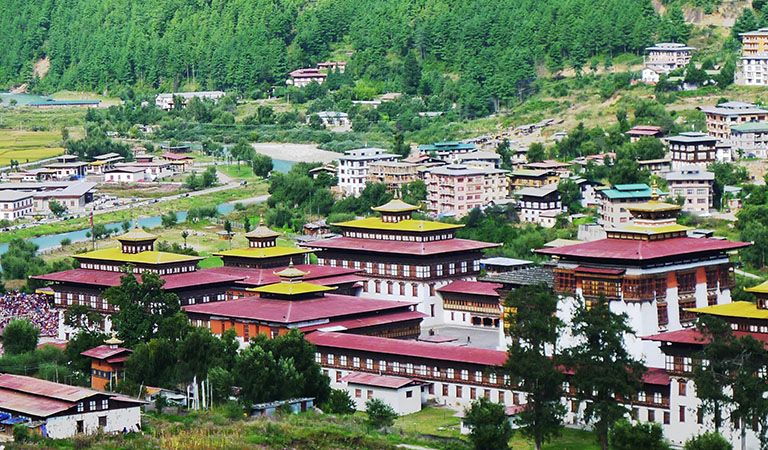 Tashichho Dzong Sitting in Thimphu Valley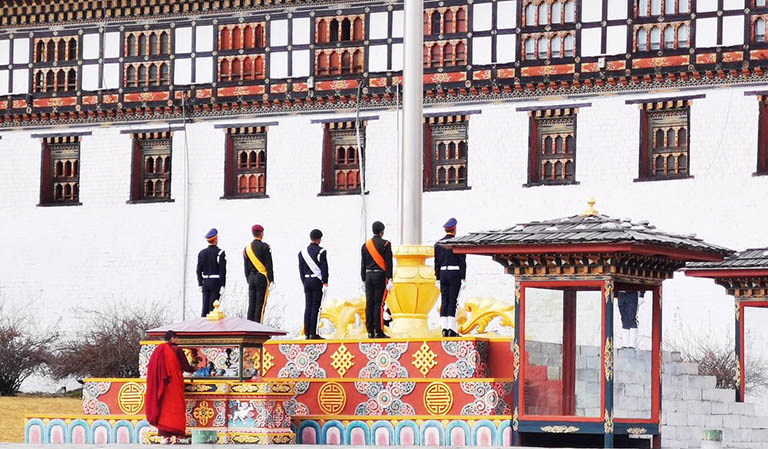 Flag-raising Ceremony Taking Place in Tashichho Dzong
● Location: West Bank of the Wang Chhu River, Chhagchhen Lam, Thimphu, Bhutan; about 1.5 hours from Paro by road
● Elevation: 2,500 m/4,800 ft
● Best Time to Visit: March to May, September to November
● Opening Hours: March to October: 5:30 - 6:30 pm (Monday to Friday); 09:00 am - 5:00 pm (Saturday & Sunday) November to Next February: 4:30 - 5:30pm (Monday to Friday), 09:00 am - 4:00pm (Saturday & Sunday)
● Sightseeing Time: about 2 hours
In present capital Thimphu, Tashichho Dzong, "Fortress of the Glorious Regilion" is a large modern Buddhist monastery, fortress, the seat of Bhutan's government, office of the 5th King of Bhutan and the "Summer Palace" of the monastic body.
The original Tashichho Dzong built by Gyalwa Lhanangpa (the first Dharma Raja) in 1216 was a small temple named Dogom Monastery, where now Dechen Phodrang Monastery stands on. In 1641, Ngawang Namgyal expanded and renamed it to Tashichho Dzong, and made it the government seat and religious center. But many parts were destroyed by fires and earthquakes. The 3rd King of Bhutan restored Tashichho Dzong many times after 1961 and built many new sites. And the 5th King got his coronation here. The Dzong has two double-layer whitewashed walls, and two-layered main structure with four higher golden-roof towers at each corner. Except the throne room, cabinet secretariat and government departments, there are thirty temples, shrines Dzong and thousands of learning monks in this modern, new and refreshing and grand Tashichho Dzong. Public visits are only allowed after office hours, through security checks, and just available in inner courtyard and halls, not to administrative areas.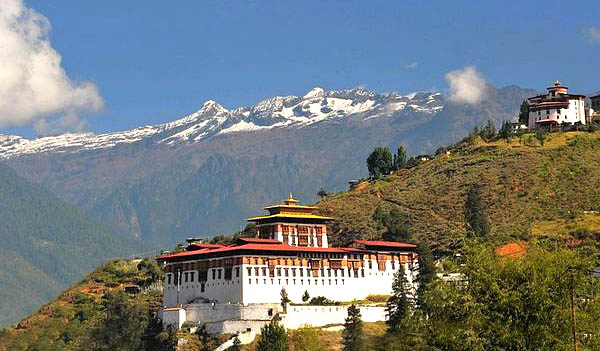 Ringpung Dzong in Paro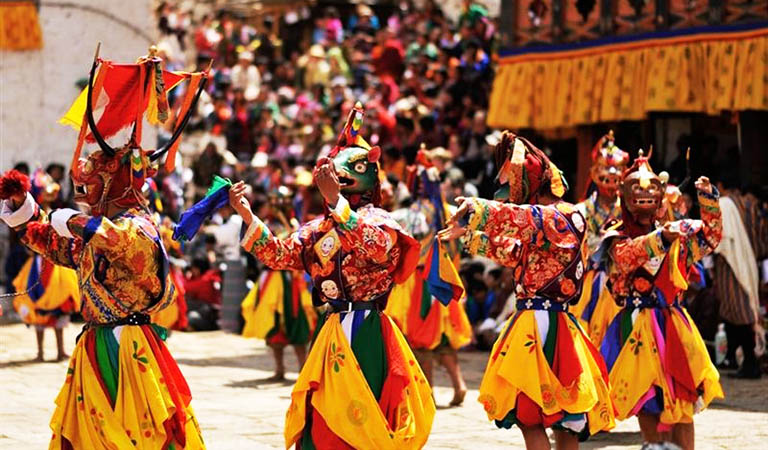 Tshechu Festival Held in Rinpung Dzong
● Location: East of Paro Chhu, Paro, Bhutan; about 6 km, 15 minutes' drive from Paro International Airport; about 1.5 hours' drive to capital Thimphu
● Elevation: about2,200 m/7,218 ft
● Best Time to Visit: March to May, September to November
● Opening Hours: 8:00 am - 6:00 pm daily from November to February; 8:00 am - 4:30 pm daily from March to October
● Sightseeing Time: about 2 hours
Rinpung Dzong sitting on hillside by Paro River is another excellent example of Bhutan's unique Dzongs, whose moral is "A Castle on a Pile of Jewelry". The prototype is a tiny temple built by Padmasambhava in the 16th century. It got severe damage from fires and earthquake too. In 1644, Ngawang Namgyal demolished the previous Dzong and built a new one, afterward, the new Dzong was appointed as the administrative and religious center of Paro Dzongkhag. Rinpung Dzong is a prominent shooting location of Little Buddha - a drama movie directed by Bernardo Bertolucci in 1993.
In the rectangle main Dzong, there are 14 chapels, including shrines, stupas, temples, halls, etc. Below is a cantilever bridge and above is a seven-storey circular watchtower that has been changed to National Museum of Bhutan. Charming scenery of Paro Valley and artistic architecture design and looks are highlights of Rinpung Dzong and its another significance is the delicate Thongdel, a scroll Thangkha painting of Padmasanbhava and his two wives. Paro Tshechu Festival is held in the grand courtyard in every February. The upper museum exhibiting over 3,000 cultural relics is a good place to learn Bhutan's history and culture, from stamps, musical instruments, weapons, Buddhist sculptures, utensils, etc.
Recommended Bhutan Tours with Rinpung Dzong:
☞ 4 Days Bhutan Short Break Tour from Paro to Thimphu / ☞ 7 Days Bhutan Adventure Tour with Haa Valley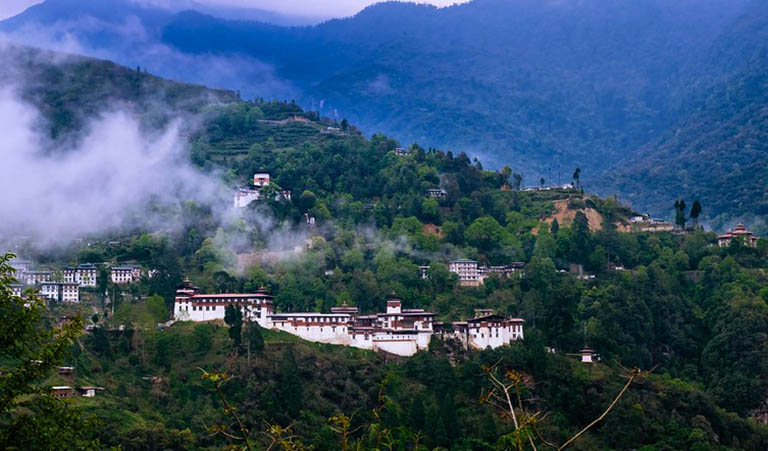 Trongsa Dzong Occupies Strategic Location in Central Bhutan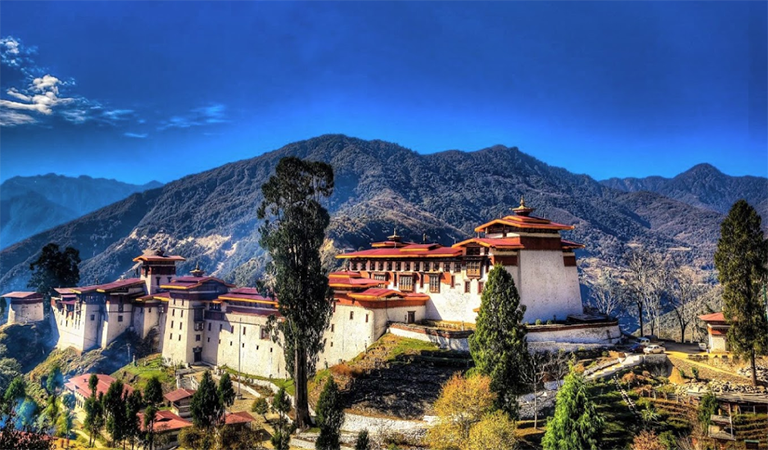 Verticle Watchtowers in Trongsa Dzong
● Location: East riverside of Mangde Chhu River, Trongsa, Bhutan; about 6 hours' drive from Paro, 5 hours from Thimphu and nearly 2.5 hours from Phobjikha Valley by road
● Elevation: about 2,200 m/7,218 ft
● Best Time to Visit: March to May, September to November
● Opening Hours: 06:00 am - 05:00 pm
● Sightseeing Time: about 2 ~ 3 hours
Trongsa means "New Village". Trongsa Dzongkhag is the most central district of Bhutan and critical military fortress connecting the west and east areas as well as the ancestor house of royal Wangchuck family of the kingdom. Trongsa Dzong is the considered the largest Dzong and best strategic Dzong in Bhutan, a center point of the country and the most striking sight in Trongsa. The magnificent shape and ingenious arrangement of temples, corridors, offices and monks' residence make it a masterpiece of traditional Bhutanese architecture.
Back in 1648, Ngawang Namgyal, Trongsa decided to build Trongsa Dzong on a spur hillside in the blessed lecotropa Trongsa Valley to protect local people and control the entire region. The Dzong is visible from any angle. Historically, the first and second Kings of Bhutan ruled the country from here and the third King was born in the Dzong. Thus, it has been renovated several times and already listed as a Tentative Property of UNESCO.
You need to hike through a rocky bridge, a giant hundred-year old tree to reach the front gate. Trongsa Dzong is more than huge, but also keeps a fantastic design, carvings and mural paintings, architectures beyond words, including the earliest frescoes of map of Lhasa and a splendid painting recording Dharma assembly of Padmasambhava. Wild monkeys can be found inside. Remember to walk up to catch the grand view of Trongsa Valley from the top.
Recommended Bhutan Tour with Trongsa Dzong: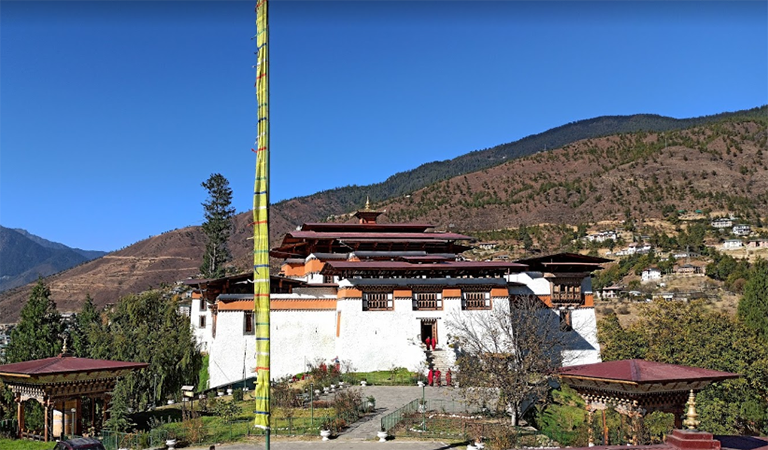 Front View of Simtokha Dzong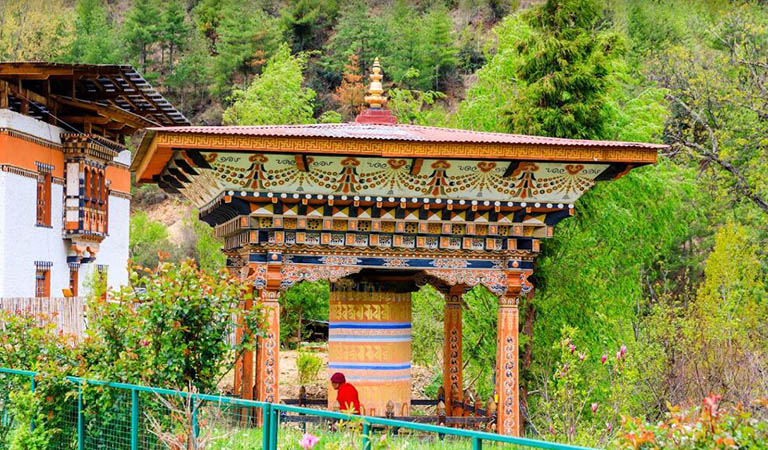 Nice Spring Scenery of Pavillion in Simtokha Dzong
● Location: Prominent mountain ridge facing Thimphu Valley, south of Thimphu, Bhutan; about 1 hours' drive from Paro, 25 minutes' ride to Tashichho Dzong, 6km to Thimphu City; almost 2.5 hours' driving to Punakha in the east
● Elevation: 1,463 m/4,800 ft
● Best Time to Visit: March to May, September to November
● Opening Hours: 09:00 am - 05:00 pm (Monday to Sunday)
● Sightseeing Time: about 1 hour
Simtokha Dzong, or Semtokha Dzong, Sangak Zabdhon Phodrang ("Palace of the Profound Secret Mantras" in Bhutanese) is a small but the oldest Dzong in Bhutan. It is the first kind of Dzongs of Bhutan, an important ancient military seat, politic and religious center in the past. "Simtokha" refers to devils and the locals believe the Dzong can guard them from demons lived in rocks near the fortress. It now is a Buddhist academy where worships Padmasambhava, many nice stone paintings and colorful murals and more than 200 monks learn Buddhism and Buddhist paintings. The back image on previous paper ngultrum.1 (currency of Bhuatn) is the Simtokha Dzong.
Reputedly, Ngawang Namgyel started the construction at the entrance to Thimphu Valley in 1626 and 1627, for the purpose of controlling traffic to Paro to the west and Trongsa to the east. 5 Lamas Battle took place here and Ngawang Namgyel defeated the opponent and unified Bhutan during the war. Phajoding in west Simtokha is a sacred ancient monastery giving panoramic view of Thimphu Valley and purification of your mind.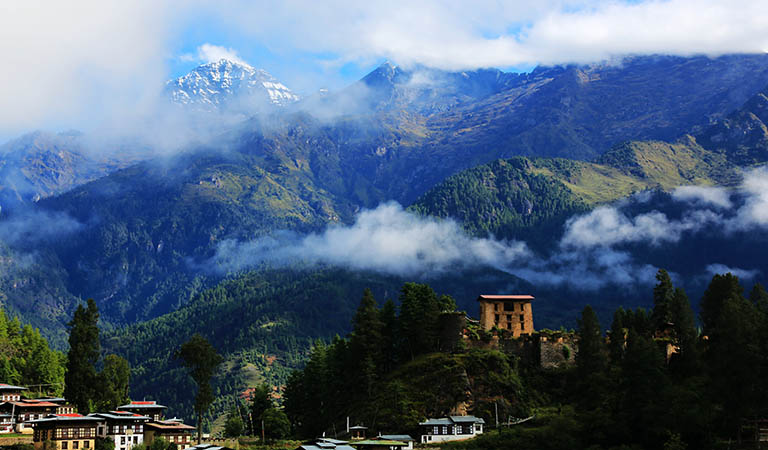 Drukgyel Dzong with View of Jomolhari Mountain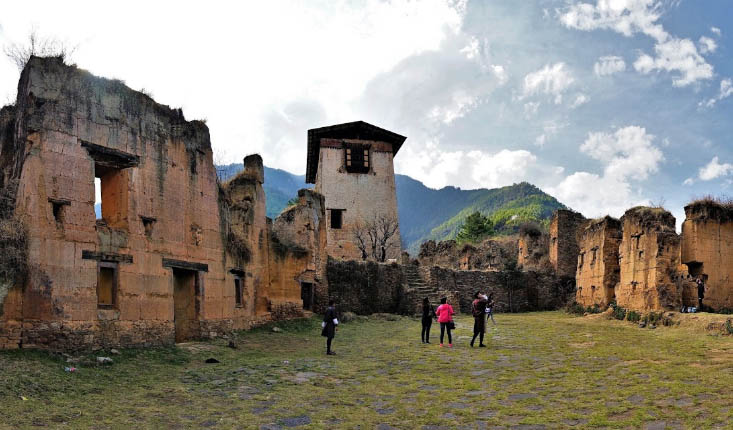 Remains of Drukgyel Dzong After Fire
● Location: Northwest Paro Valley, Paro, Bhutan; about 35 minutes' drive (20 km) from Paro International Airport and Ringpung Dzong; only 20 minutes' driving distance from Taktsang (Tiger's Nest) and 14 km from Paro Town
● Best Time to Visit: March to May, September to November
● Opening Hours: 07:00 am - 06:00 pm (Monday to Sunday)
● Sightseeing Time: about 1 hour
Standing on a giant rock in Drukgyel Village and embraced by large-scale of rice terrace around, Drukgyel Dzong is another famous ancient Dzong in Paro and a listed national historical site. The Dzong was originally built by Ngawang Nangyel in 1649 to memorize victory over exterior invasion. And his descendants had lived in the Dzong until 1951. However, it's a pity that the Dzong was largely ruined by fire. Apart from visiting the remnants, yellow broken walls, tourists can enjoy a lovely country farmland and natural scenery, interesting hiking via wild path, especially wonderful sight of the holy snow-capped Mount Chomolhair viewed from Drukgyel Dzong. In clear days, your eyes will be rewarded blue sky, misty mountains and lush valley together with the old Dzong, what a harmonious picture between human and nature! In 2016, government of Bhutan announced a reconstruction project to bring its glory back.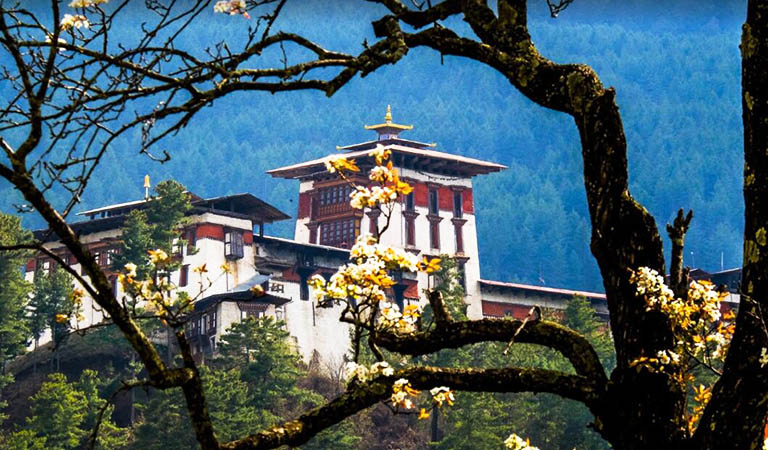 Charming Jakar Dzong in Bumthang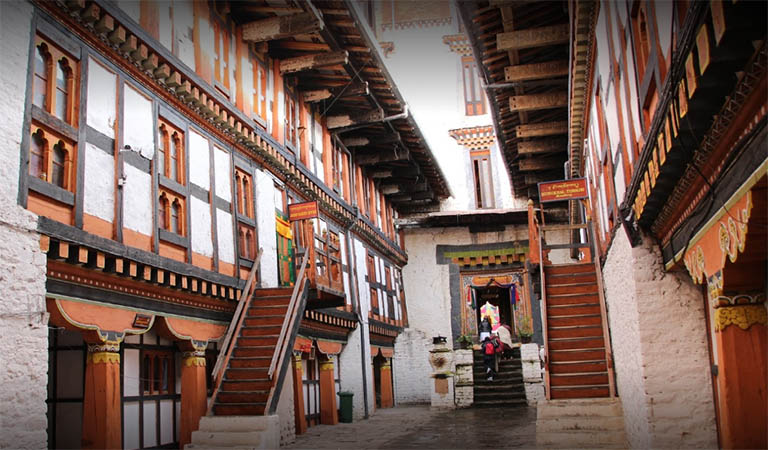 Exquisite Buildings along a Corridor in Jakar Dzong
● Location: Mountain ridge of Jakar Town, Chamkhar Valley, Bumthang, Bhutan; about 2 hours' drive from Trongsa; approximately 1 hour's ride to Bumthang
● Elevation: over 2,700 m/ 8,858 ft
● Best Time to Visit: March to May, September to November
● Opening Hours: 09:00 am - 05:00 pm (Monday to Friday); closed on Saturday and Sunday
● Sightseeing Time: about 1 hour
Jakar Dzong is one of the biggest and remarkable Dzongs of Bhutan. This quaint silent Dzong is the seat of administrative and monastic office of Bumthang. According to a local legend, in 1549, Tibetan Lama Nagi Wangchui chose to build Jakar Dzong at where a big bird stayed, to resist enemy from the east. Thus, it is also known as "the Castle of the White Bird" in Bhutanese language. In Bhutan, Jakar Dzong is famous as place of production of chugo, hard, honey, cheese, apple and apricot, and summer palace for two Kings and where three Kings' funerals were held.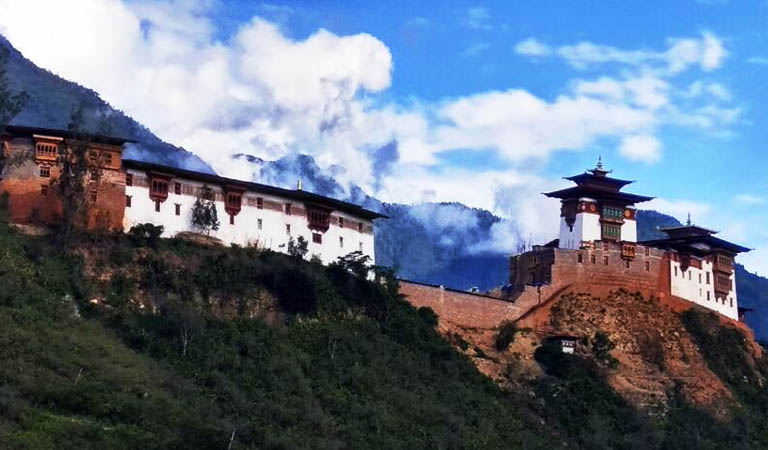 Wangdue Prodrang Dzong in Central Bhutan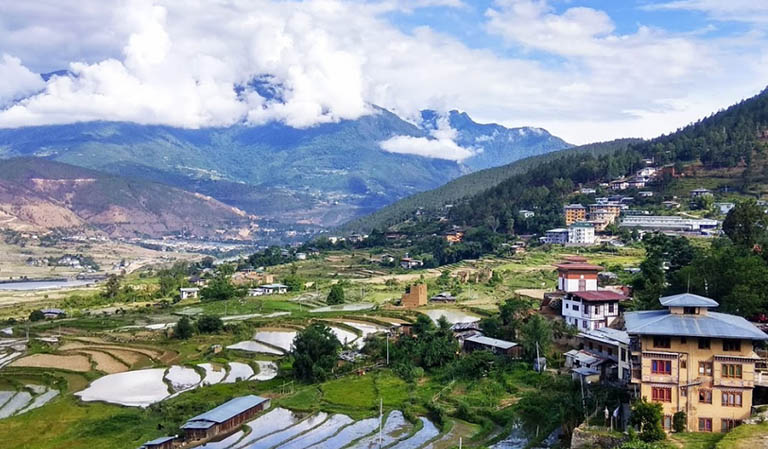 Rice Terraces and Villages across the Wangdue Phodrang Dzong
● Location: Hillside by Dang Chhu River, Wangdue Phodrang, Bhutan; about 3 hours' ride from Paro, 2 hours' ride from Thimphu and 40 minutes' drive to Punakha
● Elevation:over 1,30 m/4,265 ft
● Best Time to Visit: March to May, September to November
● Sightseeing Time: about 2 ~ 3 hours
Wangdue Phodrang Dzong, serving as the government and monastic center of Wangdue Phodrang, is the third oldest Dzong of Bhutan, also the one receiving the least renovation and rehabilitation among all Dzongs of Bhutan. A folk story goes that, after seeing four crows flying into four different directions, which presents a good meaning of wide spread of Buddhism, Ngawang Namgyal decided to establish the Dzong there. The Dzong has been burnt down by a huge fire in 2012, many relics have been stored for safety and only some remains left to the public. Unlike other serious Dzongs, Wangdue Phodrang Dzong is small but clean, more casual like a family courtyard where dogs and chickens leisurely live, you can obviously see cracks on ancient walls. And Wangdue Tshechu Festival is held in the Dzong every September.
Gasa Dzong Towering in Front of Mt Gangboom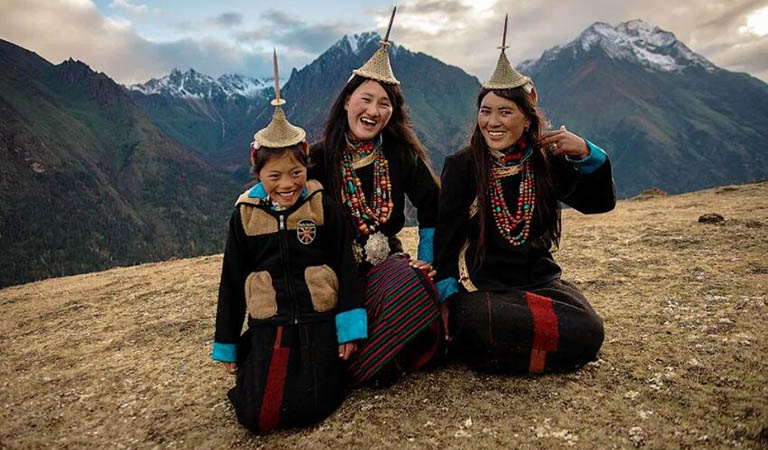 Layap Wearing Unique Hat and Costume in Northern Bhutan
● Location: Gasa, Northeast of Bhutan; about 5.5 hours' drive from Paro, up to 4.5 hours from Thimphu and 3.5 hours' ride from Punakha in the southwest
● Elevation: over 2,800 m/ 9,186 ft
● Best Time to Visit: March to May, September to November
● Opening Hours: 09:00 am - 05:00 pm (Monday to Friday); closed on Saturday and Sunday
● Sightseeing Time: about 2 ~ 3 hours
Gasa Dzong was name after Tashi Thongmon, a guardian deity of the region. This small fortress was made as a vital defending camp in 17th century against attack from the north, another artwork of Nawang Namgyal, and now it is used as headquarter of Gasa Dzongkhag. It was seriously ruined by a fire in 2008 like many other Dzongs in Bhutan.
There are four reasons making Gasa Dzong quite incredible and becoming more popular in the remote corner of Bhutan. One is its location in north regions of Bhutan, which naturally owns many hot springs at the foot area. "La Tsho" - a sacred soul lake below the Dzong occupies lots of significance of the Dzong, because the locals believe the guardian appearing from the lake. Travelers can enjoy tranquil beauty along the way if taking a off-beaten trail to Gasa. The second attraction is the circular shape with three watchtowers, rather than an oblong body. The third and the most unique point is breathing taking scenery of towering Gasa Dzong and astonishing Mt. Gangboom behind. The last one is great chance to meet seasonal migration of the Layap (unique highland indigenous people in Bhutan).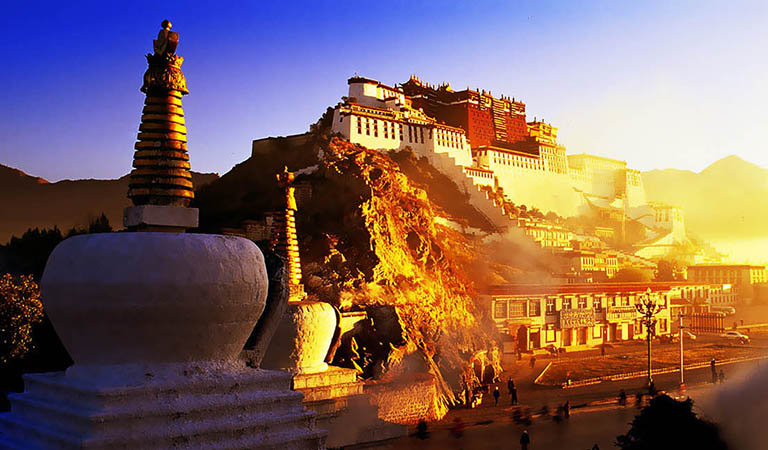 Majestic Potala Palace in Lhasa Tibet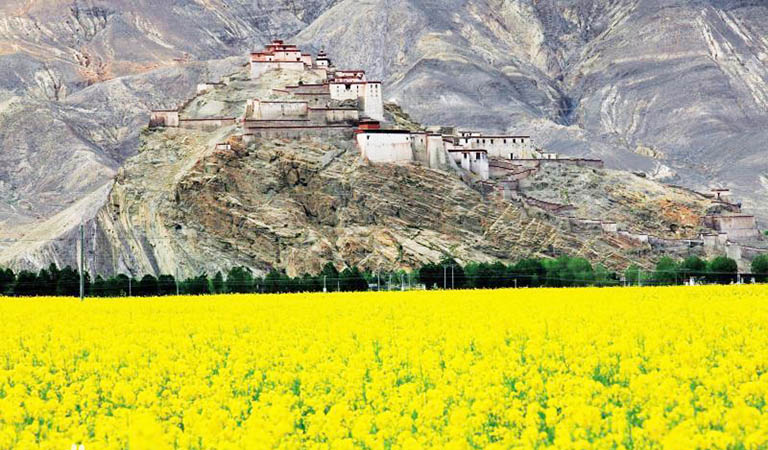 Gyantse Dzong in Shigatse Tibet
As mentioned above, Tibet is the cradle of Bhutan's Dzongs and today Tibet still remains some older and grander Dzongs with symbolic features and local Tibetan elements. During your Bhutan Tibet tour, you may make a contrast between the two different styles of Dzongs in Bhutan and Tibet.
1. Potala Palace (Lhasa) It is the top 1 must-visit Dzong, the most brilliant pearl and most majestic building in holy land of Tibet, also the highest palace in the world and Tibet's biggest and most well-preserved ancient architecture complex of castle, palace and monastery with over 1,300 years' history.
2. Gyantse Dzong (Gyantse) Built in 1390, the fortress is an old witness of Tibetan's story of heroes and a striking heritage dominating Gyantse town and surrounding plains.
3. Xiuba Ancient Castle (Nyingchi) Located in Gongbo Gyamda County, Nyingchi, 7 castles actually was erected by stones and wood in ancient Tang Dynasty over 1,000 years ago. Only three castles stands now, for others had already collapsed.
Moreover, Tibet keeps many other Dzong telling significant past of Tibet and super-duper achievement of the ancient wisdom, like ancient ruin in Tingri, Shigatse, Guge Ancient Ruin in Ngari, Gangba Dzong and so forth.
Most Popular Tibet Tours with Dzongs:
☞ 4 Days Holy City Lhasa Private Tour / ☞ 8 Days Lhasa to Mount Everest Private Tour
How to Plan Bhutan Tour Itinerary
Best time to visit Bhutan: spring (March to May) and autumn (September to November)
How to get to Bhutan: international flights from India, Bangladesh, Thailand or Nepal or overlanding from India.
Bhutan Visa: Your tour operator will apply for you. Taking about 7~10 working days to receive.
Bhutan tours usually range from 4 days to 30 days, depending on the travel style you prefer. Classic Bhutan tours usually start from Paro in the west where Bhutan's only international airport and famous Tiger's Nest are located in, then go eastward to visit the capital Thimphu and beautiful Punakha Dzong, which usually takes about 5~7 days. It is strongly recommended to spend 2 or 3 more days to countinue your tour to Phobjikha and Bumtang where the most beautiful valleys and authentic local culture awaiting your exploration. For further in-depth tour, you can go to enjoy a trek or a festival tour. Find recommended Bhutan tours here >
☞ 5 Days Bhutan Classic Tour (Paro & Thimphu & Punakha)
☞ 9 Days Bhutan In-depth Natural and Cultural Tour
Bhutan is usually visited with its two great Himalayan neighbors - Nepal and Tibet. We are specialized in providing tailor-made Nepal Tibet Bhutan tours of all kinds. Find recommended Nepal Tibet Bhutan tours here >
Andy (UK) and Her Friends Enjoyed Bhutan Tour with Thimphu and Punakha
Recommended Bhutan Tour Packages
Following are some other recommended Bhutan tour packages that you may be interested in. All of our Bhutan tours can be customized to meet your personal requirements. Find more Bhutan Tours or contact us to customize a trek if you want.
Paro / Thimphu / Punakha / Paro

Taktsang Monastery, Rinpung Dzong, National Memorial Chorten, Punakha Dzong

Request / Details

Paro / Thimphu / Tiger's Nest / Paro

Taktsang Monastery, Kyichu Lhakhang, Rinpung Dzong, National Memorial Chorten, Bhutan Post Office

Request / Details

Paro / Thimphu / Punakha / Paro

Thimphu Tshechu Festival, Taktsang Monastery, Rinpung Dzong, Punakha Dzong, Wangdue Phodrang Dzong

/ Details
Have a question? Get answers from our travel experts soon!
Your Question:

Your Name:

Your Email: