Punakha Dzong - The Most Beautiful Dzong of Bhutan
The Punakha Dzong standing by riverside is more than the landmark and administrative center of Punakha, but also the winter residence of the Central Monastic Body and one of the top favorite attractions in Bhutan. Well-known as the second oldest and the second largest Dzong of Bhutan with more than 300 years' history, Punakha Dzong was initially built by Ngawang Namgyal, 1st Zhabdrung Rinpoche in 1637. This historical and sacred site is engraved by Bhutanese as one of the most important Dzongs of Bhutan, where many major events of royal clans took place, including the coronation of the 1st king and wedding of the 5th king of Bhutan (the current king).
Seen from afar, Punakha Dzong is a beautiful Tibetan-style architecture complex of white walls, red woodcarving decorations and gilded roofs. The most gorgeous season of Punakha Dzong belongs to the purple jacaranda blossoms in spring, the most extremely visually stunning sight. The rectangular shape fortress is also an honorable treasury where preserves numerous Buddhist relics and historical legacies, an excellent witness of Bhutan's history and culture.
Punakha Dzong Facts
Ratings:

#1 of 9 Things to Do in Punakha
Season:

February ~ April & October ~ December
Type:

Landmark, Religous & Historical Site
Altitudes:

1,463 meters
Location:

Riverside of Mochhu & Pochhu River, Punakha Valley
How to Get to Punakha Dzong
Punakha Dzong is located at the confluence of Mochhu River and Pochhu River in Punakha Valley with an elevation of 1,463 m. Currently, tourists who plan to visit Punakha Dzong have to transfer in Paro, for Paro is the location of the only international airport in Bhutan and there is no airport serving Punakha.
Paro to Punakha
With certain international airlines with Nepal, India, Thailand, Singapore, Bangladesh, Paro is the gateway and first destination for Bhutan travel. It takes about 3 hours to drive northeastward to get to Punakha Dzong from Paro Airport, passing through Thimphu on the 110 kms' ride.
Thimphu to Punakha
Tourists can travel to Punakha Dzong from Thimphu by taking car, which only takes about 2 hours for 70km. After a 40 minutes' uphill drive form Thimphu, you will glut your eyes with the breathtaking Himalayan view on Dochula Pass and superb natural landscape and Bhutanese traditional style houses along the driving journey.
★ Useful Links: Flights to Bhutan | Thimphu Travel Guide
Highlights of Punakha Dzong
Punakha Dzong is an excellent piece of architectural beauty and the rare Dzongs of Bhutan owning three docheys (means courtyards), others usually has two only. As the second largest Dzong of Bhutan, it is 180 m long and 72 m wide with lots of artistic buildings in separate functional areas.
The visit of Punakha Dzong starts from a red wooden cantilever bridge on Mochhu River, an ingenious aisle linking the Dzong to the main road. At the main entrance, there is a specialized 7 meters high wooden ladder standing cliffy into the interior. There are few golden pray wheels and fascinating Buddhist murals about the 12 Chinese zodiac at the doorway.
The First Dochey in the North - Administrative Seat
The administrative offices are located in this first courtyard with a giant six-storey tower building and a Bodhi tree in the center. This Utse stupa of whitewashed walls received its golden dome from the 4th king of Bhutan, Gyalse Tenzin Rabgye. There are different shrines and exquisite woodcarving-decorated windows at each layer. Obviously, the windows present a figure of wide at the top and narrow at the bottom as the walls show an opposite form.
The most precious national treasure of Bhutan - the Self-created Kasapani (Rangjung Kharsapani) is consecrated in the Tse Lhakhang Temple in the Utse stupa. It is an Avalokitesvara statue the first Zhabdrung Rinpoche brought from Tibet, which will be exhibited for pilgrimage in the Punakha Tshechu Festival only, and not open to the public. At the left corner, there is a shrine worshiping the Tsochen, the wife of Indian Cobra Naga, a statue of Naga beside and many stones. Once get enter the dochey, tourists often get shocked by the majestic stupa and atistic carvings, can't help seizing every twinkle moment here.
The Second Dochey - Monastery for Religious Affairs
Fenced off from the first courtyard by the central Utse stupa, the second part is the living quarter of the monks. You can see many monks in red robes chanting at the lectern and doing daily routine around. There are two main halls inside this dochey, one of them is the Phodrang Palace where the first King of Bhutan got his coronation as Order of Knight Commander from British Commissioner John Claude.
The Third Dochey in the South - Sublime Religious Zone
This most secret zone of Punakha Dzong is the private meeting hall for prominent monks and the location where reserves the remains of the Terton Pema Lingpa and Shabdrung Ngawang Namgyal. The bottom is a huge Hundred Pillars Hall where towering 54 majestic gilded columns with various subtle carvings. Walk through the wooden floor, right ahead you will find three holy giant statues of Sakyamuni , Guru Rinpoche and Shabdrung Ngawang Namgyal. Once step in, look the colorful decorations and distinctive craftworks on windows, door and pillars, the splendid frescoes telling the lifetime stories of Sakyamuni, all visitors will be impressed by the bold creation and unique charm of Buddhist culture.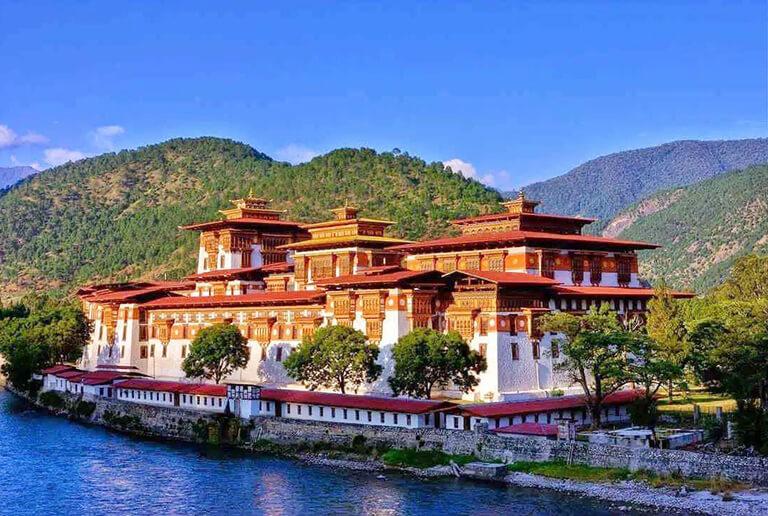 Gorgeous Punakha Dzong in Sunny Day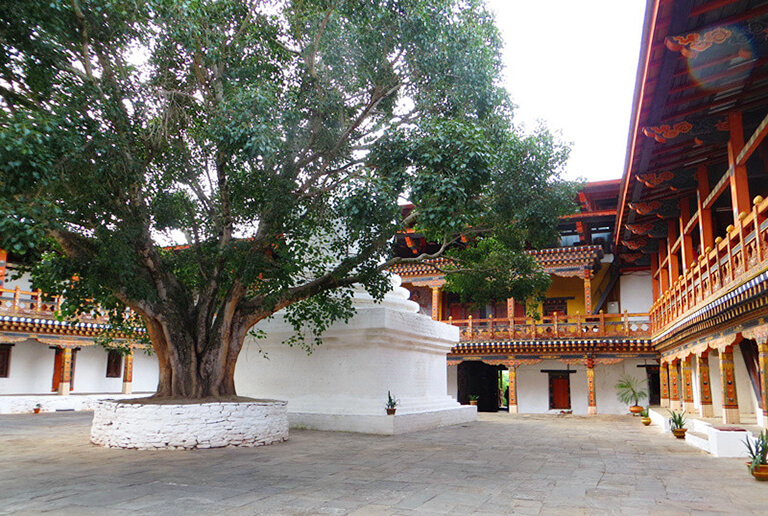 Bohdi Tree in the Nothern Dochey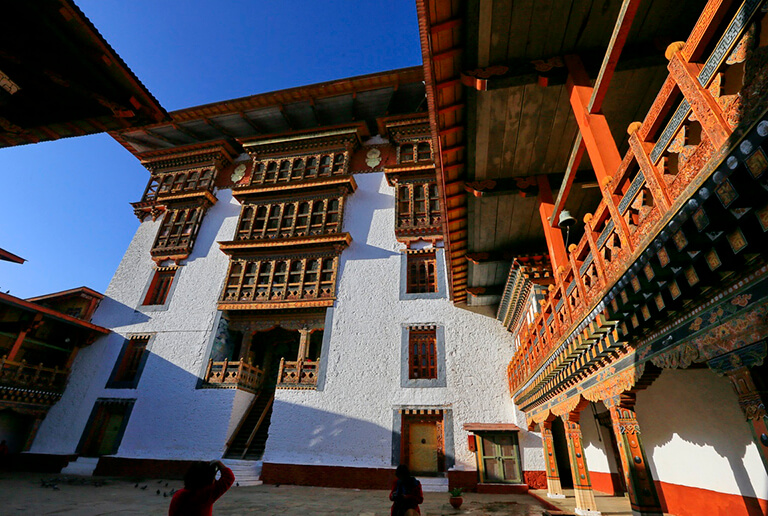 Residence Quarter - the 2nd Courtyard in Punakha Dzong
The first Zhabdrung Rinpoche, great founder of Bhutan died in Punakha Dzong in 1651 and his remains was embalmed preserved in a sealed coffin of gilded stupa in Machey Lhakhang, the southernmost courtyard. Only the kings and Je Khenpo (supreme leader of monastic group) can visit for blessing before getting crown. In addition, a mass of valued relics and Buddhist collections are saved in this shrine.
The Four Friends Painting
This kind of figures or sculptures is very common in Bhutan's Dzongs, restaurants, cafés or local families. You may wonder why an elephant, monkey, rabbit and bird propping each other up, there is a profound moral attached. On the surface, the lumbering elephant wouldn't get the fruit without monkey's help, despite its great bulk. If the bird didn't eat the fruit and excreted seeds into ground, the tree won't exist. And the tree will bear no fruit if the rabbit didn't protect the root underground. According to the Bhutanese legends, the four animals are close friends on behalf of earth, air, underground and sky of nature, a prefect corporation and dependence upon each other. It is an excellent example of the value and belief the whole nation delivers - great harmony with nature.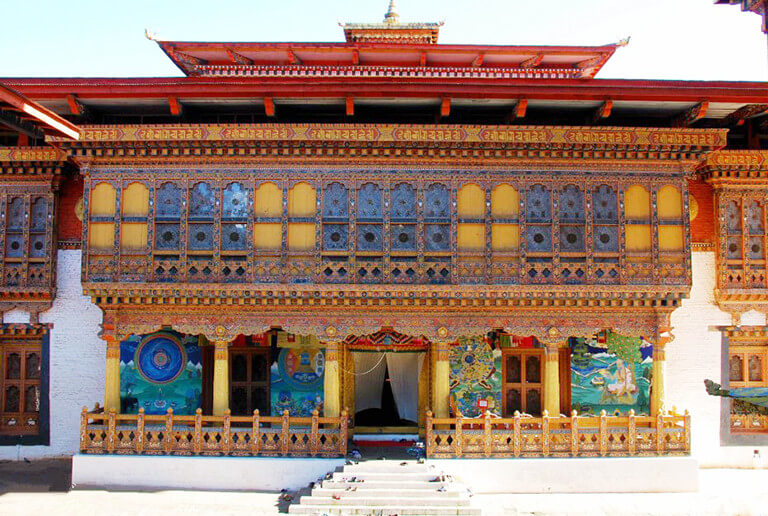 The Exterior of the 3rd Courtyard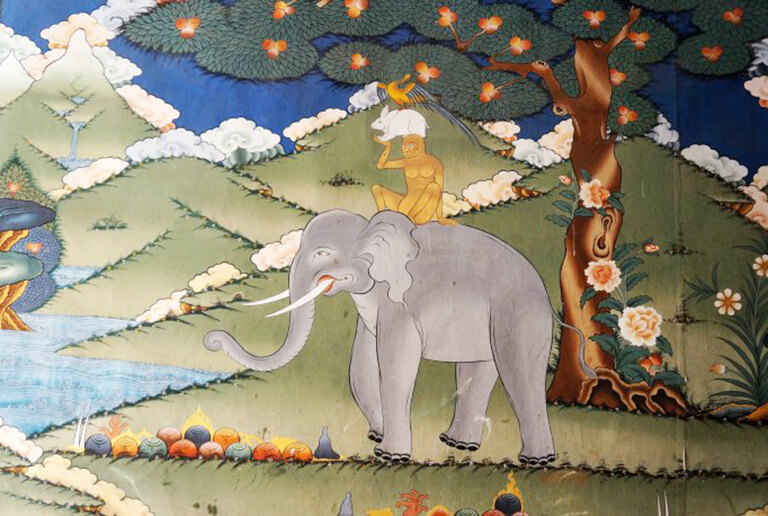 Four Friends Painting in Punakha Dzong
History of Punakha Dzong - When was Punakha Dzong was Built?
In the early 1326, there already stood a small monastery with Buddha statue, which is named as Dzong Chug. A popular Bhutanese legend says the Guru Padmasambhava (Guru Rinpoche) once prophesied the construction and location of Punakha Dzong. In 1637, the 1st Zhabdrung Rinpoche, Shabdrung Ngawang Namgyal, the unifier of Bhutan indeed started to construct a Dzong as Guru Padmasambhava predicted. Just one year, Pungthang Dechen Phodrang - the embryonic original Punakha Dzong was completed. Then the Punakha Dzong began its history of political center until 1955. More buildings were added around later, including the Buddhist temple erected to memorize the defeat of Tibetan invasion in 1639 and brassy rooftop gifted from the 7th Dalai Lama.
In 1907, the first King of Bhutan - Ugyen Wangchuck got his coronation of Druk Gyalpo in Punakha Dzong and made it as the residence palace. And the 2nd King inherited the crown in Punakha Dzong in 1927. During the rule of the 3rd King of Bhutan, his majesty Jigme Dorji Wangchuck hosted the first National Assembly in Punakha Dzong, and built many distinctive architectures here. Most remarkable accomplishment is the Chemo Thondrol shown in the tshchu, a huge Thangka painting about the Shabdrung Ngawang Namgyal. In 2011, the 5th King of Bhutan, the current King hosted his marriage in Punakha Dzong, realized his romantic love story with his wife.
However, tracing back the history, the Punakha Dzong suffered from lots of attacks and natural catastrophes, like fires, earthquakes and flood. That's why the Dzong went through frequent reparation as a newly built one and set up a steep wooden ladder at the entrance lifting against aggression.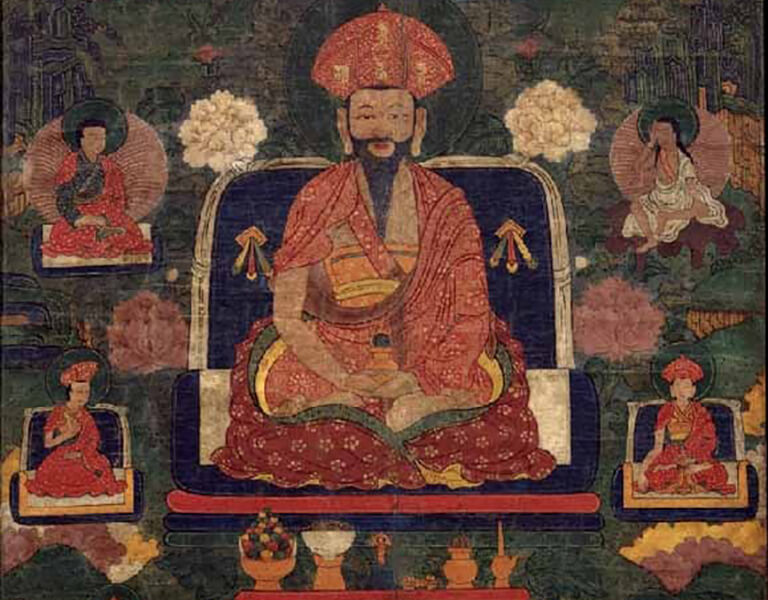 Painting of Shabdrung Ngawang Namgyal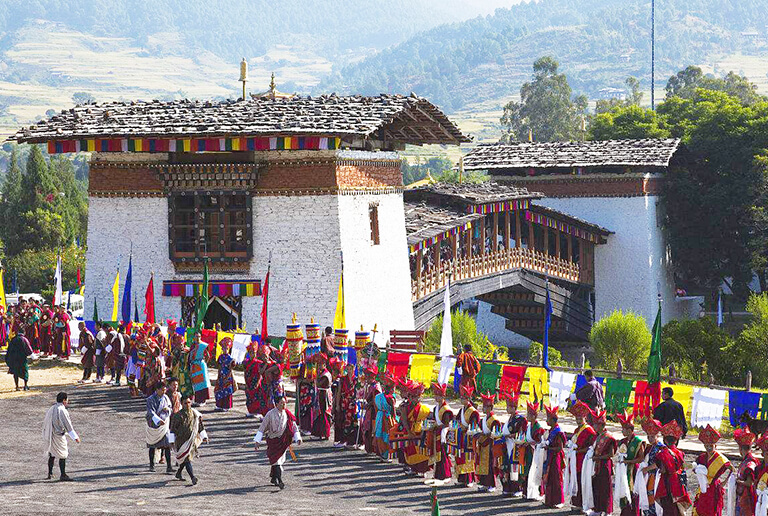 Punakha Dzong Hosted the Wedding of the 5th King of Bhutan
What is a Dzong - Facts about Dzongs of Bhutan
In Bhutan, you can see various kinds of Dzongs located in every valley. Those delicate architectures are the featured outcome of Bhutan's long history and unique culture. Broadly speaking, Dzong is an administrative district in Bhutan. In a narrow sense, it is an equally shared administrative center and monastery.
To protect Bhutan from Tibetan invasions in the early 17th century, the first Zhabdrung Rinpoche , Shabdrung Ngawang Namgyal started to build many fortresses in strategic location, which afterwards served as the Dzongs of Bhutan. Because the whole country of Bhutan respects and worships Tibetan Buddhism as the national religion, and the Shabdrung Ngawang Namgyal initiated the dual system of government (religious and administrative), the Dzongs turns to be the location for both the seat of the government and sacred temple for religious affairs. Meanwhile, the Dzong is also the site where hold the grand Tshechu festival in every valley.
Shabdrung Ngawang Namgyal built the first Dzong - Simtokha Dzong in southern Thimphu in 1629, from where he could control traffic over the vital Paro valley to the west and Trongsa Valley to the east. After landing in Paro, travelers can visit the large Rinpung Dzong (also called Paro Dzong), tour the current seat of the government and summer palace for Central Monastic Body at Tashichho Dzong in Thimphu and explore more gorgeous Dzongs in other regions of Bhutan.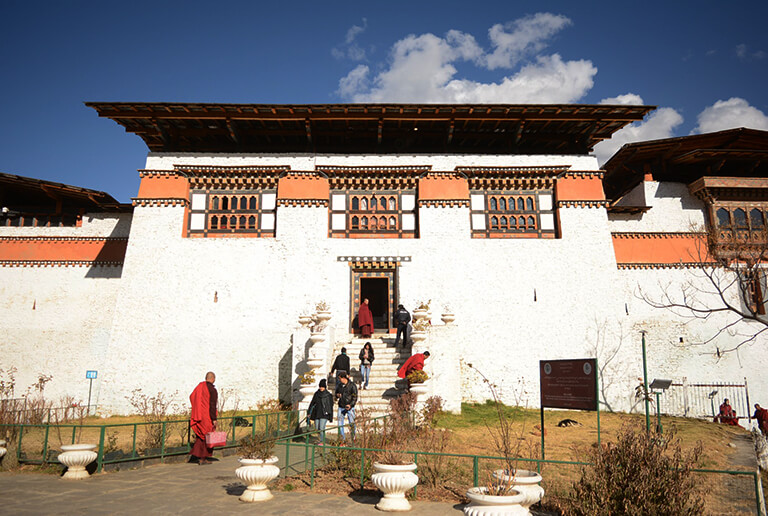 The First Dzong of Bhutan - Simtokha Dzong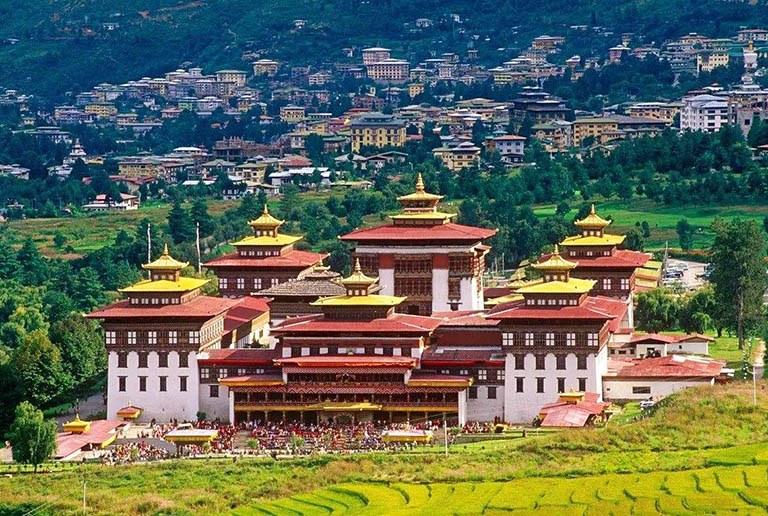 Thimphu Dzong - Current Government Seat
More Popular Punakha Tours:
Useful Travel Tips of Punakha Dzong
1. Best Time to Visit Punakha Dzong
For the lower elevation at Punakha Valley and the surrounding lush vegetation, Punakha Dzong (alt: 1,200 m) enjoys a moderate climate all year around, even the winter days are relatively warm than other places. Tourists can visit Punakha Dzong at any time of year. Considering the comfort and convenience of travel, the best time to visit Punakha Dzong is from February to April and October to December, when the weather and climate is quite balmy and pleasant. It is getting warmer since February and the famous Punakha Tshechu will be held during the end of February and beginning of March. Autumn gives the more clear days to view the Himalayas. It's not recommended touring Punakha in summer and late winter for it's either too humid and hot in summer rainy season or chilly at the end of winter.
2. Ticket and Available Visiting Time
Ticket: 300 rupees is charged per person for visiting Punakha Dzong
Opening Hours: 8:30am ~ 17:00 (Summer: June, July and August)
11:00am~17:00pm (Winter: November, December, January)
The Dzong will close between 13:00pm~15:00pm during lunchtime.
Tourists are only allowed to visit the first and second courtyard in the Punakha Dzong.
Beware of the steep steps at the entrance.
3. Etiquette & Taboos for Visiting Dzong
Manners Maketh Man. When in Rome, do as Romans do.
Dress Code: Bhutan is a religious country full of monasteries, Dzongs (fortresses) and sacred religious sites, therefore, long pants and long sleeved tops should be worn to show respect while visiting those places. You can dress in layers, easy to put on and off. Do not dress slinky or short pants. Also, no kerchief, scarf or hat, but you can hold in your hand. No photographing is permitted in the Third Courtyard, and visitor should take off shoes before entering.
4. Toilet in the Punakha Dzong
There is one toilet available inside the Punakha Dzong, you can ask your tour guide about the exact location, and you need to pay for using it.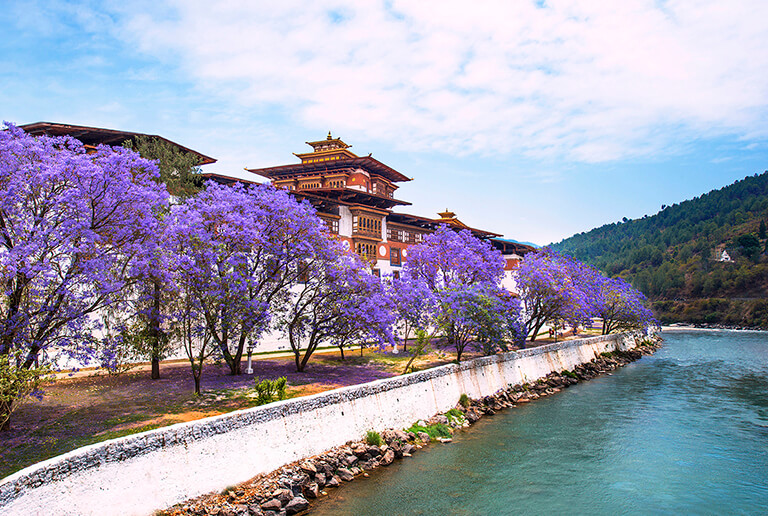 Beautiful Punakha Dzong in May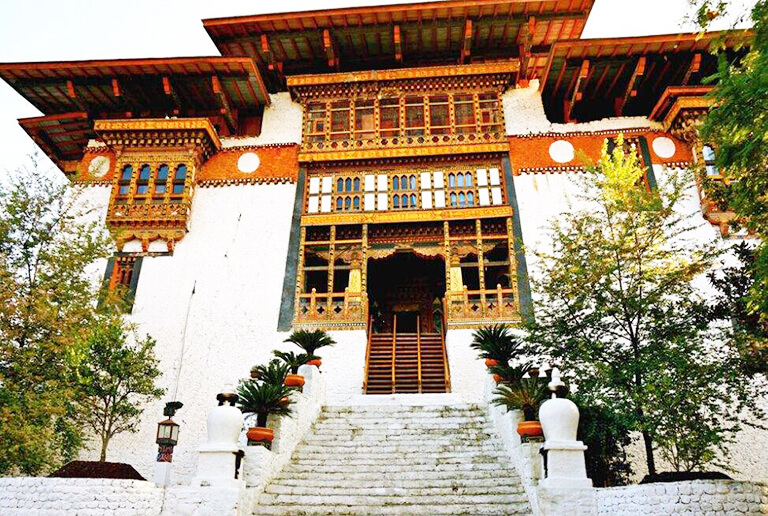 Steep Steps at Entrance of Punakha Dzong
Dressing of Visiting Punakha Dzong
How to Plan Your Bhutan Tour with Punakha
With Bhutan's sole international airport, Paro is usually the first stop of your Bhutan journey. After arrival, you can first get a brief impression of Bhutan and acclimatize altitude in Paro. Prepare 2 days to take a trekking to the world-famous sacred Taktsang (Tiger's Nest), visit Bhutan National Museum and Paro Dzong and feel the primitive valley scenery. Next, drive 1.5 hours to reach capital Thimphu, where many Bhutanese cultural and religious attractions well-preserved in the newly-built modern houses. It's advised to leave 1 or 2 days to discover Thimphu, see the National Memorial Chorten, Butan Post Office, and Giant Buddha Dordenma and know different folk handicrafts in local museums and schools. If you visit Bhutan in a right time, you probably can witness farmer daily life in Weekend Market and the grand Tshechu Festival.
After Thimphu tour, drive another 3.5 hours to Punakha, use 1 day to see the beautiful Punakha Dzong and mysterious Chimi Lhakhang temple surrounded by peaceful fields. Afterwards, you can either return to Paro and fly out of Bhutan, or continue to travel further to central and eastern Bhutan for more amazing natural scenery and diverse cultures.
Travel with Tibet Discovery
Tibet Discovery is an excellent travel agency providing superior tour packages of Bhutan, Nepal and Tibet for every tourist. Traveling with us, you are assured to use our high-quality travel services, including vehicles, professional tour guide and experienced driver, well-organized itinerary, assistance of visa and permits application and other travel related services. You may choose from our top-selling Bhutan tour packages, or contact us to customize a unique Bhutan travel for you! Travel time, theme and destinations to visit can be flexibly arranged based on your requirments.
Popular Himalaya Trips including Bhutan:
☞ Hot Bhutan Tour Package 2021 / Nepal Bhutan Tours
Tibet Discovery Customized Thimphu to Punakha Tour for Richard and Hamad
Andy (UK) and Her Friends Enjoyed Bhutan Tour with Thimphu and Punakha
Punakha Travel Guide
Bhutan Travel Guide
Recommended Tour Packages
Escorted by a skilled private driver and accompanied by a professional local tour guide to organize all the activities, all you have to do is to enjoy your fantastic Tibet journey. Time can never be wasted waiting for a group, hopping on and off buses or negotiating unfamiliar destinations.
Paro / Thimphu / Punakha / Paro

Highlights: Taktsang Monastery, Rinpung Dzong, National Memorial Chorten, Punakha Dzong

Request / Details

Paro / Thimphu / Punakha / Phobjikha / Trongsa / Bumthang / Wangue Phodrang / Paro

Highlights: Taktsang Monastery, Punakha Dzong, Trongsa Dzong, Gangtey Goempa, Jambay Lhakhang

Request / Details

Paro / Thimphu / Punakha / Phobjikha / Paro

Highlights: Taktsang Monastery, Kychu Monastery, Punakha Dzong, Folk Heritage Museum

Request / Details
Have a question? Get answers from our travel experts soon!
Your Question:

Your Name:

Your Email: