Bhutan Birding Tour | Bird Watching in Bhutan 2021
Bhutan, "Land of the Thunder and Dragon" is a remote timeless Kingdom nestled in the magnificent Himalayas. Besides its distinct tradition, picturesque scenery, Buddhism culture, and fascinating heritage, Bhutan is also highly forested for over 70 percent of its land, which cultivates the thriving vegetation and exceptional wildlife, including 700 species of birds. Among them, some are still poorly known or newly discovered. The impressive species include Black-Necked Crane, Satyr Tragopan, Blood Pheasant, Himalayan Monal, Yellow-throated Fulvetta, etc. In recent years, it has opened its borders to visitors, which provides an opportunity for you to enjoy a memorable Birding tour for a lifetime. Here, we have listed the commonly asked questions related to Bhutan birding with useful tips to help your plan a Bhutan Birding Tour!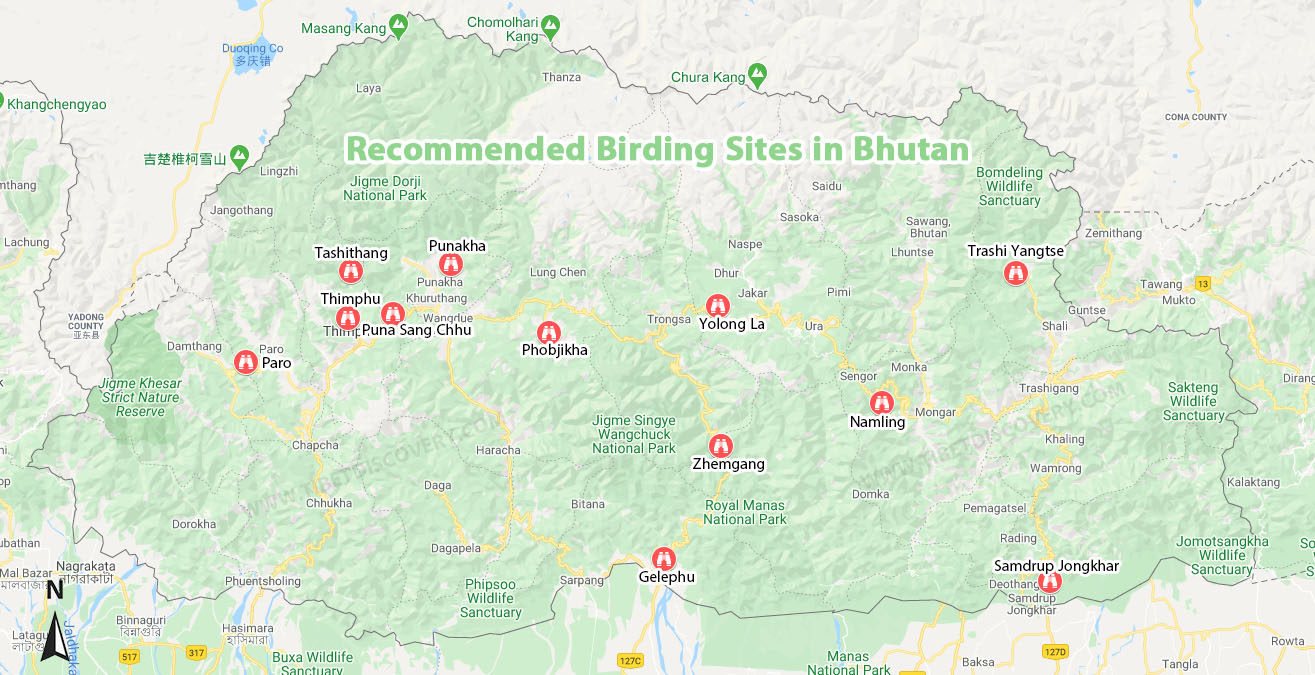 Where to Go Birding in Bhutan
Unlike other Asian countries, Bhutan is a pristine land with dense vegetation and a sparse population, which allows all kinds of birds to dwell in Bhutan. Generally, it can be divided into 3 regions for bird watchers, namely western Bhutan, central Bhutan, and eastern Bhutan.
Paro (West)
Thimphu-Punakha (West)
Punakha Region (West)
Wangdue – Phobjikha (West)
Central Regions
Eastern Regions
Paro Region (2300m - 4100m)

♦ Distance: Paro - Thimpu: 55kms, 2 hrs; Paro - Haa Valley: 70kms, 3hrs
Birding Routes
Paro – Drugyel Dzong – Jangothang (Altitude: 2300m – 4100m)
Paro – Chele La – Haa Valley (Altitude: 2300m – 3503m - 2774m)

The Paro Valley is relatively dry with pine trees growing on the slopes and the main birding area is along the Pa Chu riverbed. From Paro to Drugyel Dzong is a bird-rich area with only about 13km's trekking distance; from Drugyel Dzong to Jangothang, the altitude changes rapidly from 2580m to 4090m in an alpine zone. From Paro to Chele La, it's a large forest of blue pines, sliver firs, spruce and hemlocks, etc; from Chele La to Paro, you can follow the driveway via Haa Valley and pass through lots of thriving forests and nice farmlands.

Thimphu-Punakha Region (1100m - 3110m)

♦ Distance: Thimpu - Phuentsholing: 180kms, 6hrs; Thimpu - Wangdue: 76kms, 3 hrs; Thimpu - Punakha: 70kms, 3hrs
Birding Routes
Thimphu – Dochu La – Punakha (Altitude: 2300m – 3115m – 1100m)
Thimphu – Begana – Tango – Dodena (Altitude: 2300m – 2760m)

Thimphu Valley offers great birding sites around Begana and Cheri villages and the average altitude is about 2500m, and you are recommended to trek to Tango Monastery. It is a sun-alpine region where you can see temperate broadleaf, evergreen, coniferous forests, and shrubberies. To reach Dodena, it takes about 45min by car and the nice birding area is below the Cheri Monastery where is a field of oak forests. And you shall not miss the magnificent Dochula Pass, where you can find a nice birding area in the east of the pass surrounded with evergreen forest and Fir, Cyprus, Rhododendron, Oak, and bamboo growing along the horse trails.

Punakha Region (1100m – 3850m)

♦ Distance: Punakha - Gangtey: 70kms, 3 hrs
Birding Route
Punakha – Mo Chu Valley – Rimchu (Altitude: 1100m - 1700m)
Trekking beyond Rimchu: Rimchu - Trashithang - Damji - Gasa - Konia - Laya

Mo Chu Valley can be one of the best birding areas with warm broadleaved subtropical forests by the Mo Chu River. The altitude keeps rising from 1700m to about 3850m if you would like to trek beyond Rimchu and this region is covered with broadleaved and coniferous riverine forests.

Wangdue Phodrang – Phobjikha Valley Region (1300m – 3410m)

♦ Distance: Punakha - Gangtey: 70kms, 3 hrs
Birding Route
Wangdue Phodrang – Gangtey – Phobjikha Valley (Altitude: 1300m - 3050m)

Wangdue Phodrang to Pele La region has a mixed conifer forest with rhododendron, bamboo meadows by river valleys. Walking downhill at the west slope of Pele La, you can see old abandoned roads and forests growing Fir, Rhododendron, and bamboo and broad-leaved trees. After reaching Gangtey monastery, there you can find rooms providing professional equipment for bird-watching and the annual black-necked crane festival is held there, and the Phobjikha valley with many ground-hugging dwarf bamboos, on the western slopes of black mountain attracts numerous birding goers to attend the festival, appreciate the black-necked crane and other birds.

Central Bhutan: From Pele La to Bumthang Valley

♦ Distance: Trongsa - Bumthang: 68kms, 3 hrs. Gangtey - Trongsa: 125kms, 5hrs
Birding Route
Trongsa – Yutong La – Bumthang (Altitude: 2350m – 3520m - 2600m)

In this region, the Trongsa valley is warm and sunny with the terraced field, and Yutong La is a top birding area covered with Silver Fir, Rhododendron, Hemlock, Pine and dwarf bamboo; Gatsa valley is mainly boggy meadows; from Bumthang to Jakar holds birds in the shrubbery by the riverbed; form Trongsa to Shemgang, the altitude keeps going down from 2350m to only 50m and you will encounter an impressive giant bamboo forest. Also, the Royal Manas National Park is in this central region.

Eastern Bhutan: Bumthang Valley to the eastern border with India

Bumthang to Lingmithang
Birding Route
Bumthang - Sengor – Namling – Yongkhala - Lingmithang (Altitude: 2600m – 3800m – 2600m – 1500m)
Crossing Trumshingla Pass down to Lingmithang and keeping driving down, you can see the habitat quickly changes from conifers to subtropical broadleaved evergreen forest with hemlocks. The road between 2600 and 1500m is the most productive. The area from Namling to Yongkala and from Yongkala to Lingenthang is warm broadleaved forests and from Yongkala to Lingenthang. Arriving at Lingmithang, you can find one of the best birding areas with Chir Pine and scrubby valleys.
Mongar to Jongkhar
Birding Route
Mongar – Trashigang – Narphung – Dewathang – Samdrup-Jongkhar (Altitude: 1500m – 2450m – 1350m – 1700m – 250m)
The Trashingang province is very densely populated and the hills are under intensive cultivation. Most of the region id a good habitat with broadleaved forests, and Jongkhar is at the border with India and some tourists will choose to start from Paro or Phunsholing and have a cross-country birding tour.
What Bird Can You See in Bhutan
With about 700 species of birds discovered yet in "the land of thunder and dragon", Bhutan is a paradise for birding goers and ornithologists. The pristine land houses many species, including fifty endangered ones, and the Bhutanese even hold a festival for the rare Black-Necked Crane every year to celebrate its migration from Tibet and over the Himalayas and back to Bhutan in winter. Besides the national treasure, the black-necked crane, you can also capture many other species in your sight, like ducks, waders, birds of prey, thrushes, finches and buntings. Here we also list the endangered birds, some of which can only be seen in Bhutan:
Baer's Pochard, Beautiful Nuthatch, Black-necked Stork, Blackish-breasted Babbler, Blyth's Kingfisher, Chestnut-breasted Partridge, Dark-rumped Swift, Eurasian, Curlew, Eurasian Peregrine Falcon, Ferruginous Duck, Gray-crowned Prinia, Great Hornbill, Lesser Fish-eagle, Palla's Fish-eagle, Pallid Harrier, Rufous-necked Hornbill, Rufous-throated Wren-babbler, Satyr Tragopan, Ward's Trogon, White-rumped Vulture, White-throated Bushcat, Woodsnipe, Yellow-rumped Honeyguide, Black-necked Crane, Imperial Heron, White-bellied Heron.
When Is the Best Time to Go Birding in Bhutan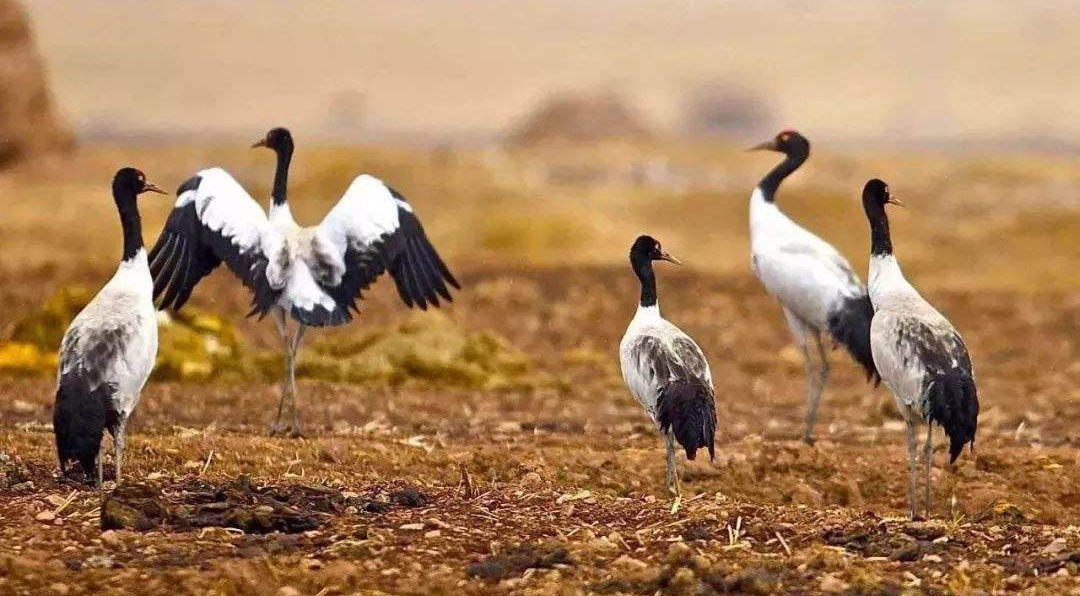 With dense vegetation and rich forestry, Bhutan is a paradise for bird watchers where you can see birds all year round. Generally, the best time to go birding is from March to May, and September to November. During this time, it is usually clear, comfortable and convenient to hike through the forests and farmlands. It is also recommended to come to Bhutan in winter to attend the annual black-necked crane festival at Gantey monastery. Only during this time, you can encounter these beautiful migrated species.
Different birds may have different active time. Some are excited during the daytime, while others only move at night. However, in a day, most birds tend to become very active during the transitional periods of time, such as the dawn and the dusk when the sun comes up and down, and most birds are less active during the hottest period of one day. Also, during the migration and breeding seasons of the bird, your birding will become more productive.
How to Plan A Bhutan Birding Tour
Usually, it takes about 5 to 15 days to visit Bhutan. Since most travelers will arrive at Paro International Airport by flights, you are suggested to start your tour from Paro. After visiting the landmarks in Paro, drive to Thimphu for accommodation. Spend one or two days in Thimphu and explore the local cultural sites, and then transfer to Punakha to enjoy the beautiful Punakha Dzong. If your time is limited, drive back to Paro and trek to Taktsang Monastery before leaving. If you have more time, extend your tour to central Bhutan. Moreover, it is a good idea to take an overland tour to Nepal and Tibet.
Bhutan birding tour aims to offer you a precious opportunity to spot birds in abundance and admire the breathtaking scenery and striking cultural wonders. Starting from western Bhutan (Paro, Thimphu, and Punakha), in about 2 weeks, you will be accompanied by our professional birding tour guide and go through bird-rich subtropical forests to southern Bhutan and central Bhutan and watch birds at the most productive observation sites. You can also have a customized tour to your preferred birding destinations.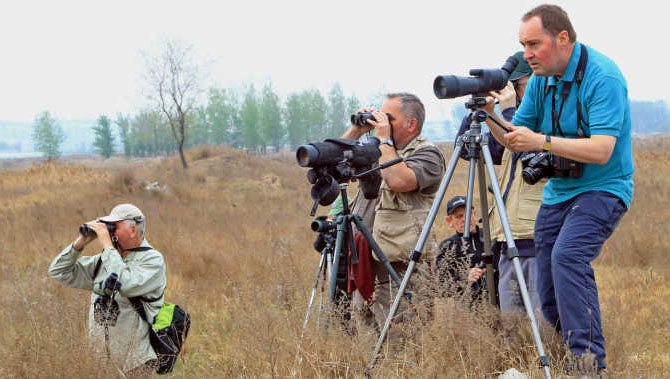 What to Pack for Birding in Bhutan
Despite the real passion for birdwatching, love for the wildlife, birding involves a lot of trekking relying on your feet, and we have listed the common items to maximizing your birding experience: Mud boots, lightweight hiking boots, socks, base layers, pants, long-sleeve shirt, rain shell, Insulation jacket, backpack, hiking stick, GPS, pocketknife, insect repellant, flashlight, space blanket, phone charger, water bottle, weatherproof notebook.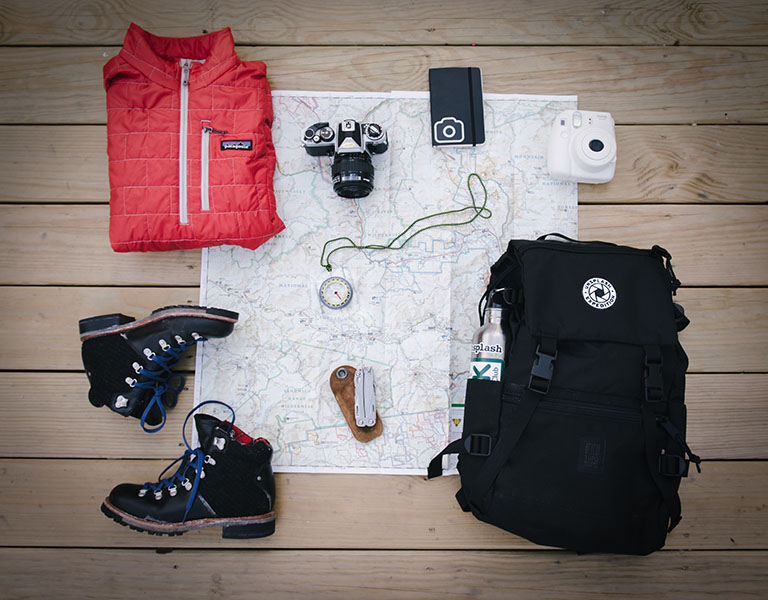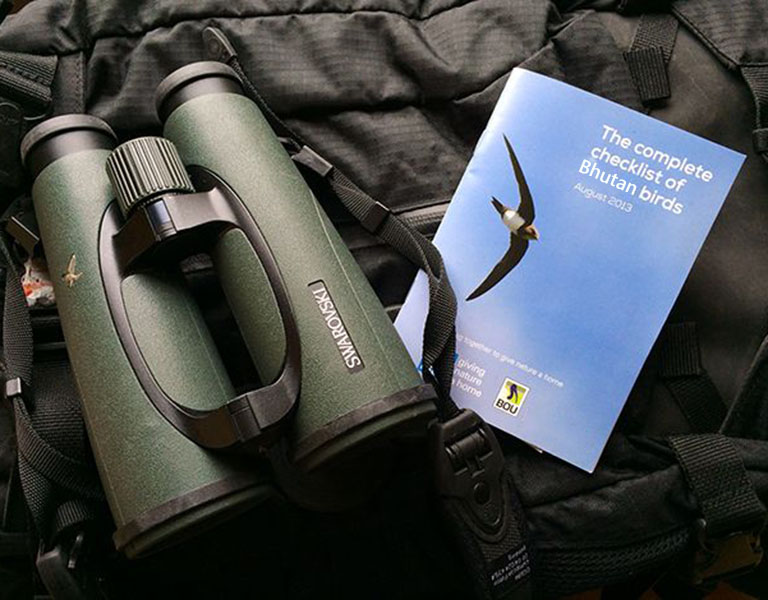 Basic Gear for Bird Watching:
1. Binocular: It is a must for bird watchers and help you see birds further away with details. There are lots of binoculars for you to choose and price ranging from less than $100 to over $2,000. Usually, $150 to $350 is enough for a beginner to purchase a good binocular. When choosing a binocular for yourself, you should pay attention if it is heavy to grasp by your hand or hang on your neck, if it can fit your eyes, if it is suitable for your style of birding, etc.
2. Field Guide: If binoculars empower your visual abilities, a field guide helps you identify birds. You can first observe the bird through your binocular and note their physical traits and even draw it. When the bird is no longer there, you can check your field guide to see what is it. Here are some recommended field guides: Peterson, Sibley, Kaufman, National Geographic, etc.

Basic Skills for Bird Watching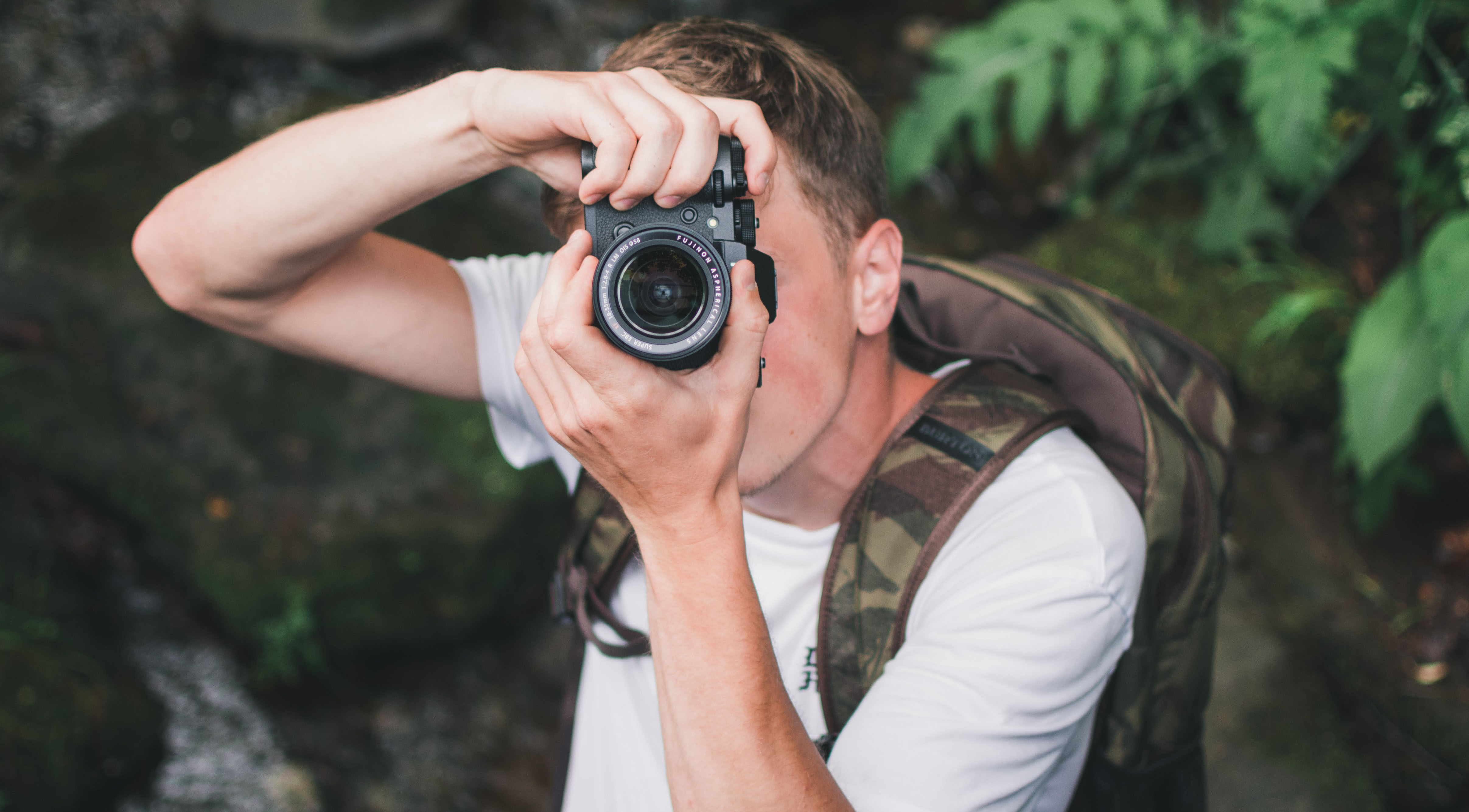 How to Find a Bird
When you go birding, finding a bird is definitely the thing that matters most, and generally, an experienced bird watcher has 5 practical steps for bird observation. The first step is "stop", meaning being still and quiet and heightening your senses to soak in your surroundings; then, the second step is "Look". Besides just gazing around or keeping your eyes on the sky, you can try to think like a bird and let your sight move over the possible perches like the fence, tree branches, and dappled silhouettes and sunlight, and remember to use your unaided eyes before the binoculars and spotting scope; Meanwhile, you can start the third step, "listen". As your eyes scan over the fields, your ears should keep tracking any chirping and wing-flapping of the bird and other sounds that you do not recognize, which also help your eyes to locate the bird; As you can have practiced application of these 3 steps, the last step is to "repeat". When you roam around the field and move from one point to another, repeat doing "stop", "look", and "listen" again and again.
How to Identify a Bird
With hundreds of different birds inhabiting in Bhutan, there are lots of birds to identify, including some rare and endangered ones. You may capture some species again and again and become experienced to tell their names. However, goldfish is not always gold, we can not simply name a bird by its color. Besides reading books and materials about the birds' species before going birding, you can try to take a picture of the bird and ask yourself these questions: does it belong to a group or move alone? What shape is the bird? What the size is the bird? How the bird behave itself? How's the habitat of the bird like? What is the season and time you find the bird? Are there any special features of its color, feathers, body marks like spots, stripes, any eye-catching hues? Does the bird make some distinct sound? All of those questions can help you figure out its identity.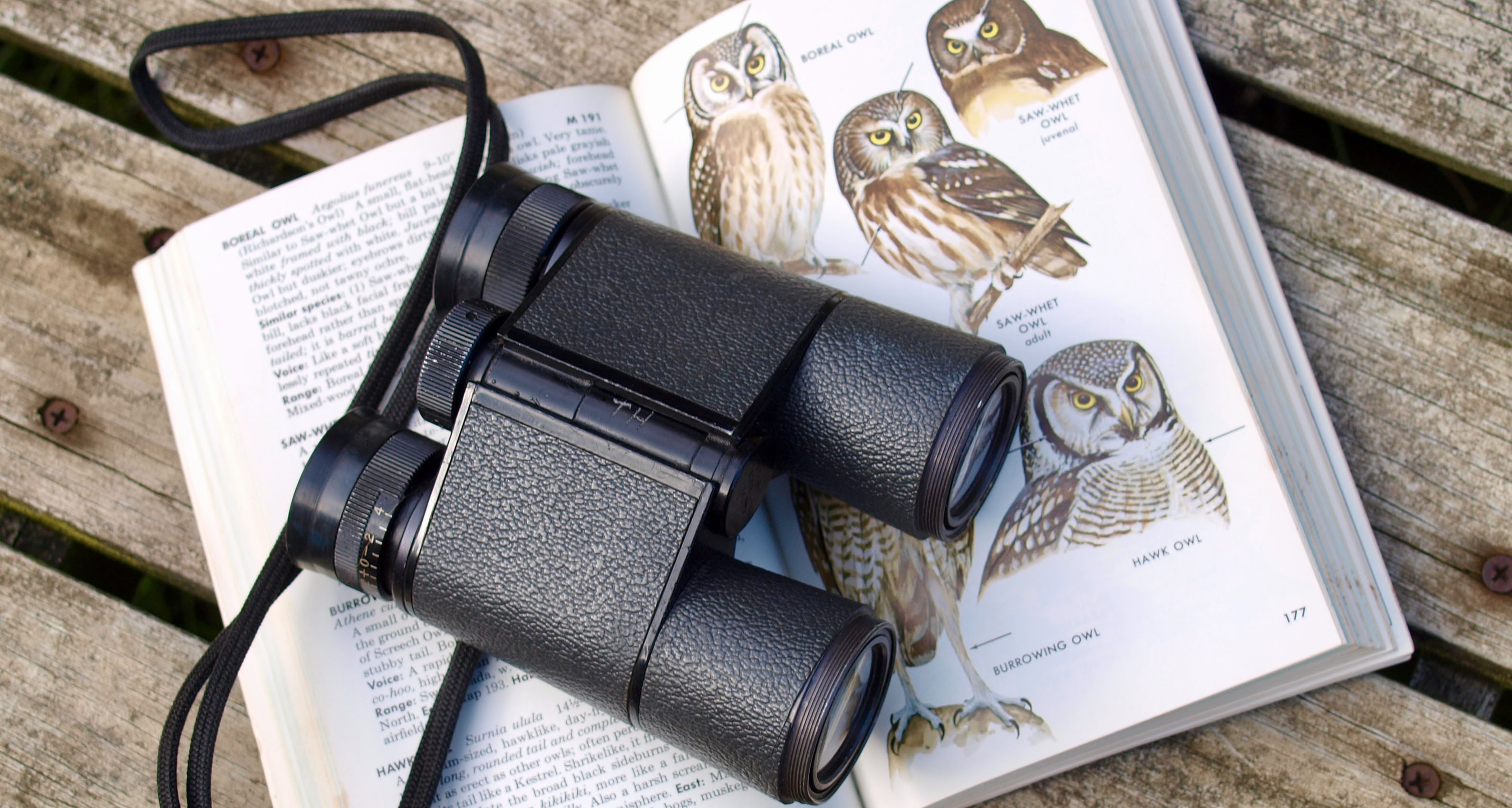 Recommended Bhutan Tour Packages
Bhutan has too much to offer. And our aim is to bring you the best experience in Bhutan. Following are some other recommended Bhutan tour packages that you may be interested in. All of our Bhutan tour packages are customizable to meet your personal requirements. You can also contact us to customize a trip if you want or check more Bhutan Tours!