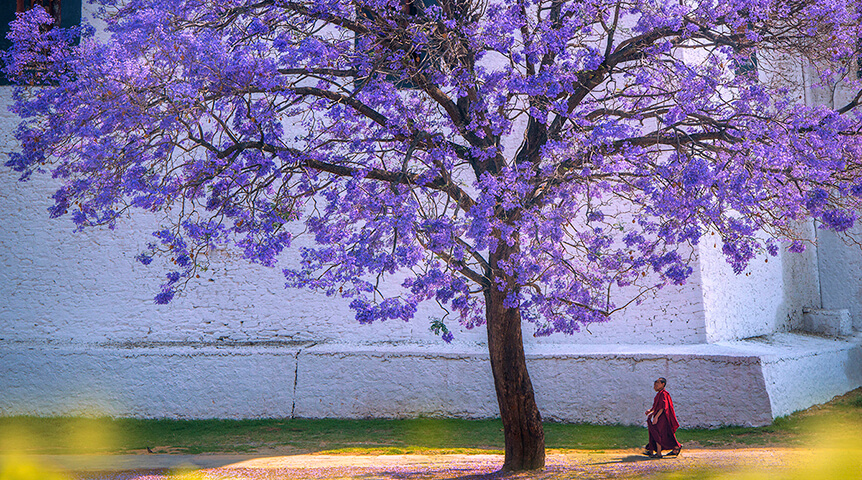 Travel to the Land of Happiness to find a tranquil retreat for your soul, just more than Himalaya views.
Bhutan Visa: Requirements, Application, Cost, Extension and Useful Tips
Obtaining a visa to visit Bhutan is a key point and main priority when you are planning a Himalayas trip to one of the happiest countries in the world. The Bhutan visa policy is different from most destinations in the world, because it can only be applied for by the local Bhutanese tour operator. Read the following important requirements and procedures about Bhutan Visa to, and hope you will have a worry-free Bhutan travel with the guidance information.
Bhutan Visa - Compulsory Travel Permit to Visit Bhutan
According to rules and regulations from Tourism Council of Bhutan (TCB), all international tourists must obtain a Bhutan visa prior to visit Bhutan, except Indians, Bangladeshis, and Maldivians. The Bhutan Visa, together with air tickets and all Bhutan tours can only be applied for and operated by licensed Bhutanese tour operators. And only with the obtained Bhutan Visa clearance, the travel agency can buy you airline tickets to or off Bhutan, and the visa clearance will be checked in and out at the airport and entry points.
Bhutan Tourist Visa is an official single entry visa allowing single traveler or a group of tourists to travel to Bhutan. Your Bhutanese tour operator will handle the visa application, and accommodations and detailed itinerary included in your daily Bhutan tour package. Once approved, a visa clearance letter will be given to the agency. When landing on Bhutan, the immigration officer at entry ports will check the letter and stamp the Bhutan Tourist Visa on your valid passport based on your itinerary duration, normally no exceeding 30 days. Visitors can also extend Bhutan Tourist Visa to no more than one month from date of entry.
Bhutan Visa for Indian - With a valid passport of a minimum of 6 months validity, Indian, Bangladeshis and Maldivian citizens can get a Bhutan Visa at entry points, including Bhutan Paro Airport and land ports on Bhutan - India borders. Besides, Indians can also use their Voters Identity Card (VIC) to obtain Entry Permit. There is no cost incurred for citizens from India, Bangladesh and Maldives.
Visit the Most Beautiful Punakha Dzong
Take International Flight to Paro Airport
How to Get a Bhutan Visa - Bhutan Visa Application
Visitors wishing to travel to Bhutan cannot apply for the Bhutan Visa on their own. The Bhutan Visa application and all Bhutan tours must be arranged by a licensed Bhutanese travel agency or one of their international partners. Here are some easy steps to obtain your Bhutan Visa:
1. Select an authorized tour operator to arrange your trip to Bhutan, work out your itinerary of Bhutan tour and confirm the schedule;
2. Make the full payment of tour package and Bhutan Visa fee (40USD) to Bhutan National Bank in advance;
3. Send the tour operator a clear scanned copy of your valid passport. The photo-page of your passport should be provided. They will complete and submit your Bhutan Visa application online to the Tourism Council of Bhutan and Department of Immigration;
4. Once receive the transfer in full, the Tourism Council of Bhutan will process your visa application within a maximum of one week. If approved, a visa clearance letter will be given to the respective agency.
5. Get a copy of visa clearance letter. The operator will email the copy of visa clearance letter to you once it is issued, and it is required at the check-in counter of airlines;
6. Obtain your Bhutan Visa to visit Bhutan. Show your copy of visa clearance letter to the Immigration officer at the port of entry, and they will stamp the Bhutan Visa on your passport upon immigration formalities. The exact visa validity is based on the length of your itinerary.
The visa clearance letter covers lots of information, like your name, nationality, passport number, visa number and travel date, and name and guide of tour operator. Only the stamped visa issued by immigration officer guarantees the entry permission to Bhutan, and a visa clearance letter doesn't ensure the entry and stay in Bhutan.
A Clear Scanned Copy of Your Passport is Needed for Bhutan Visa Application
Bhutan Visa Clearance Letter
How Much Bhutan Visa Cost - Bhutan Visa Fee
The Bhutan Visa costs 40USD for each international tourist. The visa fee will be collected along with the total tour payment before application. All the payments shall be in US dollar. All transfers shall be directly credited to the bank account of Tourism Council of Bhutan, not into the account of individual tour operate instead. Telegraphic Transfer is the most preferred way to make the transfer, while any cash and cheque are not encouraged and generally will not be accepted.
Visitors should keep in mind that no visa fee will be refunded under any circumstances, including your delay of departure, arrival or cancellation of your trip to Bhutan.
Bhutan Visa Fee Must be Paid in USD Dollars
Extension, Cancellation and Postpone of Bhutan Visa
If you want to extend your stay beyond the approved duration in Bhutan before arrival, you can let the tour operator apply for the extension of visa for a longer time. Therefore, they will cancel the former application and resubmit a new visa application for processing. The extension of duration shall be granted no more than one month from your first day of arrival.
In this case, additional tour cost should be paid ahead of the reapplication and the visa application fee is non-refundable. After arrival in Bhutan, necessary changes about extension of Bhutan visa must be done by the tour operator at the Tourism Bureau Council of Bhutan. Then the extension will be approved along the tourism rules and regulation of Bhutan.
Tiger's Nest in Paro Valley
Visa for Transfer in Nepal
Nepal is the popular gateway country to taking flight to Bhutan. If you are travelling to Nepal and stay there for some time, you can apply for Nepal Visa ahead of schedule from nearest Nepal Embassies or diplomatic missions, or obtain the Nepal Visa upon arrival at Kathmandu Tribhuvan International Airport or other entry points and land porters. If you will directly transfer at Kathmandu without entering Nepal, you can easily get a transit visa at the airport to have short (24 hours) stay.
If you want to have a Himalaya exploration to Nepal, Tibet and Bhutan together, see more visa information here >> Visa for Nepal Tibet Bhutan Tour.
Costumed Sadhu in Kathmandu of Nepal
Tips for Bhutan Tours
1. How to Get to Bhutan
There are only two ways available to travel to Bhutan - by international flights from Kathmandu of Nepal, Bangkok of Thailand, Delhi of India and other Southern Asian countries or crossing one of the three land ports (Phuentsholing, Gelephu and Samdrup Jongkhar) on India-Bhutan border areas. Currently, Drukair Air and Bhutan Airlines are the only two carries operating flights to Bhutan. Air tickets will be tense in peak tourist seasons, so better plan your Bhutan tour in advance to book your ticket.
2. Banking Service in Bhutan
US dollars can be used directly in Bhutan. Moreover, there are few banks you can use, such as the Bank of Bhutan Limited, the Bhutan National Bank, the Druk PNB and the Tashi Bank. Many of these banks provide internet banking facilities. Also, travellers' cheque can be easily withdrawn and exchanged for local currency. Credit Card can be used in some shopping centers, handicrafts stores and top star hotels.
Take a Kathmandu-Paro Flight to Star Your Bhutan Travel
Recommended Tour Packages
Following are some of our most recommended Bhutan tour packages that you may be interested in. All of our tour packages are classic itineraries, and can be tailor-made to meet your personal requirements. You can get
more Bhutan Nepal Tours
, or
contact us
to customize a trip if you want.
Have a question? Get answers from our travel experts soon!
Your Question:

Your Name:

Your Email: