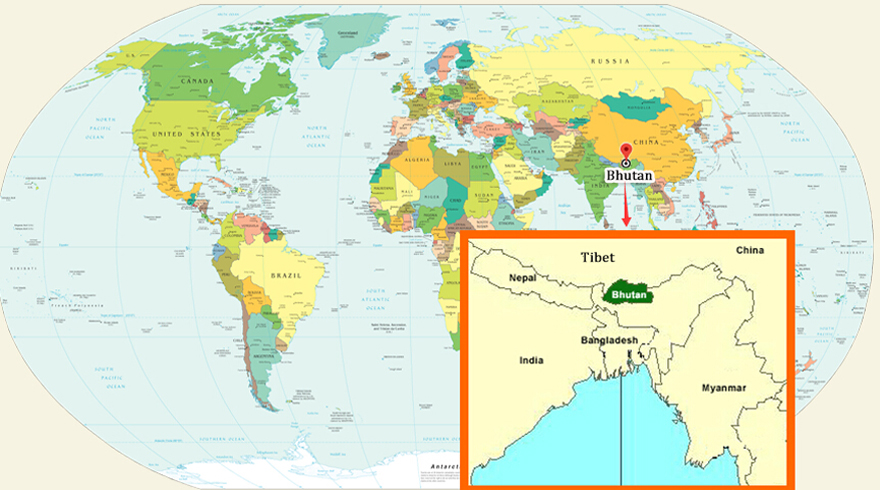 Transfer to Bhutan and explore the mystery of Land of the Thunder Dragon
How to Go to Bhutan, Transportation in Bhutan 2020/2021
14 February 2019
Last updated at 16:44
Where is Bhutan Located
Located in South Asia geopolitically, the Kingdom of Bhutan is a landlocked country bordering Tibet of China and India on other three sides (Sikkim state in west, Arunachal Pradesh in east and North Bengal in south). It is also standing by the eastern Himalaya Mountains, which make it blessed with unbelievable natural beauty. Plus its perfectly-preserved traditions and customs, countless travelers are attracted by Bhutan. Usually, travelers can get to Bhutan on two ways – by flights and overland driving from India.
Flights to Bhutan
There are four airports in Bhutan at present, but only Paro International Airport serves international flight. All the flights in Bhutan are only operated by Drukair Air and Bhutan Airlines. Currently, there are five countries directly connected with Bhutan by flights, including Nepal, India, Bangladesh, Singapore and Thailand. Check the detailed information below, or read more at Flights to Bhutan.
| Air Route | Distance | Duration | Frequency | Flight Type |
| --- | --- | --- | --- | --- |
| Kathmandu - Paro | 250 miles (403km) | about 1 hr | appr 11 flights per week | nonstop flights |
| Delhi - Paro | 757 miles (1218km) | about 2.5 hr | appr 4 flights per week | nonstop flights |
| Guwahati - Paro | 161 miles (259km) | about 55 m | appr 2 flights per week | nonstop flights |
| Kolkata - Paro | 333 miles (535km) | about 1 hr | appr 1+ flights per day | nonstop flights |
| Dhaka - Paro | 252 miles (406km) | about 1 hr 20m | appr 4 flights per week | nonstop flights |
| Bangkok - Paro | 1176 miles (1892km) | about 3hr | appr 2 flights per week | nonstop flights |
| Singapore - Paro | 2035 miles (3276km) | about 5 hr | appr 2 flight per week | nonstop flights |
Overland Driving from India to Bhutan
Bhutan only borders with China and India. Since Bhutan has not developed a diplomatic relation with China, there are no available ports between China and Bhutan. However, it is possible to take an overland driving journey from India to Bhutan. At present, there are three ports connecting India and Bhutan, namely Phuentsholing, Samdrup Jongkhar, and Gelephu.
Phuentsholing is Bhutan's primary port connecting Chhukha of Bhutan and West Bengal of Inida. You need to get to Siliguri by train or Bagdogra by flight firstly, and then drive about 5~6 hours to Phuentsholing. Phuentsholing is about 6 hours' driving distance away from Paro and Thimphu.
Samdrup Jongkhar is also open to foreign tourists, but it might be closed due to the road transport disrupted by occasional strike. It borders with Assam, 3 hours' driving distance from Guwahati, where there are frequent and reasonable flight connection with New Delhi and some other Indian cities.
Gelephu is a little used but possible port bordering with Assam as well, which is one day drive distance for both Bagdogra and Guwahati Airports. With another day's drive, you can arrive in Wangdue Phodrang or Trongsa.
India Bhutan ports
Transportation in Bhutan
Without railway systems in Bhutan, by flights and driving are the two main transportation way. Bhutan's main attractions share a linear distribution from west to east. Because Paro International airport is located in west Bhutan, travelers always start a tour from Paro and then drive to east.
Driving Journey in Bhutan
Paro – Thimphu / 53km, about 1 hour 25 minutes' driving
The road connecting Paro and Thimphu is in good condition, well-paved and much wider than roads in other districts. If you start your trip from Paro Airport, you will firstly reach the beautiful town – Bondey where you can see traditional dwellings. After 30 minutes later, you will get to Chhuzom, the juncture of Paro Chhu (Paro River) and Wang Chuu (Wang River). In Bhutanese tradition, the joining of revers is inauspicious. So there are three Buddhist stupas built here to drive away the evils from this area. Ascending along with the winding river, you will get to the barren hills. Then drive downward along the valley, you will get to Thimphu.
Chhuzom - Juncture of Two River
Thimphu – Punakha / 80km, about 2.5 hours' driving
The drive from Thimphu to Punakha along the National Highway leads from the cool height of Thimphu to the fascinating landscape of lush Punakha Valley. Driving about 45 minutes, you will climb to Dochu la Pass which is marked with colored prayer flags and an impressive collection of 108 white stupas. From Dochu la Pass, you can feel the dramatic changes of vegetation. Then there comes a long zigzagging decent road to Metshina, but it is great to see the outstanding monasteries on the road. Before reaching Punakha, you can see beautiful Chimi Lhakang first. It is located in the central valley below Metshina. Chimi Lhakang is a mysterious temple that many childless women will go to receive a blessing there.
Punakha – Wangdue Phodrang / 21km, about 30 minutes' driving
Wangdue Phodrang is only 21 km away from Punakha. Driving back to Meshina and then following the Punak Tsang Chhu, you will get to Wangdue Phodrang soon. The whole trip is only a half-hour drive.
Colored Prayer Flags in Dochu La Pass
Wangdue Phodrang – Trongsa / 129km, 5 hours
It is a pleasant drive from west Bhutan (Paro, Thimphu, Punakha, Wangdue Phodrang etc.) to Central Bhutan (Trongsa, Bumthang etc.) because it offers incredible scenery along the road. It leads you from the windswept town to the heavily cultivated Mangde Chhu Valley. Driving from Wangdue Phodrang, the road traverses bare hillsides high above the river. You will soon get to the Pele La Pass in 30 minutes, and then lots of dwarf bamboos will come into view. These small bamboos are delicious food of yaks and horses, so you are able to see them feasting on the bamboos. Another 30 minutes later, you will pass a few farms. Further along the road, you can enjoy the wonderful rural sightseeing. You will make a big detour into the upper reaches of the Mangde Chhu Valley and cross the raging rivers to get to Trongsa.
Great View from Pele La Pass
Tongsa – Jakar / 68km, 2.5 hours
The route between Trongsa and Jakar (main town of Bumthang District) is much easier and interesting. As the road winds through the Chhume Valley, it passes many villages and monasteries. You are suggested to take several stops to appreciate the picturesque views. Firstly winding up to the ridge above Tongsa, you will get to Yotong La Pass with an array of colorful prayer flags and a Tibetan stupa. Again driving down along the road, you can get a good view of various plants in the valley. In the next driving journey, your eyes will caught by some buildings, including Buli Lhakhang, Tharpaling Gobemba, Chumey Nature Resort, Domkhar Tahichhoing Dzong, Nimalung Goemba etc.
With many off-beaten-track destinations, eastern Bhutan is always something for adventure tour. If you want to extend your tour to the wild Eastern Bhutan, it will take 7 hours from Jakar to Mongar (the ancient region of Khyeong), 3.5 hours from Mongar to Trashigang and 6 hours from Trashigang to Kanglung etc.
>> 6 Days Last Shangri-La Highlights Tour
Peaceful Bumthang Valley
Flights among Bhutan Airports
Bhutan has four airports, including Paro International Airport, Bathpalathang Airport in Jakar, Yongphulla Airport in Trashigang and Gelephu Airport in Gelephu. Apart from Gelephu Airport, the other three are interconnected which makes the a easy journey to central Bhutan and estern Bhutan possible. Check the detailed flights available in Bhutan
Paro Jakar Flights Schedule
Flight No.
Departure -- Arrival
Duration
Frequency
Plane

Druk Air

08:15

Paro Airport

08:50

Bathpalathang Airport

35m
- - T - T - -
Airbus A319

Druk Air

11:10

Paro Airport

11:45

Bathpalathang Airport

35m
S - - W - F -
Airbus A319

Druk Air

07:00

Bathpalathang Airport

07:35

Paro Airport

35m
- M - - T - S
Airbus A319

Druk Air

11:00

Bathpalathang Airport

11:35

Paro Airport

35m
- - T - T - -
Airbus A319
Trashigang Jakar Flights Schedule
Flight No.
Departure -- Arrival
Duration
Frequency
Plane

Druk Air

09:10

Bathpalathang Airport

09:45

Yongphulla Airport

35m
- - T - T - -
Airbus A319

Druk Air

10:05

Yongphulla Airport

10:40

Bathpalathang Airport

35m
- - T - T - -
Airbus A319
Warm Tips for Transfer to/in Bhutan
Great Scenery in Paro Kathmandu Flights Journey
Kathmandu flights are really famous for offering a delightful view of Himalaya, including the world's highest peaks – Mount Everest, Mount Lhotse, Mount Makalu and Mount Makalu. Choose a left seat by the window if you take a flight from Kathmandu to Paro, you can enjoy the peaks more clearly. If you fly from Paro to Kathmandu, choose a right seat instead. When you get close to the peaks, the captain will broadcast introductions to help you recognize these mountains.
Road Condition in Bhutan
Thimphu and Paro is always fine in road condition, but some stretch of Punakha is a bit rough. In your tour to central Bhutan, the road frequently ascends the valleys. There is no need to worry about the bad road condition, because it always bring you splendid great sightseeing.
Changes of Flights Frequency
All the flights frequency and schedule is just for your reference, and it will be adjusted in different time. During the peak seasons (March ~ June & September ~ October), the flights will be increased to supply the needs of more travelers. In the other seasons, there are fewer flights accessible.
Recommended Nepal Tibet Bhutan Tour Packages
Following are some of our most recommended Nepal Tibet Bhutan tour packages that you may be interested in. All of our tour packages are classic itineraries, and can be tailor-made to meet your personal requirements. You can get
more Bhutan Nepal Tours
, or
contact us
to customize a trip if you want.
Have a question? Get answers from our travel experts soon!
Your Question:

Your Name:

Your Email: