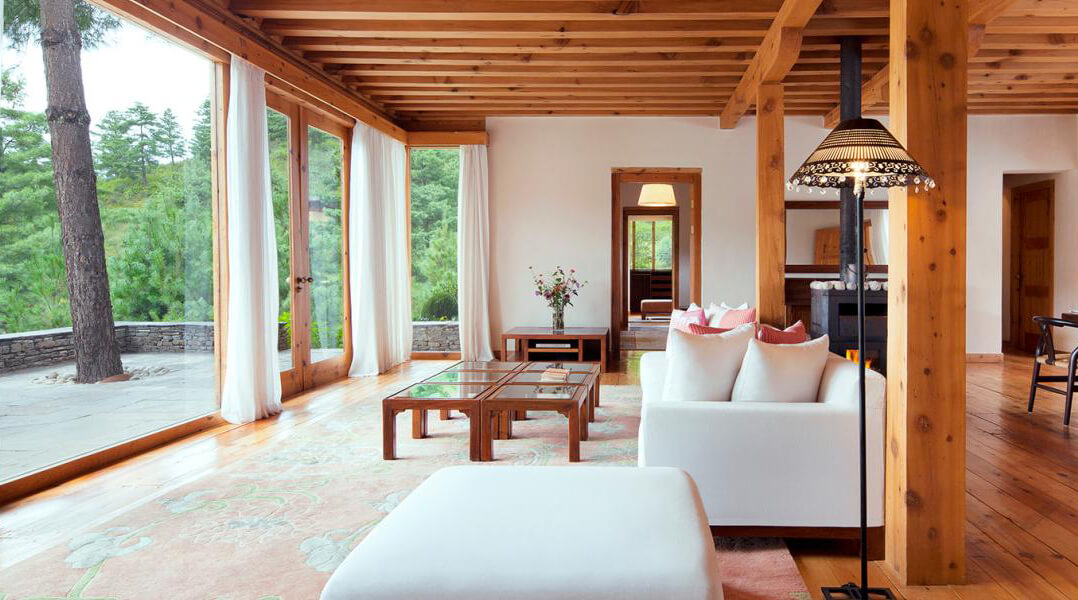 Located all along the Himalayas, Nepal and Bhutan are close inland and holy neighbors with Tibet
Bhutan Accommodation: Bhutan Hotels, Guesthouse, Homestay and Farmstay
A spectacular exploration to the Himalayas in the Kingdom of Bhutan never needs to worry about the accommodation during the whole trip, because Bhutan offers a wide variety of lodging for international tourists, ranging from luxury 5 star hotels with superb service and cozy budget hotels in standard class. Generally, there are four kinds of accommodation travelers can choose from: hotels, resorts, homestay and farmstay. Except huge luxury hotels, the majority of budget 3 star and 4 star hotels are also very popular among travelers. Usually, they are not very large, but the guestrooms are comfortable, big enough and very clean with basic facilities. If you want to experience local culture and life, traditional Bhutanese style hotels, homestay and farmstay are good choices.
Most accommodation in Bhutan concentrates in the Western and Central Bhutan, and Paro, Thimphu (the capital city) and Punakha are the top destinations where provides more and better hotels than other cities in Bhutan.
Most Popular Bhutan Tours
>> 6 Days Last Shangri-La Highlights Tour
>> 9 Days Bhutan In-depth Tour
>> 8 Days Bhutan Adventure Tour with Haa Valley
Best Hotels in Bhutan - Bhutan Luxury Hotels
Known as a happy country living in harmony with nature, Bhutan delivers a different design and concept of luxury. The best hotels in Bhutan will redefine your impression and enjoyment of luxury and 5 star hotels. If you are exactly looking for top hotels in Bhutan to enjoy luxury accommodation, there are a few 5 star hotels in different style you can select, which are mainly are located in Paro, Thimphu and Punakha. The world-class chained-brand hotels include 2 Uma Hotels by COMO, 2 Le Meridien Hotels from Starwood and 5 resorts lodges from Amankora. Among them, Uma by COMO is rated exceptional by TripAdvisor and the most expensive hotel in Bhutan, around $480~$1,550 per night.
The environment and decoration of Bhutan's 5 star hotels may be not super extravagant as luxury hotels you stayed before. However, the perfect usher into tranquil nature of mind and body, the intimate service from Bhutanese staff, secluded spaces, dramatic views of nature and attractions, extraordinary experience and more will ultimately impress you and leave you a profound memory about Bhutan's national happiness.
The list of 5 star hotels in Bhutan is as following :
Paro (4): Le Meridien Riverfront, Amankora Resort Paro, Hotel Zhiwaling, Uma Paro
Thimphu (3): Le Meridien, Amankora Thimphu, Taj Tashi
Punakha (2): Uma Resort, Amankora
Wangdue/Phob (2): Amankora Resort, Gangtey Lodge
Bumthang (1): Amankora
Top Luxury Uma Hotel Paro by COMO
Le Meridien Hotel Exterior in Thimphu
Guesthouse, Homestay and Farmstay in Bhutan
In Bhutan, there are several different types of guesthouses which are rated on the same scale as hotels. If you are interested in the local family daily life and experience a traditional Bhutanese living, guesthouse, village homestay and farmstay are good ways to fulfill your requirements. This kind of special lodging with the local people will make your Bhutan travel more fun and meaningful. Living with the Bhutanese family, you can observe some old farming traditions, and enjoy stunning hospitality and delicious flavors from the host.
Bhutan has hundreds of homestays located all across the country, largely situated in Northern, Western and Central areas, like Haa, Lhuntse, Wangdue, Bumthang, Gasa, and a few in Paro, Punakha, Thimphu,Trashiyangtse and etc.
Attention that, to make sure you experience a traditional life, all the licensed homestays and farmstays are located in beautiful countryside areas amidst lush farmland far away from city centers, where hot water is provided in a wash basin, and electricity and running water are not available.
Enjoy Yoga in the Beautiful Homestay Garden
Hotels in Thimphu - Places to Stay in Thimphu
Thimphu (alt: 2,500m/8,202ft) in Western Bhutan is the capital and the largest city in Bhutan as well as one of the top destinations for travelers. Choices of tourist accommodation in Thimphu include 5 star hotels with well-equipped facilities, lower cost budget hotels in standard class and distinctive homestays with local family. Most hotels are located in central area of Thimphu and with easy access to attractions around.
5 Star Hotels - Le Meridien, Taj Tashi and Amankora are the only three luxury hotels in Thimphu. The former two are centrally located, close to the Memorial Chorten within 10 minutes' walking distance. To give guests the best and all experience in Thimphu, Amankora is opened in remote and pristine valley in the east. All the three hotels are world class 5 star hotels well equipped with facilities and services, including relax and leisure centers, restaurants and coffee shop, mini bar in western standard, currency exchange, airport transfer, taxi service, library, free WIFI, toiletries and etc.
Budget Hotels - There are various kinds of budget hotels opened in Thimphu, mainly 3 star and 4 star hotels. The budget hotels mostly are located in the heart of Thimphu, convenient to the major attractions. If you want a lower cost accommodation in good quality, Druk Hotel Thimphu, Hotel Norbuling, Hotel Thimphu Tower and Osel Hotel are recommended the top value options. The perfect location, warm hospitality, excellent room view, comfortable, clean and tidy rooms and fresh meals will ensure you pleasant surprises.>>Learn More about Hotels in Thimphu
Royal Suite of Le Meridien Hotel Thimphu
Budget Osel Hotel Thimphu
Hotels in Paro - Places to Stay in Paro Bhutan
Paro (alt: 2,250m/7,382ft) in Western Bhutan is the location of Paro Airport - the only international airport in Bhutan. Thus, Paro is always the first destination and gateway city international tourists choose for Bhutan tours. Moreover, Paro has the most famous temple in Bhutan – Taktshang Goemba (Tiger's Nest Monastery) and Kyichu Lhakhang, National Museum and Rimpung Dzong. The position of starting point in Bhutan tourism promotes Paro to a great accommodation destination.
5 Star Hotels in Paro Bhutan - The best hotels in Paro goes to the only 4 luxury hotels: Uma by COMO Paro, Le Meridien Riverfront, Amankora Resort and Hotel Zhiwaling. Of those, Uma Resort is the most exceptional 5 star hotel reviewed as fabulous paradise, and Zhiwaling Hotel is the nearest to Tiger's Nest while others are dotted in center or around Paro Valley. They offer not only the modern amenities, Asian and Western dinning, but also magnificent views of the Eastern Himalayas and wonderful service.
Budget Hotels in Paro Bhutan - Travelers planning to stay in Paro can also choose from lots of 3 star hotels and several 4 star hotels. Rated by Bhutan Tourism Council, these hotels are standard class with good location, big, neat and clean room, nice views of Paro Valley and great service. If you prefer a traditional Bhutanese style hotel, Tenzinling Resort is recommended. And Naktsel Resort (4 star), Gangtey Palace Hotel, Olathang Hotel, Kichu Resort Paro are also best valued lodgings in Paro.>>Learn More about Hotels in Paro
Corner Suite of Le Meridien Paro
Naktsel Resort Decorated in Traditioanl Butanese Style
Hotels in Punakha Bhutan
Punakha (alt: 1,300m/4,265ft) in north Central Bhutan once was the capital of Bhutan. It is about 72km of northeast Thimphu for 2 hours' driving. As the most famous rice farming area in Bhutan, Punakha has the Bhutan's second castle - Punakha Dzong, which is the most beautiful palace in Bhutan. Here you can spend excellent holidays in word-class 5 star hotels, including Uma Resort and Amankora, or accommodate yourselves in budget hotels.
Dhensa Boutique Resort is a highly praised 4 star resort built on hill and facing the valley. This wooden-made property is decorated in a simple, but pristine style, leading you to a tranquil and peaceful world. RKNP Green Resort is another top valued 4 star hotel with good location, spacious rooms and nice view of countryside fields. It is about 20 minutes' driving (10km) to Punakha Dzong. Drubchhu Resort and Damchen Resort are top-ranking 3 star hotels for lodging. Anywhere you live, the lovely Bhutanese staff serve you the best and the most hospitality.>>Learn More about Hotels in Punakha
Dhensa Boutique Resort in Prestine Punakha
Accommodation for Bhutan Trekking
Trekking is another popular and great way to experience the gorgeous view of the Eastern Himalayas and beautiful natural landscape of Bhutan. When you design a Bhutan tour covering trekking trip, you don't need to worry about the lodging during the trekking trip, because you can live in lodge or guesthouses along the trekking trail. Accommodation in remote trekking areas may be arranged in sleeping tents. All the necessary camping equipment and transportation for trekking tours is included in your minimum daily package, such as the camping tent will be provided by the travel agency. Wherever you stay, your warmth and comfort will be assured.
Tips for Trekking in Bhutan:
1.) Dress warmly and wear comfortable and durable shoes. You can dress in layers and jacket is useful in high-elevated places and during cold night.
2.) Other items recommended to pack includes sunglasses, sunscreen, hat, slip-proof gloves, umbrella, camera (with backup battery), insect repellent and etc. Head lamp and flashlights are necessary if you will stay overnight in mountains.
Camping Overnight to Watch the Most Beautiful Starry Sky
Tips for Bhutan Accommodation
1. Tourist Lodging Condition in Bhutan - As a small inland country at high elections in Eastern Himalayas, Bhutan is still predominantly agricultural. Accommodation condition and standard in Bhutan may be not equal to star-rated hotels in other developed countries, hotels in remote places is simple and basic, but the comfort, warmth, hospitality and nice service are guaranteed of all levels and areas.
2. Upgrade of Hotels - Only licensed hotels and homestays, farm-stays in Bhutan can receive international tourists. The minimum daily package of Bhutan tour only provides you a minimum of 3 star standard class accommodation. Additional premium to 4 star and 5 star hotels will be charged if you require so.
3. Catering during Your Trip - Most dining are buffets arranged in hotels. Vegetable dishes with chili are the local favorites. You can tell your tour guide about your needs, and they can arrange you meals with meat and less-spicy.
4. Internet Access and Cellphone Signal - Wired network can be used in Business Center in some Hotels. WIFI is not commonly used in Bhutan. Nearly all the luxury hotels offers free WIFI in guestrooms and public areas. In lower ranking hotels, WIFI maybe only available in public lobby. In remotes areas, you even don't have internet service and phone signal. If you want a local phone card as standby, ask help from your tour guide.
Top Destinations in Bhutan
Bhutan Travel Guide
Recommended Tour Packages
Following are some of our most recommended Bhutan tour packages that you may be interested in. All of our tour packages are classic itineraries, and can be tailor-made to meet your personal requirements. You can get
more Bhutan Nepal Tours
, or
contact us
to customize a trip if you want.
Kathmandu / Nagarkot / Pokhara / Chitwan / Kathmandu / Paro / Thimphu / Punakha / Tiger's Nest / Paro

Highlights: Durbar Square, Phewa Lake, Chitwan National Park, National Memorial Chorten, Punakha Dzong, Taksang Monastery

/ Details

Lhasa / Gyantse / Shigatse / Everest / Gyirong / Kathmandu / Paro / Thimphu / Punakha / Tiger's Nest / Paro

Highlights: Potala Palace, Mount Everest, Durbar Square, National Memorial Chorten, Punakha Dzong

/ Details

Kathmandu / Pokhara / Lhasa / Gyantse / Shigatse / Everest / Gyirong / Paro / Thimphu / Punakha / Paro

Highlights: Kathmandu Durbar Square, Swayambhunath, Potala Palace, Mount Everest, Punakha Dzong

/ Details
Have a question? Get answers from our travel experts soon!
Your Question:

Your Name:

Your Email: