Mount Everest Travel and Tours
05 April 2016
Last updated at 17:08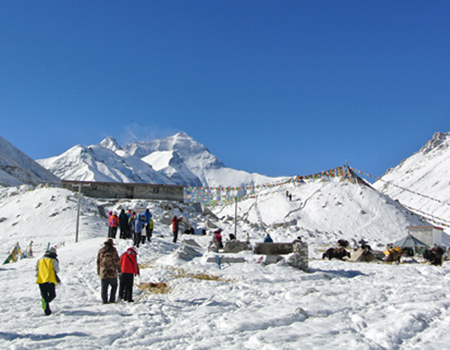 Mt. Everest
Mt. Everest, the top of the World, is the must go destiny of your life journey.
Read more >>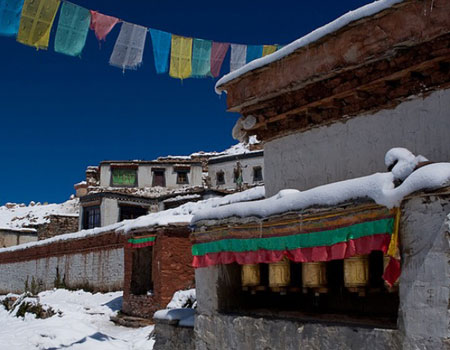 Rongbuk Monastery
Reaching to the world's highest monastery - Rongbuk Monastery, to appreciating the breathtaking view of Mt.Everest.
Prepare to climb higher and higher!
Read more >>
Mt. Everest(8,848 metres) is now the highest mountain in the wolrd. It is situated on the roof of the wolrd - Himalaya Range, and northern half located in Tibet, another southern half located in Nepal. Travelers usually choose to visit nothern side in Tibet due to convenient transportaiton and amazing sightseeing.
Everest Travel - Tingri
Tingri, a country of the Shigatse Prefecture in Tibet, is located at the foot of Mt. Everest. And in this town, there are totally four mountains which are over 8,000 metres above the sea level. They are Mt. Everest (8,844.43 m / 17,060 ft), Lhotse (the forth highest mountain in the world, 8,516 m / 27,940 ft), Makalu ( the fifth highest mountain in the world, 8,481 m / 27,825 ft), and Cho Oyu ( the sixth highest mountain in the world 8,201 m / 26,906 ft).
As the place which must be passed to Mt. Everest, Tingri is often used as the last base by travelers and climbers refreshing and preparing themselves to ascend Mt. Everest. And in fact, there are two towns in this county for travelers take a break before their adventures, namely Shegar Town ( New Tingri ) and Gangka Town ( Old Tingri ).
Our Travelers' Favorite Everest Tours
Mount Everest Facts
Elevation: 8,848 m (29,029 ft)
Location: Solukhumbu District, Sagarmatha Zone, Nepal;
Tingri County, Shigatse, Tibet, China
Range: Himalayas
First ascent: 29 May 1953
Edmund Hillary and Tenzing Norgay
Everest Weather & When to Go
| | | | |
| --- | --- | --- | --- |
| Jan. | Feb. | Mar. | Apr. |
| | | | |
| May. | Jun. | Jul. | Agu. |
| | | | |
| Sep. | Oct. | Nov. | Dec. |
| | | | |
More
Detailed Everest Maps 2017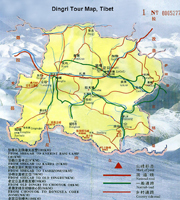 More