Shannan - Birthplace of Tibet Civilization
05 April 2016
Last updated at 17:02
Yamdrok Lake
As the old saying goes, " If its waters dry, Tibet will no longer be habitable."
Yamdrok Lake is the absolute place that worth your visit in Tibet.
Read more >>
Samye Monastery
Samye Monastery, with the central temple, symbolizes the center of the universe.
Having a visit, to explore the ancient heart of Tibetan Buddhist world.
Read more >>
Yumbulagang Palace
Yumbulagang Palace is the first Palace of Tibet, the origin of civilization.
Go to find the history of the mysterious land!
Read more >>
Shannan Overview
Shannan, also named Lhoka in Tibetan, is a long-standing prefecture in the southeastern area of the Tibet Autonomous Region. Shannan means "the south of mountains" because it lay southern aside of MT. Gangdise and MT. Nyenchen Tanglha.
"Where there is a river, there is a civilization". Shannan is known as the birthplace of Tibetan civilization because it was formed by the Yarlung Tsangpo River. The greatest kingdom "Tubo" in Tibet history was founded in Shannan which ruled Tibet more than two hundreds years. Besides, Shannan is also famous for many other "first of Tibet", such as the first farmland, the first palace and the first Buddhist monastery.
Our Travelers' Favorite Shannan Tours
Nyingchi Fast Facts
Elevation: 3,700
Population: 330,100
Tibetan Meaning: South of Mountains
Area Land: 30,800 sq mi
Time Zone: UTC+8
City seat: Tsetang
Languages: Tibetan, Madarin
Area Code: 856000
Shannan Weather & When to Go
| | | | |
| --- | --- | --- | --- |
| Jan. | Feb. | Mar. | Apr. |
| | | | |
| May. | Jun. | Jul. | Agu. |
| | | | |
| Sep. | Oct. | Nov. | Dec. |
| | | | |
More
Detailed Shannan Maps 2017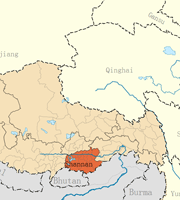 More