Birtina - Our Passionate Travel Consultant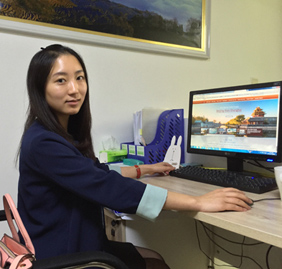 Expertise
Tibet

Tibet Trekking; Biking; Religion & culture discovery; Overland; Tibet train experience;

China

Sichuan trekking, Silk Road, Xinjiang discovery; Guilin; Hong Kong; Shanghai; Beijing; Xian;
Why not take the advantages of Birtina's Tibet & China travel experie- nce to design a trip just for you, that suits your budget and interests. Her passion on travel and help never fades away!
OR Call her at +86-15682126812
Biography

"Hey, guys! This is Bertina Li. Your trip advisor from Chengdu Bamboo International Tours. I am a movie goer, a concert goer, and most importantly, a travel goer, just like you! Hence I know how important it is to have a trip well planned. That's why I will help you find the most popular tour routes and offer you the best suggestions with full passion and with all the knowledge I have. As such as unique holy land, the mysterious Tibet has something for everyone. Come and discover the wonderful land and be ready to have a life changing experience! Bertina is right here waiting for you!"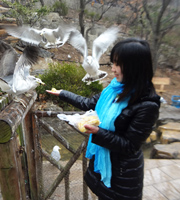 Tibet & China Travel Tips from Birtina
Can't find the answers you want? Email or call me at +86-15682126812, and I will get back to you immediately with full passion and consideration.
When is the best time for Tibet tour?

It is suitable for travel to Tibet from April to early November, and the best time is August and September. But if you only stay in Lhasa, you can go there any time of the year. Get real time weather report in different places of Tibet.

When is the best time for Everest tour?

Early May and early October are the best time to visit Mt. Everest. Due to the clear weather, you have great chance to see Mt. Everest's true face (if you are lucky). From December to February, you'd better not to go to this area because it is too cold - except you are real Great Adventure People.

Can I travel with children?

Tibet may not be an ideal destination for young Children. The climate and generally harsher conditions in Tibet may not be ideal for young children. The sights and attractions are not those which children like to visit and facilities will be very primitive. If you do decide to bring your young child to Tibet please ensure that you bring all your child's daily needs with you.

Are the Tibetan dogs are dangerous?

Tibetan dogs are dangerous. Do not approach any stray or wild dogs you see and carry a stick if you plan to wander off on your own or at any time after dark.

What kind of Tibet travel documents I need?

Besides a valid passport and a valid Chinese visa, you need two different kinds of permits for traveling in Tibet: the entry permit (TTB permit) and the Aliens' travel permit (if you want to visit the unopened area in Tibet). Click here to read more about "Tibet visa" and how to get them.
close
Want a Quick Question?
Ask our Tibetan Experts.
Send us your travel-related questions. We are Tibet specialists. We live here and know this land – the geography, the local amenities (hotels, restaurants, museums, shops), and the people, their culture and religion. We give you up-to-date information, not stole tips from the tour books. And all this at an unbeatable price.
Hi Bertina,
Sorry forgot to send the pictures to you.
Regards,
Jeff
The following pictures were shared by Jeff.
Jeff enjoyed that pleasant journey
February 21, 2017
Hi Bertina,
Thanks for your e-mail. We enjoyed our trip to Tibet a lot and had a very good time - also thanks to your wonderful guide who was very kind, helpful and professional. We had a great time with her! Attached you can see a photo of us in front of Potala palace.
Best regards,
Sven
The following pictures were shared by Sven.
Potala Palace
February 6, 2017
Hi Bertina,
I have already returned back to Taiwan. I thought the tour was great and we both really enjoyed Tibet! As for sharing pictures, what sort of pictures are you looking for?
Regards,
Jeff
February 4, 2017
Bertina,
Thank you for your good wishes. It was an excellent time in Beijing! It's a great hotel with a fantastic breakfast.
Our trip to China is over and we leave with great memories. Thank you for all of your help. I'll let you know about what kind of trip my group will be interested in for next summer in the coming months.
Be well and thank you,
Andi
August 6, 2016
Dear Bertina,
We are very happy of your tour and my family and other friends left to Dhaka.
My son was enjoying ship trip and he was making fun with crow of sheep specially. Julia was so happy. I will make plan to visit again with my family members
Hassan Siddiqui
The following pictures were shared by Hassan Siddiqui.
Hassan Siddiqui's Family visited Beijing
July 25, 2016
Dear Bertina
Nice to hear from you.
Yes we are back to our home towns and as soon as we got back , we got busy with business and all regular activities of life !
The Tibet tour was a memorable lifetime experience and we would like to thank you and Tibet Discovery for the excellent tour management from start to end.
Itinerary was great. The services at the Hotels were fine .
We would like to complement the tour guides Mr. Purbu, Mr. Nima for their efficiency, involvement and dedication. Special complements for to Mr Bhuchung who drove us for a week in Tibet. He has been absolutely punctual, has put up some real hard work and has shown exemplary driving skills in the difficult terrain.
The bottom-line is that we are all delighted with the tour management!
I may perhaps write more about the tour whenever I can find some free time.
Thanking you once again,
Rajesh Mharolkar
July 15, 2016
Hello Berthina:
We arrived safely back home yesterday. Our entire trip was nothing short of amazing. We loved every minute. Always felt safe and well cared for.
Is Yangtze River Cruise and China Discovery the same company?
Angela was amazing.....our favorite. Jimmy was great, too.
I will try to send pictures when they are downloaded
Thanks for all your help
pr
June 27, 2016
Dear Bertina,
We have had the best time!! Thanks so much for all your help with everything, I will send you through some photos
Amanda
June 20, 2016
Hi Bertina,
We are leaving the hotel on 30 minutes.
We had a great time in China.
I forwarded your email to Ilona and she will upload some if the pictures for you.
Thank you for everything once again and with your great service i will use your services in future trips.
Thank You,
Sharila
June 2, 2016
Hi Bertina,
Very impressive work. I knew you would make it happen again.
We are back in Lhasa.
Thank you very much for accommodating is in every way possible.
Sharila
June 1, 2016
Bertina,
Nice to hear from you. Yes, I arrived in Chongqing earlier today - the flight went fine, thank you for asking.
The tour was great! Potala Palace and Drepung Monastery were both incredible. As was the old part of Lhasa and all the Tibetan people.
I took quite a few photos on my SLR but I have not yet uploaded them on to my computer. When I do however, I will send a few over to you. Feel free to use them for promotion if you like. :)
Kind regards,
Milly
May 20, 2016
Hi Bertina,
I have continued my travels and am in Lijiang. I would like to say how impressed I was with our driver and especially our guide, Dhargye. He was professional, highly informative and had a great sense of humour as well! Without his expertise I'm sure I would not have enjoyed our trip as much. His effort and dedication to his job was clearly evident.
Thank you for the great memories and don't forget that I will come see u in Chengdu one day!
Kind regards,
Danny
May 16, 2016
Hi there!
Long story but I went by plane to Guangzhou via Wuhan and then took a bus to Shenzhen this morning, and then took the metro to the HK border. Now I am heading home finally.
Thanks for all your help. Also Shigatse was amazing. I shared some tea with some monks, and J-man got me to visit inside the chapel of the 5th Panchen Lhama!
I will mention you to my friends with regard to any visit to Tibet, of course.
Best regards,
Nick
February 21, 2016
Dear Ms Bertina,
Sorry that I didn't reply sooner.

I have enjoyed so much in Lhasa.
Everything was just so great.
Even though I didn't get to see Everest, meeting with so many great people
and very friendly guide made me very happy and good memory.

I will have to come back, perhaps next year on September to see
Everest. I will arrange tour with your people when I come back.

I forgot to leave comment sheet when I left Lhasa.
Here I enclose it for your reference.

Thank you, also for being so kind and detail about the trip.
I will always remember the time here in Tibet.

Thank you!!!


November 5, 2015