Ngari Travel - Mount Kailash, Manasarovar Lake...
05 April 2016
Last updated at 17:13
Mt. Kailash
Mt. Kailash is the most significant peak in the world without any known climbing attempts.
Taking a trek to explore the holy heart of Asian Buddhism.
Read more >>
Lake Manasarovar
Manasarovar Lake is one of the clearest lakes in the world.
Camping on the bank of the holy lake, cleansed your soul, and staying away from the mundane world.
Read more >>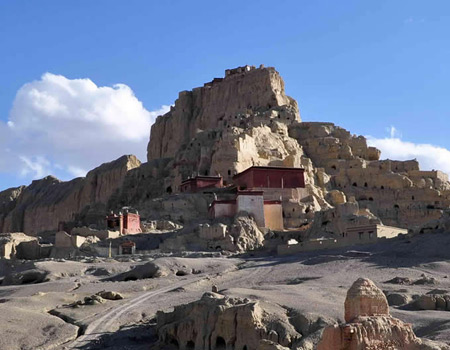 Guge Kingdom
Guge Kingdom--The lost Civilization.
Guge Kingdom was found about 1000 years ago, and had lasted more than 700 years history. It created a spectacular and advanced civilization, and then disappeared which is still a mystery can not be unlocked.
Read more >>
Ngari Overview
Ngari is a remote prefecture of Tibet Autonomous Region, located on the far northwest of Qinghai Tibet Plateau. With an average elevation of 4500m, Ngari stretchs from the Zhamai Mountain, west of the Tanggula Mountains, in the east, neighboring on the Nagqu Prefecture, India and Nepal. It meets with the Kangdese Mountains, neighboring the Zongba and Sagar counties of the Xigaze Prefecture, and ends on the southern side of the Kunlun Mountains in the north, neighboring the Xinjiang Uygur Autonomous Region, which has given Ngari the name of "Ancestry of mountains". While Ngari is also famous as the "Origion of rivers" because Yarlung Zapu River, India River and Heng River begin from here.
In history, Ngari is the birthplace of two great civilization - Xiangxiong Kingdom and Guge Kingdom both of which disappeared mysteriously, which have not been cracked by anthropologists.

Recenty years, Ngari has become a "hot destination". The stunning landscape, inspiring Buddhism attracts millions of people to explore this virgin land -"Top of Roof of the World".
Our Travelers' Favorite Ngari Tours
13 days and 12 nights

from $3,086pp

If you are planning to have a spiritual trek in Tibet with exploring the best of Tibet and renew your soul at the same time, this Mt. Kailash Kora is the trip to make your dream come true!

View Itinerary
16 days and 15 nights

from pp

Every year, thousands make a pilgrimage to Kailash, following a tradition going back thousands of years. It is believed that circumambulating Mount Kailash on foot is a holy ritual that will bring good fortune.

View Itinerary
Ngari Fast Facts
Elevation: 4,500
Population: 83,461
Tibetan Meaning: Ancestry of Mountains
Area Land: 34,000 sq mi
Time Zone: UTC+8
City seat: Shiquanhe
Languages: Tibetan, Madarin
Area Code: 859000
Ngari Weather & When to Go
| | | | |
| --- | --- | --- | --- |
| Jan. | Feb. | Mar. | Apr. |
| | | | |
| May. | Jun. | Jul. | Agu. |
| | | | |
| Sep. | Oct. | Nov. | Dec. |
| | | | |
More
Detailed Ngari Maps 2017
More