Nepal Tibet Tours & Lhasa Kathmandu Tours
Travel alert: So far, Zhangmu Pass is not accessable because roads between Zhangmu and Kathmandu were collapsed due to the strong earthquakes of this year in Nepal. Feel free to contact for us to plan your Tibet trip.
Nepal and Tibet are great neighbors. They have much in common. Both of them situate on the Himalaya range; they are both proud of Buddhism culture; the peak of the world - Mount Everest locates on the border of Nepal and Tibet. At the same time, they have different traditions and customs. Travelers can explore different outstanding landscape, such as high plateau views in Tibet and great valley scenery in Nepal.
Choose one of the itineraries from our travelers favorite Tibet and Nepal trips below to uncover the mysteries of the Himalayas, with our local travel experts. All of the tours are customizable; tell us your needs, and we'll do the rest.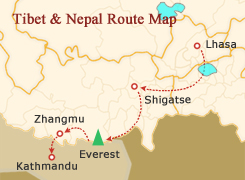 Getting to Nepal from Lhasa
The best way to travel to Nepal from Lhasa is by driving along the Tibet Friendship Highway (China Nepal Highway). It is the only international highway in Tibet, 934 km in length, starting at Lhasa, going through Shigatse, Lhaze, Tingri, Everest and Zhangmu, and ending at the defense highway of Kathmandu.
Usually, it takes 5-7 days to drive to the Friendship Bridge (the border of Nepal & Tibet) from Lhasa, and you will visit the most fascinating landmarks along the way, like: Mt.Everest, Parlkor Monastery...
By taking this itinerary, we do all the driving and organize all activities along the trip. You just sit back and enjoy this lifetime experience.
More about our Nepal Tibet tours?
Travel Permit: no matter where are you from, we guarantee your Tibet entry permit.
Tibet to Nepal or Nepal to Tibet? Usually, you are suggested to take the overland tour from Lhasa to Nepal, as it is much cheaper than from Nepal to Tibet.
Is our price competitive? Yes! Tibet Discovery Tours, the leading local tour operator, also has a long established relationship with local Nepal tour operators. We can guarantee you quality service at the best prices.
Top Things to Do in Kathmandu
1. Old Town Stroll around Kathmandu's medieval- like old town and soak up its atmosphere.
2. Durbar Square Appreciate the amazing architectural monuments of Durbar Square, an artistic and architectural tradition that rival's anything you'll find in the great cities of Europe.
3. Newari restaurants Dine in one of the city's superb Newari restaurants, with the accompaniment of traditional dancing.
4. Swayambhunath, Pashupatinath, Bodhnath and Patan Take day trips to the nearby Unesco World Heritage Sites of Swayambhunath, Pashupatinath, Bodhnath and Patan.
5. Shop Shop till you drop in Thamel for cut-price books, backpacks, carpets and handicraft.