China Nepal Tours - only 3 steps to customize your own travel experience
Both China and Nepal are two DREAM DESTINATIONS for travelers which attract millions people to explore their unique and beauty. China, known as the Oriental Dragon, is proud of its everlasting culture and diverse resources of natural beauty. The thousand-year-old capital city - Beijing, relic site of Terra-Cotta Warriors - Xian, hometown of Giant Pandas - Chengdu, the finest scenery in Guilin...China's highlights is as many as its population. Well Nepal is a land of Word Heritage Sites - grand Durbar Squares of Kathmandu Valley, ornate temples and monasteries, exciting jungle safari in Chitwan National Park, amazing trekking around Annapuma Sanctuary, the birthplace of the Lord Buddha Lumbini...You will get a colorful and impressive experience in Nepal.
Now you have chance to connect China and Nepal in a single trip which explore the best highlights both in China and Nepal.
1

Choose your ideal destination in China from our most classic collection

We know it is not possible to get all highlights in a trip, and your budget and time are limited, so we list out the most popular destinations in China all of which can be easily connected, and offer unique experience. Choose one or more, or tell us others.
Beijing

The capital city is Chinese people's pride. This No.1 travel city just has too many to offer: the Great Wall, Forbidden City, Summer Palace, traditional Hutong culture, Olympic Sites...

Type: History & Culture

Recommended duration: 3~4 days

Add to plan

Shanghai

Shanghai is the most modern and energetic city in China where you will be amazed by the great economic achievements China has reached. While due to its complex history, you will find a giant contrast of PAST and TODAY.

Type: Modern & Tradition

Recommended duration: 2~3 days

Add to plan

Xian

This ancient city had been capital city of 13 dynasties. Every step you take, you feel the heartbeats of history. The word famous heritage site Terra-Cotta Warriors is Xian's landmark.

Type: History & Culture

Recommended duration: 2~3 days

Add to plan

Guilin

This southern small city is famous for the finest scenery under heaven. Unique karst landscapes, clean river and countryside views make Guilin One of A Kind.

Type: Nature & Leisure

Recommended duration: 3 days

Add to plan

Hangzhou

"City of Heaven, the most magnificent in all over the world", said by Marco Polo, which is definitely for real. The most popular site is West Lake. If you know some about China' culture, you will find many legendary stories happened there.

Type: Nature & Culture

Recommended duration: 2 days

Add to plan

Yangtze River

Cruising the Yangtze River is the most relaxing and fun experience in China. While exploring amazing landscape along, you will also learn about China's culture. Importantly enjoy the leisure and luxury stay on board.

Type: River Cruise

Recommended duration: 3~4 days

Add to plan
The Destinations You Chose are :
Others :
2

Choose Flight Exchange Hub from China to Nepal

So far, only 5 cities in China offer non-stop international flights from China to Kathmandu of Nepal, they are: Chengdu, Kunming, Lhasa, Guangzhou and Hong Kong. They are not only an exchange cities for flight, but also good choices of places to travel in China. For instance, in Chengdu, you can visit the cute living treasure - Giant Panda, then you can extend your tour to Mount Emei, Leshan Giant Buddha and Jiuzhaigou Valley, etc.
Chengdu
Hong Kong
Kunming
Lhasa
Guangzhou
The Destinations You Chose are :
Others :
3

Choose Places to Go in Nepal

Though being a small country, Nepal has too many places to go. The famous sister cities in Kathmandu Valley - Kathmandu, Patan and Bhaktapur offer the most significant culture, history and squares. Pokhara is the best places to enjoy natural landscape. Chitwan is the wonder land of wild animals and jungle activities. Don't forget to explore the birthplace of Buddha.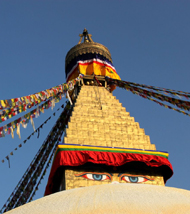 Kathmandu
(Durbar Square,Pashupatinath Temple,Swayambhunath Temple)
Patan
(Durbar Square, Golden Temple,Patan Museum...)

Bhaktapur
(Durbar Squre, Taumadhi Square,Dattatreya Square...)

Pokhara
(Phewa lake, Devi's Fall, Annapurna Circuit...)

Chitwan National Park
(Elephant Ride, Bird Watching, Jungle Walks...)

Lumbini
(Sacred Garden, Ashoka pillar,Mayadevi temple...)
The Destinations You Chose are :
Others :
Inquiry Your Plan